A look into Huawei's history reveals a pattern of plagiarism, theft of intellectual property, and hostile competition, through which the company became the world's biggest producer of telecommunications equipment.
Huawei rose to prominence by modeling itself after American tech giants.
In the 2000s, Cisco Systems dominated global market share in telecom equipment, leading the Chinese market, in particular, with its routers and switching equipment. It was at this time that Huawei quickly rose to become Cisco's biggest competitor in China.
In 2000, Huawei CEO Ren Zhengfei proposed the strategy of "crossing the Pacific Ocean with confidence and exuberance," that is, entering the U.S. market by establishing an American subsidiary, Huawei America.
In June of that year, Huawei made its debut at a telecom-equipment exhibition in Atlanta. Huawei presented communication products that were comparable to Cisco products in performance, but the prices were 20 to 50 percent lower.
Stealing Code
Around this time, Huawei placed ads in U.S. mainstream media that featured San Francisco's Golden Gate bridge in the background. Notably, Cisco's logo at the time was an outline of the bridge in red.
In a Jan. 2003 lawsuit filed in federal court in Texas, Cisco alleged that Huawei and its subsidiaries had stolen source code for Cisco's networking software—known as IOS—copied documents and copyrighted material, and infringed on Cisco patents.
The allegations centered around Huawei's Quidway switches and routers. Cisco claimed that the Quidway operating system, technical documentation, and user manuals were copied, including whole portions of text.
Huawei initially denied the claims. However, in late March 2003, Huawei admitted in court documents to copying code for its router software. Huawei said that an employee had obtained the code on a floppy disk from a Chinese man who hoped to work at Huawei, and the company's lawyers claimed that the employee didn't know that the software was copyrighted.
Cisco and Huawei reached a settlement in July 2004. Huawei promised to stop producing and selling Quidway routers and switches, and change its user manual, source code, and other elements at issue. But despite the settlement, Huawei continued to compete viciously for market dominance by offering low prices.
In 2011, Cisco began large-scale layoffs—its biggest at the time—and its stock price slumped.
In January 2013, then-European Union trade chief Karel De Gucht ordered an anti-dumping investigation into claims that Huawei and Chinese competitor ZTE undercut European firms by obtaining government subsidies and selling their cheap networking gear in Europe.
The Chinese media group Forward Business and Intelligence wrote an article about Huawei on Feb. 7, 2014, quoting CEO Ren as saying, "We have mobilized a full-scale war to smash Cisco around the globe."
By 2015, Cisco's share of China's router market by revenue had been nearly halved, compared to the beginning of 2014, while Huawei's had jumped by more than 50 percent, according to data provided by Sanford Bernstein.
The competition between Cisco and Huawei is a prime example of the Chinese regime's strategy of "overtaking on a bend in the road," meaning, surpassing developed countries by taking shortcuts and using unconventional tactics.
Learning, Copying IBM's Management System
In the evolution of Huawei, IBM also played a vital role.
Numerous Chinese media reports—and public statements from Huawei executives—have documented how IBM taught Huawei about Western management techniques.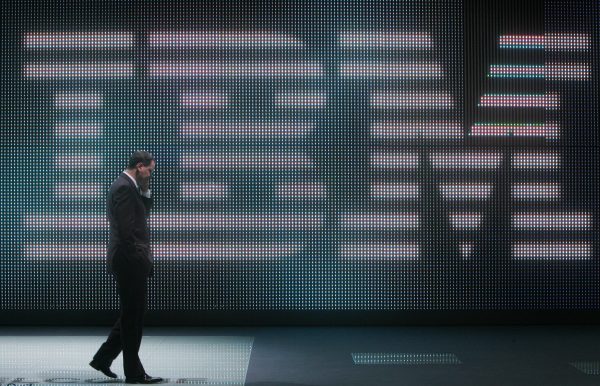 In a 2012 interview with The Wall Street Journal, Huawei's then-senior vice president for the United States, Charles Ding, said his company had been working closely with IBM since 1997. Without IBM, Ding said, "We could not have had the Huawei of today." Ding is now president of Huawei's Brussels office.
A June 2009 article by Chinese business magazine Changjiang detailed the collaboration.
Beginning in August 1998, Huawei and IBM initiated an "IT Strategy and Protocol," in which IBM would provide eight of its management technologies to Huawei, including systems to optimize product development, supply chains, coding, and more.
Chinese media have touted Huawei and IBM's partnership as a "case study for success."
In an article published in Z.H. Island, a Chinese magazine for entrepreneurs, a Renmin University professor explained how it happened: Huawei paid 56 million yuan ($8.24 million) to hire IBM as a consultant. The U.S. company sent teams of consultants to Huawei, who shared their management experience with Huawei's project managers. IBM also provided full coaching for Huawei through an in-house consultant team for each important project at Huawei.
With IBM's assistance, Huawei greatly reduced product development costs and also the time needed to bring a product to market, according to the article.