News Analysis
Huawei has been ramping up investments in chip companies in the past three years as a part of China's chip manufacturing movement, yet the state-backed tactic is likely headed toward failure.
Just one month before the United States imposed sanctions on Huawei, the Chinese high-tech giant established on April 23, 2019, its wholly-owned subsidiary Hubble Technology Investment Co., Ltd. (Hubble) in Futian District, in Shenzhen. With registered capital adding to 3 billion yuan ($472 million), Hubble changed its business to a private equity fund manager on Jan. 14.
Chinese semiconductor media said on Dec. 6, 2021, that Hubble is known for its "wolf nature" in chip investment circles, and has been moving quickly since its inception in 2019, investing in companies at a rate of nearly one per month.
In May 2019, Hubble invested in Radrock Tech which produces Radio Frequency front-end chips; In July 2019, Hubble invested in 3Peak incorporated that produces high-speed, high-precision analog chips; In August 2019, Hubble invested in SICC Co., Ltd that produces silicon carbide materials for semiconductors; In October 2019, Hubble invested in Tanke Blue that produces third-generation silicon carbide wafers for semiconductors.
In 2020 alone, Hubble invested in 25 semiconductor-related companies and continues to move up the industry chain.
According to data by PitchBook, a capital markets research firm, Hubble has invested in 62 companies in the past three years as of Jan. 12.
Hubble's investment aggressiveness is likely linked to successive U.S. sanctions over Huawei.

In May 2019, the U.S. banned Huawei from importing U.S. products with more than 25 percent technology content. However, Taiwan chipmaker TSMC continues to produce chips for Huawei. To close this loophole, on May 15, 2020, the U.S. escalated sanctions, requiring that any chips produced using U.S. technology and equipment cannot be sold to Huawei without U.S. approval, as a result, TSMC completely stopped supplying Huawei.
It was a precise blow to Huawei.
Hubble can be considered a special arm of Huawei's response to the U.S. crackdown.
Hubble's investments cover a wide range of fields such as third-generation semiconductors, wafer-level optical chips, power management chips, clock chips, and Radio Frequency filters, areas where Huawei relies more on the U.S. industrial chain.
Under the ongoing U.S. sanctions, Hubble's registered capital was increased from 700 million yuan ($110 million) to 1.7 billion yuan ($268 million) in January 2020 to 3 billion yuan ($472 million) in 2022, which is considered a signal to further increase its investment in the industry chain.
However, Huawei's chip manufacturing capabilities have not improved. In 2021, the chip inventory was gradually depleted, and HiSilicon, Huawei's chip maker was unable to supply high-end 5G phones for Huawei.
In August 2021, Huawei officially launched its P50 series of phones, using Qualcomm Snapdragon's 888 processor and Kirin 9000 chip due to scarcity of chips such as Kirin 9000. Still, the P50 series phone cannot support 5G because it lacks 5G Radio Frequency devices, said Sohu, a Chinese portal site, on Aug. 13, 2021.
Mainland China's supply chain is unable to supply the equipment needed to manufacture more sophisticated chips needed by Huawei and SMIC, so both companies still need to apply to the U.S. to import some key products, materials, and equipment for their operations, according to Ijiwei, a Chinese media focus on integrated circuit and cell phone industry, on Jan. 4.
State-Backed Chip Making Campaign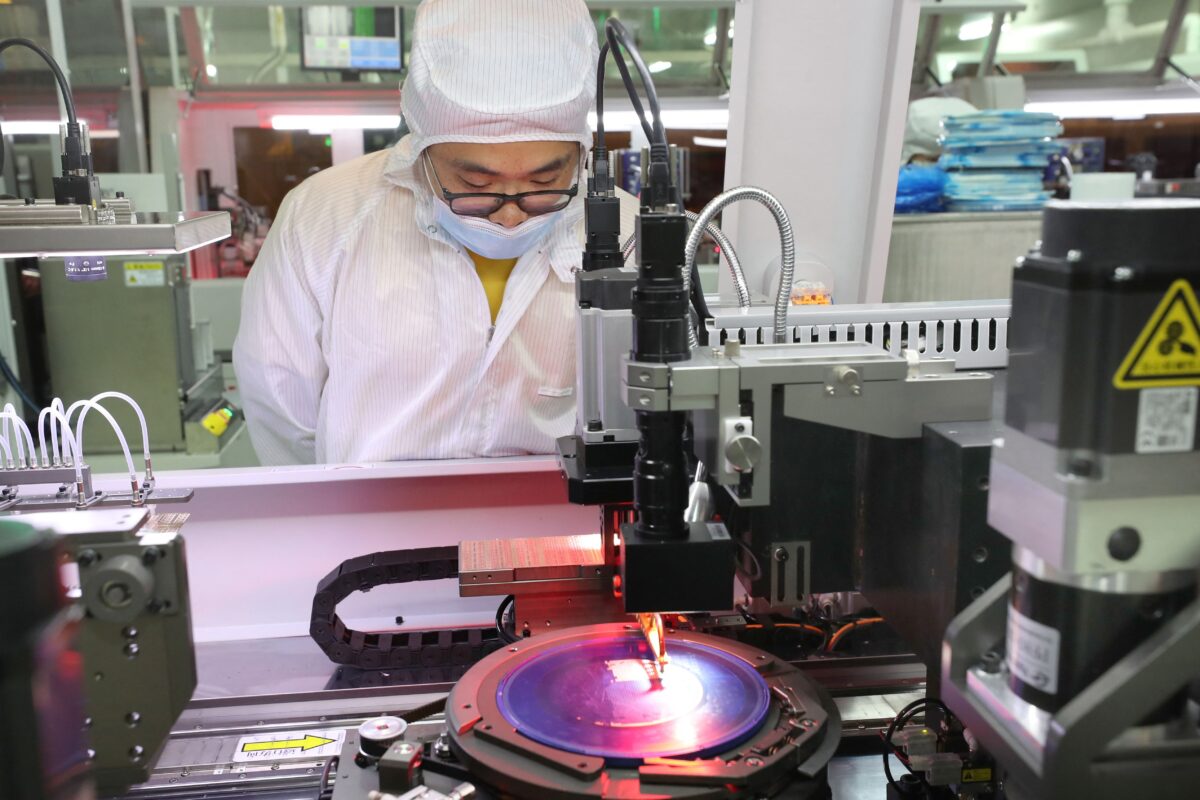 Ji Lin, a Japan-based current affairs commentator, told The Epoch Times, some Chinese companies operating well in the home electronics industry has given many people the illusion that "as long as they have money to buy equipment and to recruit talent, there is no field where they cannot succeed," but that reasoning doesn't seem to apply to a high-tech area like the chip-making industry.
Under the pressure of the United States cutting off the equipment to produce high-end chips, not only Huawei has invested heavily in chip companies, but the whole of China has started a movement in a bid to manufacture chips.
According to data cited by The Wall Street Journal, in 2020, Chinese semiconductor companies raised the equivalent of nearly $38 billion in public offerings, private placements, and asset sales, more than twice the total amount raised in 2019.
In the same year, more than 50,000 Chinese companies registered semiconductor-related businesses, four times the total five years earlier. Among which is also included companies unrelated to chips, such as real estate developers, cement makers, and caterers, all of which were branded as "chip companies" because Chinese authorities promised to provide tax incentives and subsidies for the chip industry.
At least six major chipmaking industry projects, including Wuhan Hongxin Semiconductor Manufacturing Corp. (HSMC) and Quanxin Integrated Circuit Manufacturing Co. (QXIC), have failed in this chip-making campaign, some even did not produce a single chip, while about $2.3 billion was invested in these projects, most of which came from state funds, according to The Wall Street Journal.
Many Chinese tech workers are putting aside chip research and following the trend to invest in companies. According to a recent article by ICwise, a market research institution focused on China semiconductor industry, job-hopping of Chinese engineers is more frequent than that of overseas engineers, allowing the latter to focus on research and product development with a spirit of craftsmanship and accumulated experience.
Ellen Wan contributed to this report.