In January 2018, Chinese state-run media Xinhua first made mention of a new economic strategy with a short article that largely went unnoticed, in a report about a national conference on IT industry standards.
To dominate cutting-edge technologies—such as artificial intelligence (AI), cloud computing, internet of things (IoT), and big data—China intends to accelerate efforts to develop technical standards, eventually exporting them to the international market, the report said.
While global technical standards for these technologies have not yet been established, "this is the golden opportunity for our country's industries and standards to realize the goal of 'overtaking by changing lanes,'" the report quoted an official from China's national technical committee, the Standardization Administration, as saying.
That metaphor is commonly used in Chinese media to describe finding shortcuts to surpass other countries and become the leader, and Huawei's aggressive development of 5G technology fits exactly into the Chinese regime's ambitions.
By dominating 5G standards at international standard-setting agencies, Huawei could pocket licensing fees from mobile service providers and governments that use its 5G technology.
Today, Huawei and its domestic competitor, ZTE, own roughly 10 percent of the 1,450 5G patents filed, compared to Qualcomm's 15 percent, Nokia's 11 percent, and Ericsson's 8 percent, according to a 2018 report by the U.S.–China Economic and Security Review Commission.
Meanwhile, the entire country has filed 48,882 patents with the World Intellectual Property Organization (WIPO) in 2017, making it the second highest-ranking country behind the United States.
The year prior, ZTE and Huawei had topped the WIPO list of annual patent applications, at 4,123 and 3,692 patent filings focus on cutting-edge technologies like 5G, IoT, and cloud computing. Qualcomm came in third place.
The rush to file patents is not just about making money. The Chinese regime is keen on cutting its reliance on foreign technology and has championed the principle of "self-reliance" for its tech sector. Huawei, in turn, has stepped up to the plate.
Currently, Huawei is the only major Chinese telecoms manufacturer that is trying to make the majority of 5G components by itself.
U.S. companies still lead market share for the most advanced technologies, and Chinese firms still depend on Western firms to supply most of the advanced components.
But Chinese firms are quickly catching up. Most critically, they are resorting to underhanded tactics in order to stake their dominance in 5G.
Beating Competition
In an analysis of 5G security concerns published by the U.S. think tank Center for Strategic and International Studies, researcher James Lewis noted that both Huawei and ZTE benefit from government subsidies, giving them the ability to manufacture products and sell them at discounted prices far below international competitors.
Put simply, "the market distorting effects of government-subsidized Chinese companies reduce market share and revenue for other Western firms," Lewis wrote.
As Huawei continues to pursue overseas clients, governments will have to choose between risking security loopholes in buying cheaper Huawei 5G equipment, or paying more for secure equipment made by other firms. "Determining how to persuade countries that they should pay a premium is one problem; determining how to securely connect and communicate over telecom networks in other countries using vulnerable equipment is another," Lewis wrote.
China has also deliberately planned for Chinese technical standards to become the representative at international standards groups—pressuring tech firms to vote for Chinese standards.
One example cited in Lewis's report: Chinese tech company Lenovo had voted for a proposed standard by U.S. firm Qualcomm instead of Huawei at one of the most important standards groups, the Third Generation Partnership Project. The Chinese authorities immediately criticized Lenovo for making the move.
In another instance, the Chinese regime pressured Chinese companies to back a type of technology for which Huawei holds most of the core patents—known as polar codes—instead of more mature competing technologies pioneered by Qualcomm and other Western firms. A standoff ensued, which ultimately ended with the majority of companies voting in favor of polar codes. This means all 5G mobile cellular technology will employ the polar codes.
"China has politicized the standards-making process," the report said.
Huawei has also increasingly taken senior leadership positions at these standard-setting bodies, as part of Beijing's attempts to raise its 5G sector's influence.
This is a concerted effort by China to stake its claim. Chinese companies take leadership positions at lower-impact committees, then use them "to promote Beijing's interests through a combination of holding the top leadership slots and contributing funding," the U.S. congressional report said.
Developing Own Chips
To fulfill the Chinese regime's mandate to cut reliance on foreign technology and develop domestic advanced semiconductor chips, Huawei's chipmaking subsidiary, HiSilicon, has designed its own smartphone chips that are specially suited for 5G capabilities.
In September 2018, Huawei unveiled the world's first 5G-ready commercial chips for smartphones, equipped with artificial intelligence.
Chip development has consistently been included as part of the Chinese regime's tech development plans, providing significant state support and funding, such as state investment funds and local government funds.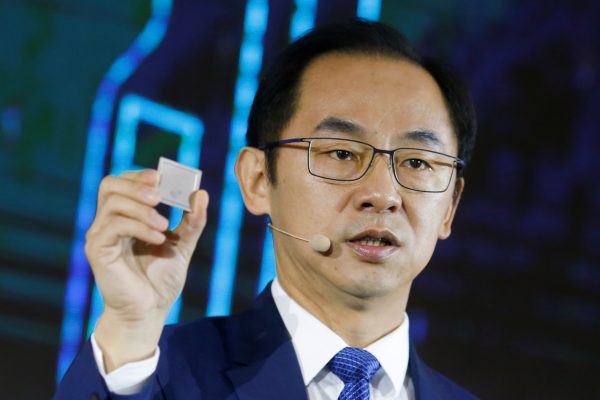 HiSilicon is among a group of domestic firms that are part of a "relatively complete" industry supply chain for IoT development, providing the bulk of chips, according to the U.S. congressional report.
HiSilicon's smartphone chips are exclusive to Huawei. The company does not sell to third parties. But this pivot toward domestic production is likely to cut into Qualcomm's chip sales—and increasingly, patent royalties—as Huawei pushes for more of its standards to be developed for 5G.
In the current generations of 3G and 4G, Qualcomm had dominated ownership of patents and technical standards, allowing it to profit from the royalty fees.
To ensure that the United States maintains an edge in 5G innovation, Lewis of the CSIS think tank recommended that the U.S. government encourage private and public research and development, while working with U.S. allies to come to voluntary agreements on 5G security standards.
He also urged U.S. authorities to ensure U.S. companies don't face "unfair obstacles from antitrust or patent infringement investigations undertaken by any country to obtain competitive advantage."
He added that fair competition is crucial to 5G "because it incentivizes companies to build better products and offer better services."
Frank Fang contributed to this report.