VANCOUVER, Canada—Huawei Chief Financial Officer Meng Wanzhou returned to a Vancouver courtroom on March 6, amid rising diplomatic tensions between Canada and China surrounding her arrest.
Dressed in a casual purple sweater and smiling at the cameras, Meng appeared in court to set a date for the next hearing in her extradition proceedings. She is wanted by the United States on charges of bank fraud, wire fraud, and conspiracy to commit bank and wire fraud.
Her court appearance is the first since China accused detained Canadians Michael Kovrig and Michael Spavor of stealing trade secrets, and days after Canada announced it would allow Meng's extradition hearings to proceed.
Associate Chief Justice Heather Holmes set the next hearing for May 8, which is when the court will hear an outline of how the extradition proceedings will move forward. This will give time for both sides to discuss applications they want to make in court.
Wanted by the United States
The high-profile Huawei executive was arrested by Canadian authorities at an airport in Vancouver in December 2018 on behalf of the United States, which seeks to prosecute her on charges related to fraud.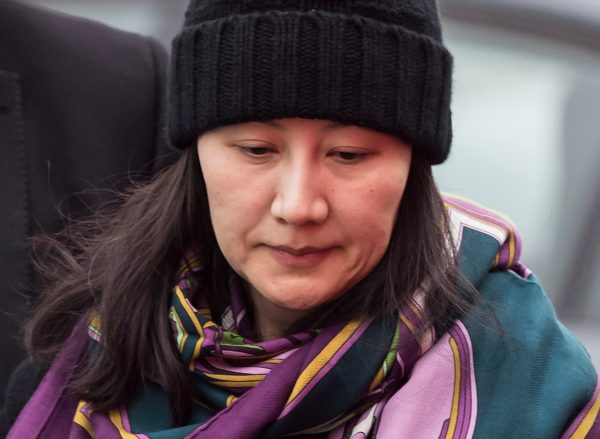 In a 13-count indictment, the U.S. Department of Justice accuses Meng, Huawei, and several of the company's subsidiaries of violating sanctions against Iran. They say that Huawei—with Meng personally involved—misled U.S. banks about the relationship between Huawei and Hong-Kong based Skycom Tech, which did business with Iran. Prosecutors allege that Skycom is a hidden subsidiary of Huawei, while Huawei maintains they are two independent companies.
By hiding Skycom's connection to Huawei, Meng is accused of personally misleading U.S. banks into clearing cash connected with transactions between the two companies.
Meng and her legal team say she's done nothing wrong. On March 1, she launched a lawsuit against the Canadian government, its border agency, and the Royal Canadian Mounted Police over her detention at the airport, alleging a violation of her constitutional rights.
Meng will remain on bail, subject to her existing conditions while court proceedings are underway.
In a separate 10-count indictment, U.S. prosecutors accuse Huawei of stealing trade secrets, committing wire fraud, laundering money, and obstructing justice. In the indictment, prosecutors allege that Huawei managers encouraged stealing competitors' technology, including the designs of a T-Mobile robot named "Tappy."
Rising Diplomatic Tensions
Meng's arrest by Canadian authorities has given rise to increasing diplomatic tensions between Canada and China.
China has repeatedly demanded that Meng be released. Beijing is widely believed to have retaliated against Canada in a variety of ways in hopes of pressuring Ottawa over Meng's case.
Chinese officials detained Canadians Kovrig and Spavor shortly after Meng's arrest. The day after Canada approved her extradition hearing, Beijing publicly accused the two Canadians of conspiring together to steal state secrets.
Canada has formally demanded that China release Kovrig, a former Canadian diplomat who now works for the International Crisis Group, and Spavor, a businessman with extensive ties to North Korea.
In another case, the 15-year prison sentence of Canadian Robert Schellenberg for drug charges was converted to a death sentence, in a move that is widely seen as Beijing upping the stakes in its dispute with Canada.
Most recently, China has blocked canola shipments from Winnipeg-based Richardson International. China, the world's top importer of canola, says it pulled the company's shipping registration over insect infestation concerns, though many see the measure as retaliation against Ottawa over Meng's arrest, the Canadian Press reported.