Huanan Assault Incident Rouses Business Owners to Protect Human Rights
March 9, 2006 12:00 am Last Updated: March 9, 2006 12:00 am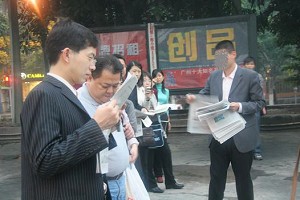 In Guangzhou, Li Gang is a Chinese IT Engineer and private businessman. He is also a member of the preparatory committee for business owners in the Huanan New City area of Guangzhou City. He was beaten by thugs in his home on the evening of February 15 due to his involvement in local rights activities concerning transportation, real estate management fees and public security. Li was seriously injured and needed medical attention to save his life.
After the incident many reporters tried to interview his family members at the hospital but were vetoed by the Propaganda Department of the Provincial Committee of the Chinese Communist Party. A businessman who visited Li yesterday said that Li appeared stable but weak. The doctor requested Li to stay in the hospital.
Local businessmen say they are very angry about the situation. The incident has become a hot topic on the internet. Many businessmen in Guangdong Province held activities to highlight the incident and solicit contributions. According to rough estimates, donations have reached hundreds of thousands of yuan (approximately 8.1 yuan equals US$1).
It has been three weeks since the incident, but businessmen are holding more and more activities to protect human rights. They report that their activities are clearly supported by the society as a whole. Some of the local media also reported their activities despite great pressure not to. Businessmen say they continue to promote the activities of protecting human rights to the public because they are disappointed with the government.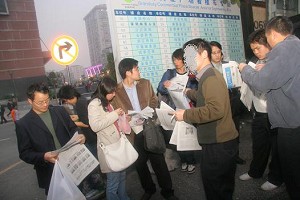 Some businessmen told The Epoch Times about the clandestine activities of those who performed the assault, because it was clear that it was a collusion of government officers, real estate developers and thugs, who attempted to cover up the event. Indications are that this is not a common criminal case but a premeditated and organized assault. It was the eruption of conflicts between businessmen and the real estate company in recent months.
Businessmen said that the incident woke people's conscience and their sense of justice. It draws attention to the evil collusion between the government and real estate developers. They displayed their understandings by holding activities for protecting human rights.
Li Gang Said the Case Will Not Be Reconciled Privately Businessmen said that the real estate company sent two workers to "console" Li with 2,000 yuan (US$242) on February 18, but the person in charge of the related department, Zou, appeared at Li's home late on February 24th. He sent a fruit basket to the Li family.
On the evening of February 25, five representatives of the real estate company showed their concern by leaving a fruit basket at Li's home. After they departed, Li's family discovered a package left by them. They opened it and found 20,000 yuan (US$2,420) inside.
As for the real estate company's attempt to reconcile privately, Li's attitude is definite: he will never reconcile with them privately! He will not meet with company representatives until his assailant is under arrest.
The Owners Do Not Fear Harassment
The owners disclosed that the real estate company bribed the media to not report the incident by paying them to publish advertisements instead.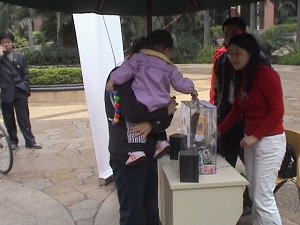 Huanan New City is under terror. Many strangers appeared in and around the community. Those participating in the activities over the two weekends, February 18-19 and 25-26, were harassed by these strangers. They appeared sinister and kept taking photographs and videos of the business owners who were donating money.
However, the local security guards did not monitor these strangers. They were even seen talking to them as if they were on familiar terms. Everyone who went to Huanan New City, even property buyers, would immediately be watched or followed by the strangers once they mentioned the Li incident.
Under these circumstances, the business owners still insist on exposing Li's unfortunate experience. They are calling for the arrest of the assailant and vindication for Li.
They said, "We will not be intimidated by this harassment."
Human Rights Protection Goes Deep
The businessmen continue to hold all kinds of activities to highlight Li's misfortune. They are disappointed with the government and keep promoting human rights activities to the general public.
On March 6, several businessmen distributed pamphlets in Hong City Square calling for concern about Li's incident. They said the outcome was very good. People who were aware of Li's plight appeared shocked and angry. They said, "We will never give up."
The preparatory committee for businessmen decided to keep promoting the establishment of a legal and rational system to protect human rights and communication. Hence, they can organize more businessmen for large-scaled activities to protect human rights.
Beginning with the violence in Huanan New City, the topic of "Whose business is it to protect human rights?" is put before everyone. Many people, including the businessmen who had never joined any activities to protect human rights, voluntarily participated in the activities.