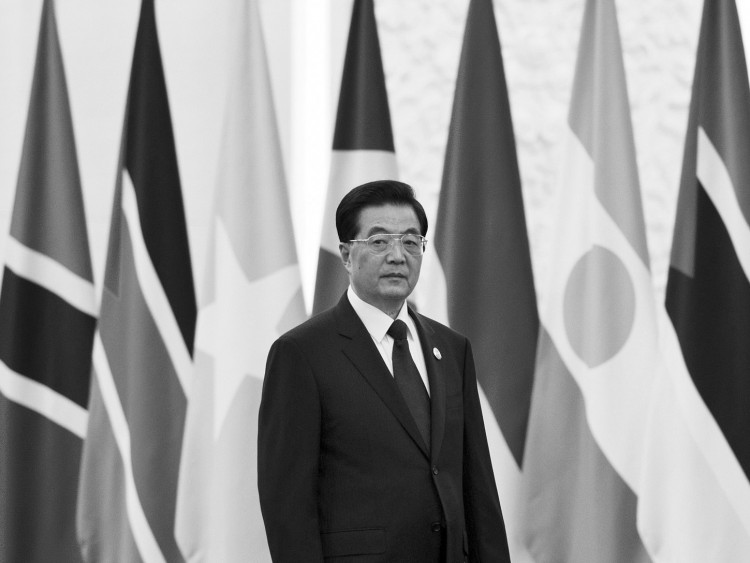 Chinese leader Hu Jintao will retain control over the military after stepping down as party head early next year, Tung Chee-hwa, a former chief executive of Hong Kong, told CNN.
Tung, who is also the present vice-chairman of the Political Consultative Conference, a political advisory body, and as such one of China's state leaders, talked to CNN on Sept. 19 about Chinese leaders Hu Jintao and Xi Jinping and their upcoming leadership handover. Tung said, "Based on past experience, Hu Jintao will continue another term as Chairman of the Military Commission of the Central Committee after stepping down from the presidency." 
Tung's statement disclosed important information to the public. This came as somewhat of a surprise as the preparations for the upcoming leadership transition have been marked by secrecy and rumors amidst a storm of vicious factional infighting.
Being a state leader with a long political career and a prudent disposition, Tung would not possibly speak rashly to a foreign media about such important and sensitive information concerning the Party's top leaders. One can only surmise that high officials used Tung to circulate the message in such a semiofficial way, which they deemed more appropriate than sending it out directly by themselves.
Then, who within the Chinese Communist Party's (CCP) top circle would have asked Tung to disclose this information? It would be people who stand to benefit from spreading such news. 
On Sept. 20, the day after Tung's interview with CNN, Hong Kong media revealed that Tung is a close friend of Xi Jinping's. In the interview, Tung had also mentioned Xi's two-week absence from public view earlier this month, saying, "He hurt himself in sports, and he's now recovered, and he's now back at work," adding that the health of senior leaders is not a public issue in China. 
Tung's statements can be interpreted as meaning that Hu will continue as Chairman of the Central Military Commission and that Xi will smoothly succeed Hu. 
These two important messages are of benefit to Hu and Xi, so most likely it was Hu and Xi who asked Tung to give the information to CNN.
Faction War
If it was indeed Hu Jintao who told Tung to relay the message, what's his purpose then? 
For one, it can help clear away rumors that have been swirling for months about who will have control over the military after Hu steps down. 
When Hu Jintao succeeded Jiang Zemin in 2003, Jiang retained power over the military and also controlled the powerful domestic security apparatus, the Political and Legislative Affairs Committee. This effectively turned Hu into Jiang's puppet. Only during the last year has Hu been able to consolidate his power, get the military to pledge their allegiance to him, and free himself from Jiang's control. 
After the 18th Party Congress, the Jiang faction, now led by security chief Zhou Yongkang, who must retire because of an age limit, will lose most of their power, and they are afraid of being held accountable for their years of abusing power, in particular in regard to the persecution of the Falun Gong spiritual group and allegations of live organ harvesting. 
This fear has driven the Jiang faction–of which Bo Xilai is also a member–to put on a life-and-death struggle, attempting to grab the leading power. They have also used some overseas media under their control to put out negative reports about Hu, Wen, and Xi, saying that Xi Jinping could not take over because of poor health, and Hu Jintao would retire from all positions after the 18th Congress, etc. Tung's words helped to refute these rumors. 
The Jiang faction also tried to sow discord between Hu Jintao and Xi Jinping, and Tung's statements delivered the message to the world that Hu Jintao and Xi Jinping are in good relations. 
Actually, by all appearances, after Xi learned from U.S. officials of Zhou Yongkang's and Bo Xilai's coup plot against him in February, he formed an alliance with Hu and Wen. Xi was said to have played a key role in the removal of Bo Xilai from power. 
Hu, Wen, and Xi are allies now. When Xi takes over power, it is unlikely that he will keep endorsing Jiang's persecution policy of Falun Gong practitioners. Consequently, the Jiang faction, removed from power, will be held responsible for their persecution crimes, which will be their end. 
Finally, spreading news that Hu will remain as Chairman of the Military Commission also reflects the intense climate within the CCP's top circle. Hu felt the need to send a message to his opponents as a warning that the 18th Congress is not the end, but the beginning of settling scores. 
Read the original Chinese article.
The Epoch Times publishes in 35 countries and in 19 languages. Subscribe to our e-newsletter.
Click www.ept.ms/ccp-crisis to read about the most recent developments in the ongoing crisis within the Chinese communist regime. In this special topic, we provide readers with the necessary context to understand the situation. Get the RSS feed. Who are the Major Players?

Views expressed in this article are the opinions of the author and do not necessarily reflect the views of The Epoch Times.