A biotech delegation organized by Metal Industries Research and Development Centre and six high-tech medical equipment manufacturers (Medimaging Integrated Solution, Brain Navi Biotechnology Co, Advanced Biomedical Technology, General Biologicals Corporation, North-vision Technology, and Phalanx Biotech Group), led by Deputy Director-General Shu-Chu Chen of the Hsinchu Science Park Bureau, Ministry of Science and Technology, went to Tokyo for a business matching fair on Oct. 23, 2019.
To enhance bilateral business ties and extend mutual market niches, the matching fair provided a one-on-one forum on Oct. 24. Participants of the fair from Japan included more than 10 Japanese companies from business and social care organizations.
Participants of the fair gave positive feedback on the bilateral interaction.
Doctor Nakagawa Shiro, also a member of the WTO Trade Dispute Resolution Committee and a distinguished Professor of Nagoya City University, expressed that the event held the most successful and terrific interaction he has ever seen between Japan and Taiwan.

Delegates from the Hsinchu Science Park included companies engaged in medical devices such as digital medicine, medical imaging, 3D printing, precision medicine, and precision detection.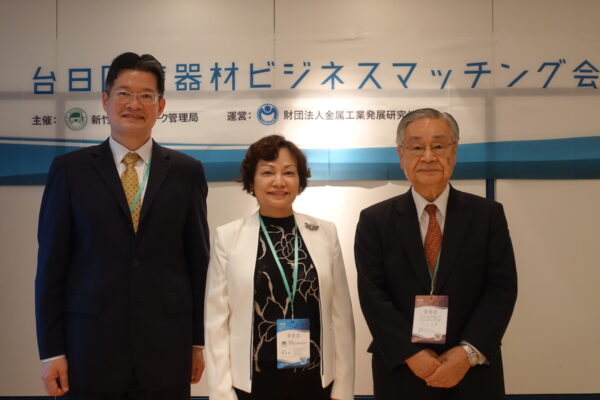 Companies in Japan that participated in the fair included manufacturers of shock sensors, medical imaging information, in vitro testing, clinical reagents, pharmaceutical services, frontend components, and venture capital firms.
The participating companies gained potential business opportunities for further interactions.
The Hsinchu Science Park Bureau also hosted a bilateral interaction banquet on the evening of Oct. 24 to enhance Japan-Taiwan business ties.
Deputy Director-General Chen of the Hsinchu Science Park Bureau stated that Taiwan's medical device industry has grown rapidly in recent years and has gained a global reputation for product quality and technical features which including global renowned journals and media.
Forbes and the World Economic Forum report that Taiwan is a global leader in medical care and health technologies. The Hsinchu Science Park exhibits its competitive advantages in semiconductor industry technologies, embarking on diversified cross-domain high-end medical devices and technologies such as minimally invasive devices, smart aid systems, brilliant image processing, and intelligent diagnosis systems, which have attracted international and domestic counterparts.
High-tech features at the Hsinchu Science Park, including IC design, semiconductor manufacturing, information, optoelectronics, and telecommunications, have turned out to be crucial drivers for the next generation of innovative healthcare devices.
The collaborative fair provided biomedical device industries from the Hsinchu Science Park in-depth interactions with Japanese companies, building bilateral supply chains for further progress and collaborations, resulting in a win-win outcome.
Sponsored by Hsinchu Science Park (HSP), Ministry of Science and Technology