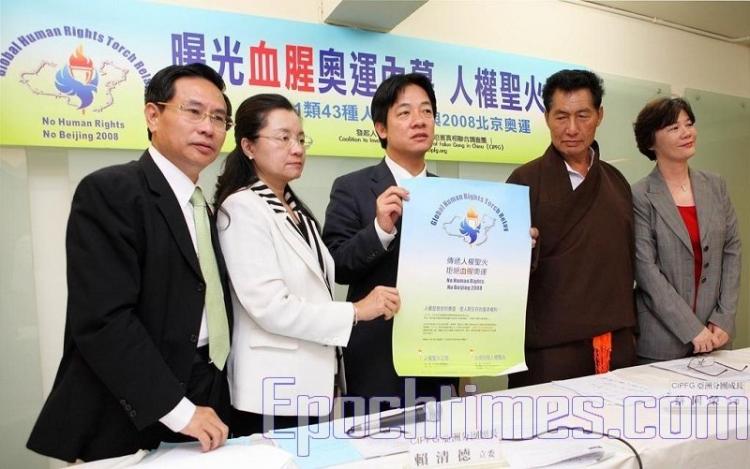 After traveling around the world, the Human Rights Torch Relay (HRTR) came to Macao on July 18. However, the activity – well received in many other countries and areas – was openly obstructed by the Macao government, which arrested five participants. Taiwan lawmaker William Lai stated, "The obstruction shows the failure of the Chinese Communist Party's (CCP) 'One Country, Two Systems.'"
Lai is also the president of the Coalition to Investigate the Persecution of Falun Gong (CIPFG) Asia. He said that the HRTR, organized by the CIPFG, had past through over 30 countries and several hundred cities, and was different from the Beijing Olympic torch relay. The HRTR aims to raise awareness about the deplorable CCP's human rights record, and this was the reason for the intense pressure from the Chinese regime.
"We also want to point out that when our relay passed through various democratic countries, people lined up along the streets to welcome us while the Beijing Olympic torch faced protests everywhere in the world. The contrast is apparent. The HRTR was suppressed in Macao because the CCP has the power to in Macao," Lai said.
Freedom When Convenient
Regarding the obstruction, Lai said, "People can see clearly through this incident that 'One Country, Two Systems' simply does not work. Macao and Hong Kong were democratic societies, but after being taken over by the CCP, their democracy and freedoms have been curtailed. I believe the human rights situation here will also be further reduced if there is no attention and support from the rest of the world."
Albert Lam, a CIPFG Asia member from Hong Kong and a central committee member of Hong Kong's Democratic Party said, "Under the protection of the 'One Country, Two Systems' and the basic law, Macao and Hong Kong should have the freedoms of demonstration, assembly, appeal, etc. Any issue, liked or not, should be respected in a democratic and free society. Macao violated this basic law when it arrested Falun Gong practitioners and democratic activists during the transmission of HRTR.
"We have not seen any criminal or violent social unrest issue during the HRTR relay. People can disagree with this activity, but we do not believe Macao's police force has sufficient evidence to arrest people or to extinguish the torch," Lam said.