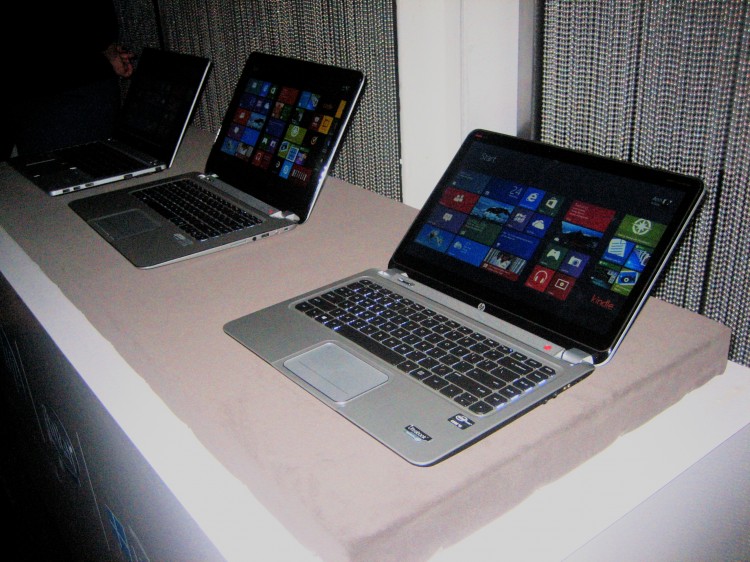 NEW YORK—When I saw Microsoft's new Surface tablet, after momentarily admiring its keyboard built into its cover, it hit me: that's a laptop, only with a flappy keyboard and a touchscreen.
This seems to be the trend with tablets, though. We want them to have keyboards. So all we've really done is created touchscreen notebooks with thin keyboards, that are as expensive as high-end computers, and that have a fraction of the power.
But with that said, I think the folks at HP are onto something with the new ENVY x2, available in December. Rather than create a tablet that's a notebook, they've created a notebook that's a tablet.
The difference is in the software.
Now, as some background, the Windows Surface tablet runs on Windows RT, the dumbed-down tablet version of Windows 8 that can't run most Windows programs and can only pull from the limited Windows app store. Don't confuse that with the HP ENVY x2, which runs full Windows 8. You still don't have access to the overflowing app stores of Apple or Android, but you do have access the abundance of Windows software.
I had the pleasure of using one of these little machines at HP's unveiling cocktail party in New York City. It was at the swanky Terminal 5 club on Oct. 24, with aerial dancers and a live performance from Far East Movement. But while girls were dancing overhead on long pieces of white cloth, nerds like me were on the side staring at the computers.
The HP ENVY x2 notebooks look very similar to the Macbook Air—black keys on its full-sized keyboard, thin and sleek, and with all the USB ports and slots you'd expect from a small notebook. It has a smooth casing of aluminum and black magnesium. It's trackpad has a responsive grip to it, created by a fine-tuned texture of tiny circles. The touchscreen's magnetic connectors easily detach and it makes a nice tablet by itself.
HP didn't skimp on the features either. The ENVY x2 has an 11.6-inch HD display, Beats Audio with dual speakers, a 1080p HD front-facing camera, and an 8 megapixel rear-facing camera.
It has an 1.8 GHz dual core Intel Atom processor, 2GB of RAM to start, and Intel graphics acceleration. The only downside is the small 64GB of storage space available on its eMMC SSD hard drive, so you may consider using an external storage drive for saving photos or other large files.
Having a full-powered notebook that converts into a tablet has its benefits though. It means you don't need to have both a tablet and a notebook, and you don't need to transfer files from one to the other when you want to work.
Yes, there have been notebook-tablet hybrids before, but they didn't have what the ENVY x2 has. Let me explain.
The problem with having notebook-tablet hybrids before was the interface. Do you give it Windows? How about Android or iOS? Basically, you could either have an OS meant for tablets, or an OS meant for notebooks.
HP gets around this with Windows 8. The operating system introduces a new interface that bridges the gap between PCs and tablets—namely, with its layouts.
There are a few different desktop layouts in Windows 8. One (best for tablets) is filled with tiny images and logos and if you tap on them, they bring you to the desired app. You can swipe between different libraries of your applications, or zoom out to get a meta-view of all the stuff you've installed.
The other layout is the traditional Windows desktop, with all the familiar features. You can seamlessly switch between the workspaces.
So, with that said, the HP ENVY x2 is both a fine notebook and a fine tablet, and with Windows 8 at its core, I say with confidence that it will be the first to successfully bridge the laptop-tablet gap.
The Epoch Times publishes in 35 countries and in 19 languages. Subscribe to our e-newsletter.