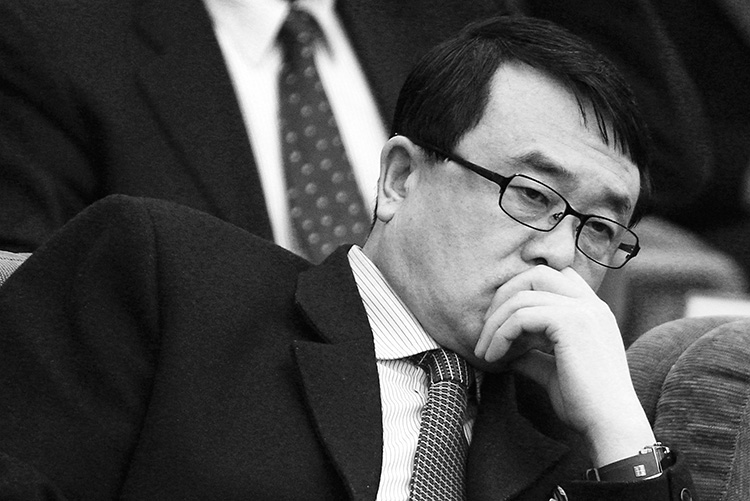 What exactly happened on the day Wang Lijun fled to the U.S. Consulate is not yet clear; but speculation and comments abound on China's Internet. U.S. officials are also leaking information about what happened, and a congressional investigation into the affair has been promised.
Wang is the former vice-mayor and chief of police of the southwestern China megapolis of Chongqing City, and was the right-hand man of Bo Xilai, the city's Communist Party chief who is known as an ultra-leftist hardliner, and who has been wrangling to win a position on the Standing Committee of the Politburo, the group of nine men who stand at the top of the Party's hierarchy.
Wang was unexpectedly demoted on Feb. 2 from his posts and reassigned to handle "culture, education, and environmental protection." On Feb. 5 he talked about the importance of his new job responsibilities at Chongqing Normal University and elsewhere. No one suspected that he would flee to the U.S. Consulate in Chengdu the next day.
The following account of what happened when Wang tried to defect was first published on Weibo, the Chinese microblog service, by a user named Sun Dapao in ten separate posts. Sun's account has since been blocked, but Sun's account has been widely circulated on China's Internet. Its authenticity is yet to be validated. 
After Wang came home at 5:00 pm on Feb. 6, the surveillance officer [in charge of monitoring Wang's residence] reported, "Everything is normal," and three groups were withdrawn from a surveillance team of six groups. The remaining three groups were arranged at the front and the rear of the building, and as backup. Each group consisted of three officers.
Wang carefully observed the outside situation from his windows. Half an hour later, with surveillance relaxed, he left the building disguised as an old woman, in a car previously arranged with an ordinary license plate, and calmly drove away. He then replaced the license plate with a Chongqing police plate and sped off.
When he was close to Chengdu, Wang called the U.S. Consulate General in Chengdu from a temporary cell phone: "This is the Deputy Mayor of Chongqing City, Wang Lijun. I want to ask for political asylum. I will arrive in Chengdu City soon," he said.
Thirty minutes later, around 9:00 pm on Feb. 6, Wang Lijun, Deputy Mayor of Chongqing City of the People's Republic of China, drove into the U.S. Consulate General in Chengdu.
U.S. Consul-General Peter Haymond (aka Cao Cao) and several vice consuls were waiting and received Wang in a conference room. Upon his arrival, Wang immediately asked for political asylum. As evidence [of his life being endangered] Wang submitted photos of his subordinate(s) who had been secretly arrested and tortured to death, and a video about a plot by Bo Xilai to have Wang killed, making it appear like either a suicide, a car accident, a disappearance, or a shooting death during an escape related to counterfeit crimes.
After a long talk, the United States officials told Wang: "We have received your application for political asylum, but we need to report to Gary Locke, the U.S. Ambassador in Beijing, who will determine your approval. We hope you understand."
Gary Locke, upon receiving the telephone report from the Consul-General in Chengdu at 11:00 pm, immediately made a detailed report to the White House.
Meanwhile, using arrangements made by the U.S. [Consulate] and using code words, Wang contacted his family to let them know that he was safe.
At 5:00 am on Feb. 7, U.S. Ambassador Locke formally notified the Consul-General in Chengdu, saying the White House had rejected Wang's application for political asylum.
But the U.S. government also authorized Locke to possibly give Wang humanitarian assistance. At 6:00 am, U.S. officials accompanied Wang to breakfast and to discuss how to help him. Wang's own proposal was to surrender himself to the central [leadership] of the Chinese Communist Party (CCP), but not to Bo Xilai.
Wang told the U.S. Consul, "I am just escaping from Bo Xilai's political assassination, that's why I'm hiding inside the American Consulate."
The U.S. Consul agreed that this was the only explanation that the Communist Party would accept.
At 8:00 am (Beijing time) on Feb. 7, Gary Locke notified the CCP. The CCP immediately [sent someone from] the Ministry of State Security to fly to Chengdu, to safely take Wang to Beijing. [Information supplied by] Wang would serve to investigate Bo Xilai, Huang Qifan [the mayor of Chongqing] and their men.
At 7:00 am the surveillance team [outside Wang's residence] realized that Wang had slipped away. Through a Beijing informer, Bo had already learned that Wang had escaped to the U.S. Consulate General in Chengdu.
Bo immediately told Huang Qifan to lead 70 police cars into Chengdu. Seeing the Consulate surrounded by police, the U.S. Consulate General in Chengdu immediately contacted Ambassador Locke in Beijing again, who notified the CCP that police was surrounding the American Consulate in Chengdu.
A furious CCP immediately ordered the [Communist Party] secretary of Sichuan Province to be in charge of Wang's safety as well as the safety of the American Consulate staff. They dispatched both Sichuan Provincial National Security and police to expel Chongqing police from Chengdu while waiting for the arrival of the official from the central [Ministry of State Security in Beijing].
At 12:00 pm Chongqing police, led by Huang Qifan, were expelled from Chengdu.
At 2:00 pm Qiu Jin, the Vice Minister of the Ministry of Public Security arrived with ministry staff in Chengdu and took over the command.
At 3:00 pm Qiu arranged for a meeting with Bo Xilai, and asked for an explanation.
An hour later, Qiu informed Wang Lijun on the telephone of a message from Hu Jintao: "Your problem will be dealt with fairly by the CCP, we will not accuse a good person nor will we forgive a bad person."
Wang replied that he was willing to be investigated by the CCP. "I will not deny my crimes, but those that aren't mine, I will never admit to. I am filing a charge against Bo and his family for corruption," he said.
From 4:30 to 5:30 pm, Wang met with the American Consulate General, and provided the United States a pile of documents.
At 6:00 pm, Wang left the U.S. Consulate General in Chengdu by himself.
At 8:00 am on Feb. 8, Wang was escorted to Beijing by the Vice Minister from the Ministry of Public Security.
While what exactly happened in the consulate in Chengdu cannot be confirmed, Bill Gertz of the Washington Free Beacon, citing an unnamed U.S. official, has reported that the Obama administration denied Wang Lijun asylum for fear of upsetting the Chinese regime.
U.S. Congressman Dana Rohrbacher (R-CA), chairman of the House Foreign Affairs subcommittee on oversight and investigations, has promised his subcommittee will investigate the handling of Wang's case, Gertz also reports.
Read the original Chinese article.