On March 31, 2021, Georgia Gov. Brian Kemp signed Senate Bill 202 into law, titled the Election Integrity Act of 2021. The law made significant changes to how elections were administered in the Peach State. David Belle Isle, a Republican candidate for Secretary of State, shared his vision on how to lead the office under the new law.
"Secretary of State, prior to Senate Bill 202, was the chairman and voting member of the state board of elections, and now that Secretary of State has no seat other than a non-voting seat on that board," Belle Isle told The Epoch Times. "So the rules are made by the State Board of Election of which the Secretary of State has no vote. The 159 county board of elections no longer answers directly to the Secretary of State. The election law is made by the state legislature and it's interpreted by our courts."
"So as Secretary of State, you've got to do something that is not typically done," Belle Isle said. "You have to lead through the platform of leadership. In other words, you have to take that platform and be able to chart a course and cast a vision that people do not have to follow. But you've got to give them a reason to want to follow it."
Belle Isle said that the Secretary of State could certainly have some input in terms of how you count the votes, but most of the work is being done by the counties that don't report to the secretary.
"It is an executive job," Belle Isle said. "The only way you're going to make that job work is if you know how to run and lead without having the authority to do so. And that's what a mayor does."
Between 2012 and 2018, Belle Isle was the mayor of Alpharetta, a city in northern Fulton County, Georgia. In 2018, he ran for Secretary of State but lost to Brad Raffensperger in the primary.
Belle Isle said when he was the mayor, he created tremendous opportunities for the city, such as creating a new technology incubator downtown.
Georgia's new voting law has been controversial since enacted. President Joe Biden described the law as a "blatant attack on the Constitution and good conscience." Former President Donald Trump called the law "too weak."
"I think Senate Bill 202 all in all was a good step. I do not believe it's the end. And I don't believe it covers all the bases that we want," Belle Isle said.
Belle Isle said, for instance, it's a good thing for the law did away with the signature verification of absentee ballots and required a more objective standard, which would be a driver's license number in most cases. But the problem is there have been security leaks, and that kind of information has been released.
"Voting is a right. But voting by absentee ballot is a privilege. And I believe that the same level of security for voting in person should apply to voting by absentee ballot," said Belle Isle.
Winning Back Trust in Elections
Belle Isle said to fix the mistakes of the 2020 election, people need to first understand what happened.
He said that if he is elected, the first thing he would do is reverse the settlement agreement signed by Raffensperger with Democrat groups in March 2020. He also wants to clean the voter rolls, eliminate drop boxes, and no-excuse absentee voting.
Georgia's new voting law allows drop boxes but restricts the number, places, and handling of ballot transfers from the drop boxes.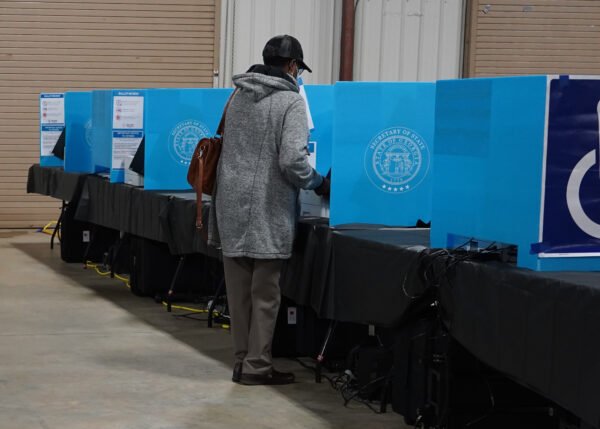 But the settlement agreement placed a burden on the counties and led to the rejection rate dropping significantly, Belle Isle said.
The settlement agreement also required a three-member panel to reject an invalid mail-in ballot. And if two of them decided to reject a vote, they'd have to notify the alleged voter within a single business day by mail and at least one other form of communication.
"Here's the big issue on that," Belle Isle said. "Prior to this consent decree being signed, you had a rejection rate—2018 and 2016—average rejection rate of about 4.6 percent. But in the 2020 election, because of the consent decree, because of the burden placed on all counties, you went to a rejection rate of 0.4 percent. And that's a difference of 55,000 ballots or votes that in any other election would have been rejected."
"Keep in mind, the election was decided by about 11,600 votes. And when you take those 55,000 ballots out, based on the split the absentee ballots fell in Georgia, which was 65 percent Biden 35 percent Trump, you've got two big things that just happened," Belle Isle said.
"One is, Georgia, without having to prove a single fraudulent vote, Georgia or Brad, in this case, certified the wrong result for President," Belle Isle said.
"David Perdue, who's currently running for governor against our current governor, would have avoided the runoff for the Senate. So in that case, the power of the Senate would have remained in Republican hands nationally, and Georgia would have had at least one U.S. senator, and the balance of power now in Washington would be incredibly different."
Another thing that happened is that Raffensperger decided to send unrequested absentee ballot applications to everyone on the voter rolls, which was 6.9 million addresses.
The problem is that not every county maintains its voter rolls well. For instance, Fulton County has 103 percent of eligible voters registered to vote, Belle Isle said.
In addition to that, Raffensperger sent out the applications using first class mail, which would automatically be forwarded to a new address if the person no longer lives there, Belle Isle said.
The absentee ballot application sent out also had a new feature that would allow people to receive ballots for the duration of the election cycle, which is a seven-month period, whether you moved or died, according to Belle Isle.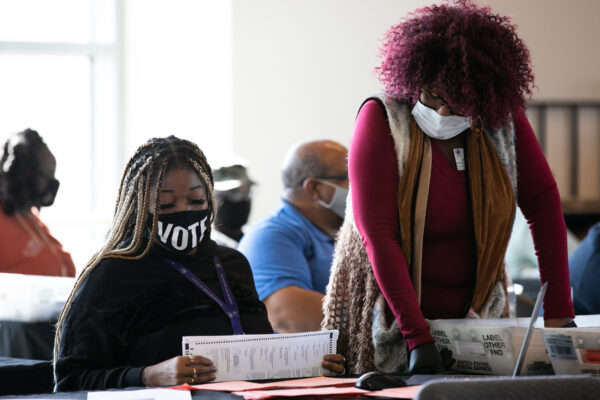 "These are the kinds of things that really screwed up the election, certainly the confidence in our elections before it ever took place," Belle Isle said.
Neither the Secretary of State nor Fulton County offices have responded to requests for comment. But in a letter (pdf) sent to lawmakers on Jan. 6, 2020, Raffensperger said the assertion that the settlement agreement unconstitutionally changed the law "has been rejected by courts and is not supported by the facts."
Raffensperger added that 0.22 percent of ballots were rejected due to missing or invalid signatures. The numbers "are actually slightly higher" than the number of rejected ballots for signature issues in 2018.
Champion Georgia Jobs
Belle Isle said he's running to win back trust in Georgia elections as well as to champion Georgia jobs, "those are two very important things."
"I want to make professional licensing work in Georgia. I want to blaze a path for first-generation farmers because agriculture continues to be our biggest industry in the state. And I want to make Georgia the number one AgTech state in the country. And these, like I said, are the untapped potential of that office, and a huge opportunity for our state," Belle Isle said.
"I think this is the worst job in politics for a lot of the reasons that I said earlier: you are called the chief elections officer, and you have no authority, and it's a mess, and there's a high profile on it," Belle Isle said. "But I also think it's the most important job right now. It has to be done right and by somebody [who] knows how."
Belle Isle will face Raffensperger, Trump-endorsed Rep. Jody Hice (R-Ga.), and a former probate judge TJ Hudson during the primary.