'How to Get a Council House' Series 2 Finale Spoilers: Two Residents Facing Eviction Refuse to Budge
April 30, 2014 10:30 am Last Updated: April 30, 2014 10:30 am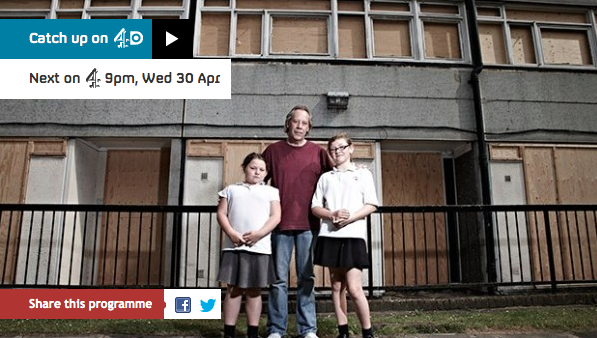 On the finale episode of "How to Get a Council House" season 2, a handful of households at the sharp end of the housing crisis face eviction, overcrowding, upheaval, uncertainty, and a lengthy wait for council housing. 
"How to Get a Council House" centers around public housing issues in the U.K., and the decisions that councils face when people approach them with issues of affordable rent, overcrowding, etc.
This third, hour-long episode of the second series, will highlight the struggles of Steve, who is a recovering alcoholic looking for a ground-floor property in the London borough of Tower Hamlets. Steve, 53, is about to be evicted but feels like he's entitled to get a council house in the neighborhood, because he is a born and bred Londoner. 
Another character in the episode, Marilyn, has been living in a council house for 10 years and refuses to leave. Even though she stocks up on food and locks the door, she still faces eviction, according to RadioTimes.
The episode will air on Wednesday, April 30 at 9 p.m. on Channel 4. 
The show received a lot of social media attention when people took to twitter to express their outrage with the process of providing housing for the poor, saying the unreasonable circumstances, like some of the characters on the show refusing to work while showing off an iPhone, was unacceptable. 
A British paper The Guardian, then released an article "How to Get a Council House: a fair depiction?" with a response from those who were not on the show, but who also live in council housing. They argue that they "work, pay the bills and rent," and that the show simply highlights extreme cases.