News Analysis
SRINAGAR—With the Taliban taking over Afghanistan, serious concerns have arisen over the security situation in the Muslim-majority region of Jammu and Kashmir, India's northernmost territory.
Kashmiri insurgents have long received support and sanctuary from across the border, and with their reported links to the Taliban, the potential security threat to the region could result in a substantial number of confrontations with Indian security forces.
The Taliban, since taking over Kabul, has called Kashmir a bilateral issue between India and Pakistan, but the terrorist group has said it will "raise its voice" for Muslims anywhere, and particularly in Kashmir and India.
India and Pakistan have fought multiple wars over Jammu and Kashmir since its inception. India maintains that it took possession of the region by treaty in 1947, whereas Pakistan calls it "India occupied." Since 1947, the region has been split into several regions: one controlled by Pakistan that India calls Pakistan-occupied Kashmir, an easternmost end that's called Aksia Chin that is under China's control, and the rest, which remains with India. The city of Srinagar, in particular, largely remains the fulcrum of debate between the nationalist and separatist elements.
Prime Minister Narendra Modi's government brought in constitutional changes in 2019 and abrogated Article 370, which granted special status to the region within the Indian nation, and instead created two federally governed territories called Union Terrorities of Jammu and Kashmir on the border with Pakistan and the state of Ladakh, which borders China.
The Epoch Times visited Srinagar to speak with political leaders, local journalists, and Indian government officials last week to understand the situation in Kashmir as it relates to Afghanistan.
While law and order inside Srinagar seemingly remained under control with free movement of residents and tourists (including very few foreign tourists), streets and neighborhoods remained guarded by the Indian military and paramilitary forces along with their riot control vehicles.
A highly placed source in the Indian government in Srinagar told The Epoch Times on condition of anonymity that India's concerns about Kashmir and the situation in Afghanistan are essentially about "men, materiel, and drugs."
He said there are currently 200 terrorists inside Kashmir including 80 foreign terrorists, but the latter are mostly Pakistanis of Punjabi origin and not Afghans. However, since the Taliban released many prisoners during its conquest, these hardened insurgents may likely be pushed into Kashmir.
"Weapons left by Americans would be drone dropped. Even if 10 sorties out of 100 are successful, it could pose serious security risks. Both weapons and drugs have been drone dropped from across the border earlier," he said. Opium flows inside Kashmir from Afghanistan through the porous borders between Pakistan and Afghanistan and Pakistan and India, he said.
More than 300 drones were sighted in Jammu and Kashmir along the disputed border between India and Pakistan from August 2019 to June 28, 2021.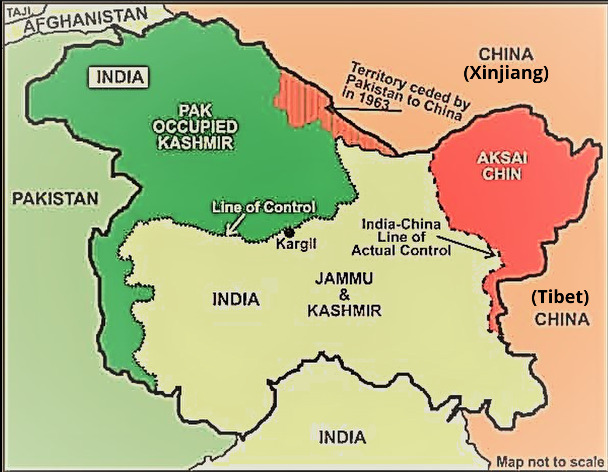 Taliban's Statements on Kashmir
In statements to the media, Taliban spokesmen have recently asked India and Pakistan to resolve the issues bilaterally and have also said that Kashmir isn't in their jurisdiction, interference in Kashmir is against their policy, and the Taliban have "no policy" of launching armed attacks against other countries.
However, in an interview, Taliban spokesperson Suhail Shaheen told the BBC's Hindi service: "As Muslims, we also have a right to raise our voice for Muslims in Kashmir, India, or any other country."
The Taliban's interviews appear to be a diplomatic tactic as a 2020 report from the U.N. Security Council's analytical support stated that two insurgent groups operating in Kashmir, Lashkar-e-Taiba and Jaish-e-Mohammed (JeM), have hundreds of armed fighters located with the Taliban forces in Nangarhar.
Both groups were named terror groups during the 2017 BRICS summit in Xiamen, China.
In a bloody conflict in 2020 in which the now-ousted Afghan forces lost four soldiers, 10 of the 15 men they killed were Jaish-e-Mohammed terrorists being trained for operations in Jammu and Kashmir, as reported by Indian media. 
The JeM was involved in an attack on an Indian paramilitary convoy that killed 40 soldiers in February 2019 in Kashmir. Two weeks later, India claimed it had conducted airstrikes targeting militant camps inside the Pakistan-controlled territory. Pakistan retaliated a day later, leading to a short air escalation.
The Taliban's takeover has bolstered other militant groups operating in the region, with some releasing statements that describe the Taliban as a motivation for their respective causes.
Syed Salahuddin, the leader of an alliance of Kashmiri insurgent groups, called the Taliban's victory "extraordinary and historical," in a voice message shared across social media days after the fall of Kabul. Salahuddin, who is based in Pakistan-controlled Kashmir, said he expected the Afghan group to aid Kashmir's insurgents.
"Same way, in the near future, India too will be defeated by Kashmir's holy warriors," he said.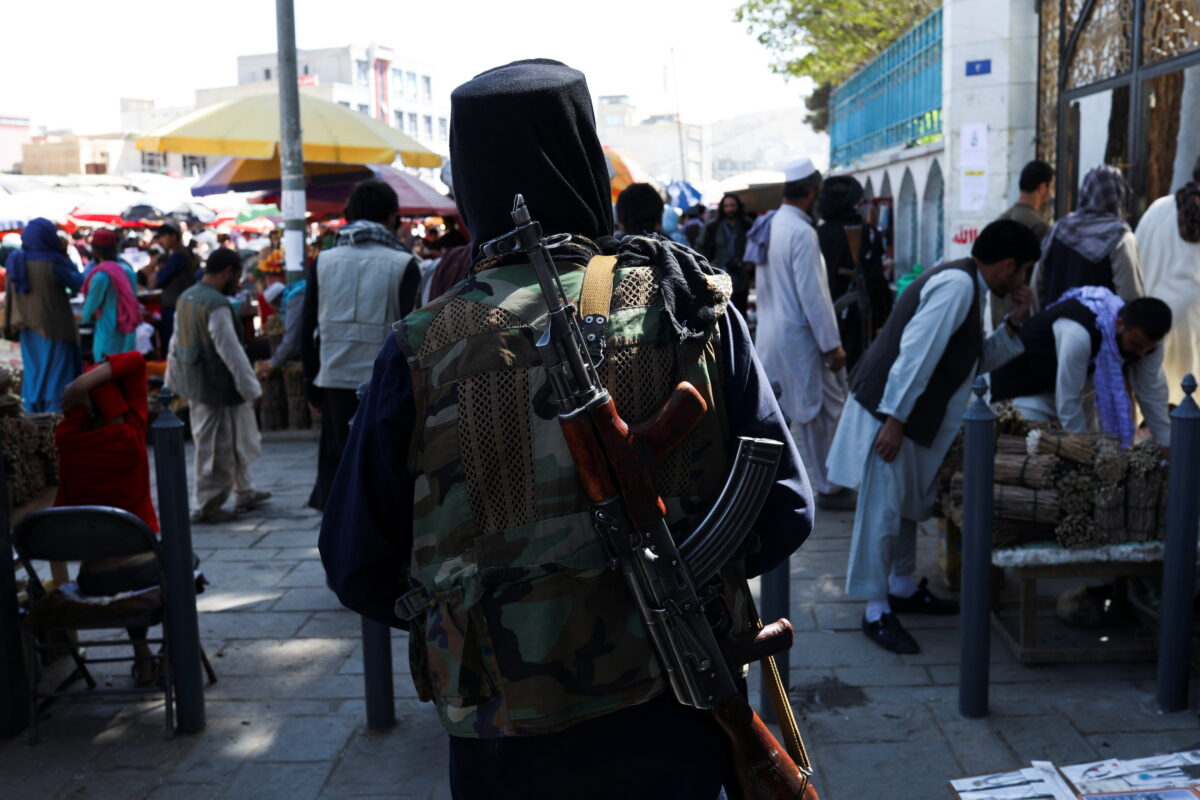 Opinion Inside Kashmir
On Sept. 20, reporter Asem Mohiuddin of the local weekly newspaper The Legitimate wrote for its front-page story: "In the aftermath of US withdrawal from Afghanistan and Pakistan taking the driving seat in the country, the militancy in Kashmir may rise in coming months with ostensible support from China." The article points to the Taliban's tutelage under Pakistan and its Inter-Service Intelligence.
Mohiuddin quoted retired Lt. Gen. Syed Ata Hasnain, who has always opposed Indian troop withdrawal from Kashmir, as saying: "There is no possibility of lowering the security grid in Kashmir. Kashmir will take a direct impact of the Afghanistan situation since Pakistan is backing the Taliban forces."
Mohiuddin wrote that since the abrogation of Article 370, the relationship between India and Pakistan has been at an "all-time low," and amidst these strained relations, India must brace for larger security challenges pertaining to Afghanistan.
Ahmad Ali Fayyaz, a senior Kashmiri journalist, told The Epoch Times in Srinagar on Sept. 18 that more than 50 percent of people in Kashmir believe Afghanistan under the Taliban will not meddle with other countries' affairs and will not be misused by countries such as Pakistan to intensify conflict inside Kashmir.
However, there's a section of the Kashmiri population today who, according to Fayyaz, believe the Taliban may enter Kashmir with "guns and rocket launchers" and create a situation for India that will be similar to what the United States faced inside Afghanistan.
"There's a difference between waging a guerilla war with an alien country inside your own land and waging a war with a country like India inside Kashmir. The responses can be completely different. It'll not be the way it was witnessed in Afghanistan," Fayyaz said, adding that he has received threats more than a dozen times from insurgents.
Surrounded by Pakistan on one side and China's expansionist agendas on the other side, a section of the population feel "secure" with the presence of Indian military forces in Kashmir, said Fayyaz, who estimates only about a third of the population in the Kashmir valley would like to be independent from India.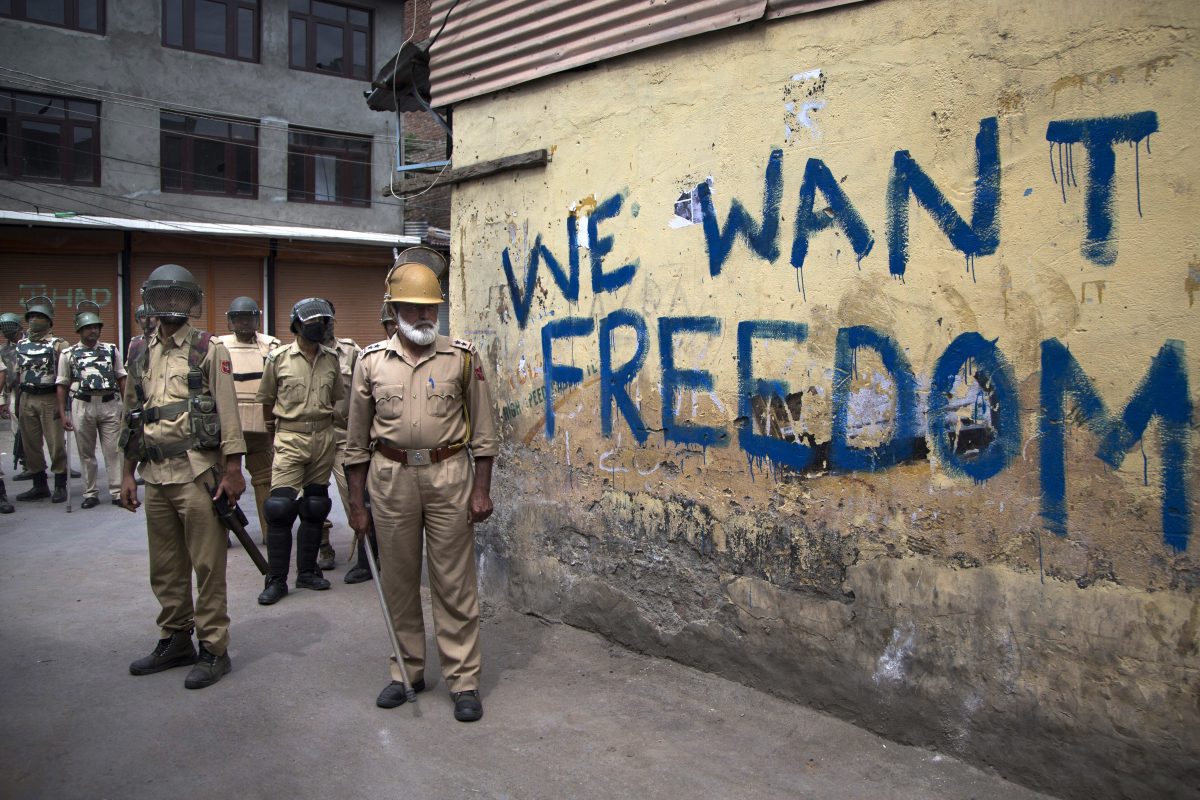 From Kashmiri Politicians
Ghulam Hassan Mir, a senior Kashmiri politician and a founding member of the newly formed Jammu and Kashmir Apni Party, told The Epoch Times in his party office on Sept. 20 that with the Taliban in Afghanistan there's an "apprehension" that militancy will be on the rise in Kashmir.
"It'll not be from the Taliban government. It'll not be the Taliban support. But it'll be a new system," Mir said, adding that militancy is an industry in the region and the Taliban are a part of that ecosystem. "There are other shoots.
"These things will happen. Those who were criminals yesterday are not criminals today. It is a simple thing."
Mir said there's substance to fears about the drug supply chain from Afghanistan to Kashmir through Pakistan increasing under the Taliban.
Sajjad Lone, the chairperson of the Jammu and Kashmir People's Conference and a former member of Jammu and Kashmir Legislative Assembly, told The Epoch Times on Sept. 21 that there may be an ideological spillover in Kashmir of the Taliban taking over the power in Afghanistan.
"The people who will be impacted by the ideological spillover from Taliban or their success are not in a majority in Kashmir," Lone said, referring to Islamic radicalization.
He said the Taliban probably won't do something that would invite intervention from the international community as it did in the past.
"So in that scheme of things, I don't think they will repeat conditions, which would force the international community to come back and intervene again, which means not allowing their soil for attacks against other countries," he said.
"But having said that, the whole Taliban concept is in itself that inspiring, great for some sections of society across the Muslim world who are radicalized or are on the verge of radicalization."
The Indian government should take care that its policies further don't allow the alienation and radicalization of Kashmir youth or create any conducive situations for Taliban or similar elements, Lone said.
"People per se in Kashmir are moderate. We should do nothing to push them to the Taliban. Taliban thought cannot inspire the Kashmiris. They are too forward-looking to settle for a medieval inspiration," he said.
Kashmir's long-standing and only communist leader, Mohammed Yousuf Tarigami, told The Epoch Times on Sept. 19 that the way the United States pulled out of Afghanistan has created difficult situations for India as well.
"You have to recognize today's reality. Today's reality is … there's no America-supported regime inside Afghanistan. There's some sort of regime that was not the choice of the Indian government or some other neighbors as well and some population of the whole of the region as well," said Tarigami, who was a four-time member of the legislative assembly of the Jammu and Kashmir, which no longer exists after the abrogation of Article 370.
Tarigami, who's a member of the Marxist Communist Party of India, is also the convenor and spokesperson of the People's Alliance for Gupkar Declaration, an electoral alliance of various political parties that want Article 370 to be restored.
He urged that the world must take care of the humanitarian crisis in Afghanistan, and India must be a part of that effort. He didn't specifically comment on the Taliban's coming to power in Kabul spilling over in Kashmir.