How the Stars Aligned for Bill de Blasio (+Infographic)
City's debate on racial profiling aids de Blasio
September 11, 2013 10:32 pm Last Updated: October 31, 2013 2:10 pm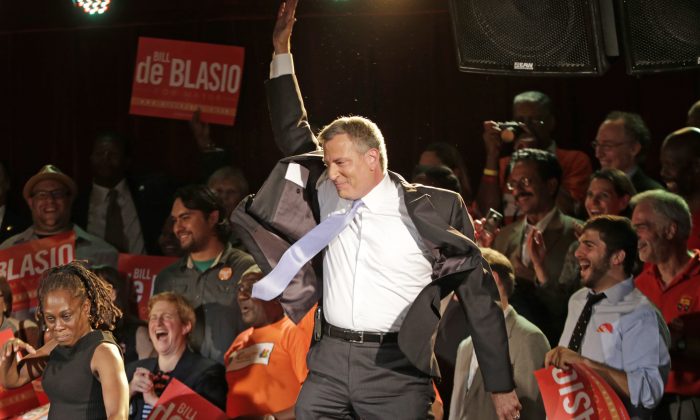 NEW YORK—It will be days before voters will know the final mayoral election results from Tuesday's primary, but Bill de Blasio is guaranteed to be in the next round, be it a runoff slated for Oct. 1, or the general election on Nov. 5.
In a crowded Democratic field, the current public advocate took a commanding 40 percent of the votes, nearly doubling rival Bill Thompson, who received 26 percent.
For those following the race throughout the year, the possibility of not having a runoff sounds almost impossible.
De Blasio's rise happened fast in the end, but a set of circumstances involving racial profiling and the feelings of inequality that gripped the city played perfectly to his well-orchestrated campaign message.
No issue played more into the hands of the de Blasio campaign than stop and frisk—a major campaign issue. It became both the fertilizer on which de Blasio's grass-roots campaign grew, and an Achilles heel for rival Christine Quinn's campaign.
On a frigid January day, outside his home in Park Slope, de Blasio formally announced his bid for mayor of New York City, coining his catch phrase of "tale of two cities."
Stop and frisk was on the radar in the city, and a package of four bills aimed at reforming the controversial practice was sitting in City Council. But they were stalled in committee, and without Speaker Quinn's support, they were not going anywhere.
The federal trial of Floyd v City of New York, in which citizens sued the city saying stop and frisk was racially biased, was on no one's radar, let alone the prospect of a guilty verdict.
Article Continues after the discussion. Vote and comment
[tok id=9d8ebc182c58b552dd9a7a87a912e978 partner=1966]
Also, no one thought George Zimmerman would be found not guilty of murdering Trayvon Martin in Florida. It was an incident ripe with racial tension, which would bleed into cities all over the country following the verdict.
On that cold January day, de Blasio mentioned reforming stop and frisk in his announcement, but he could not have known how these events would magnetize people to his campaign in the coming months.
History of a Key Rival
In January, despite not formally being a candidate, Quinn polled at 35 percent, with de Blasio only getting 11 percent. The following day Quinnipiac University released another poll showing Police Commissioner Ray Kelly's approval rating at 75 percent.
Quinn latched on to that approval rating, and began discussing keeping Kelly on as commissioner in her administration. That very idea would, months later, become the face of everything the public despised about stop and frisk due to Kelly overseeing the practice.
As the issue of stop and frisk became a hot topic in the city, Quinn never backed down in her support of Kelly. De Blasio, as well as every rival Democrat, used her stance to discredit her ability to reform the practice.
In mid-March the Floyd trial began, lasting almost two months. Some of the NYPD's dirty secrets regarding stop and frisk, such as quotas, were revealed, adding talking points to de Blasio's message about the need for reform.
Following the wrap of the trial (but prior to a verdict), Quinn orchestrated a rare move called a motion to discharge to get two bills that would limit stops out of the City Council. It would bring the inspector general bill, which would provide police department oversight, and the racial profiling bill, which would allow citizens to sue the city if they felt they were profiled, to a vote.
On the surface it appeared to be a good move politically. Even though Quinn did not vote for the racial profiling bill, she agreed to let it go to a vote, thus showcasing her compromising skills. It also allowed her to tout the fact she had done something to reform stop and frisk, something de Blasio could not claim.
Despite helping to orchestrate two bills through Council, and standing up to the mayor when he vetoed them, Quinn could not overcome her continuing support for Kelly. De Blasio also criticized her for only voting for one of the bills.
In early summer de Blasio was still polling at a tepid 10–15 percent, with the newly announced Anthony Weiner taking not only his share of the polling numbers, but also the lion's share of the media attention.
On July 13, George Zimmerman was found not guilty of killing the young, black, Trayvon Martin.
The verdict catapulted the issue of racial inequality—a theme in the de Blasio campaign—to the forefront of the conversation.
The event epitomized the narrative de Blasio had been highlighting since January, despite the fact that Thompson, more than de Blasio, used the incident as a talking point.
On July 23, part two of the Weiner scandal broke, sending his campaign into a nosedive, allowing de Blasio to pick up the voters Weiner had been courting.
Three Weeks
The three weeks following the Weiner scandal proved to be the tipping point for the de Blasio campaign. A July 29 Quinnipiac poll showed de Blasio polling at 21 percent, just six points behind Quinn.
On Aug. 4, The New York Times ran a front-page article about how de Blasio is addressing inequalities, not only regarding stop and frisk, but fighting to save hospitals. The article gave greater narrative to de Blasio's talking points.
On Aug. 8 the now-infamous "Dante" ad aired, starring de Blasio's biracial 15-year-old son talking about how his dad had prepared him for stop and frisk. It was an Internet sensation with over 100,000 hits on YouTube.
It showed that even though de Blasio is white, he could relate to the problems of stop and frisk, an issue that had grown to become the storyline of the summer.
On Aug. 12, the verdict in the Floyd case came back, deeming stop and frisk unconstitutional. The verdict lent credence once again to de Blasio's argument that the practice needs to stop.
The following day de Blasio took over in the polls at 30 percent, and never looked back.
Quinn seemed to set herself up well on the issue of stop and frisk early in the year, but the unexpected breaks proved to be her demise.
In May she went on television clarifying she would continue stop and frisk with Kelly as commissioner, but it would have to be done her way and be "constitutionally sound."
After overriding the mayor's veto on the reform bills in council in late August, Quinn chided de Blasio for his "inaction" on stop and frisk, saying he had the opportunity to pass reform but never did.
By then, it was entirely too late. The grass-roots campaign had grown into a forest and nothing could quiet the roar of de Blasio's campaign message.