The release of smartwatches marked the beginning of a new era for the watch industry. Yet, Citizen Watch Company believes its sophisticated satellite watches are even smarter.
The world's first watch able to sync with satellites was released by the Japan-based company in 2011. The watch, called the Satellite Wave, is made for people who travel, and as soon as they step off a plane, it picks up the local time via satellite.
"We spend a tremendous amount of money on research & development. We are innovators of timepieces," said Jeffrey Cohen, president of Citizen Watch Company of America, noting that they try to always bring the latest technology to customers.
In line with Cohen's claim, Citizen introduced its second Satellite Wave watch in September, called World Time GPS. He claims its new satellite technology is "the next big thing" and a "game changer" in timekeeping.
Cohen believes Citizen is smarter than those brands going after smartwatches. "We see a lot of brands going off-brand and doing crazy things because they want to be in that game. We have been in that game too" said Cohen.
Citizen introduced Proximity in 2011, which is one of the first smartwatches that sync with the iPhone. Although Proximity watches have been selling well, Citizen is still "not interested in gadgets," as he puts it.
"We are a timekeeper company that delivers excellence and quality in craftsmanship" said Cohen. "We are staying the course. We are not going right, we are not going left, we are going straight."
The company is also not interested in outsourced, third party technologies. It focuses on its homegrown technology, which includes Eco-Drive, Atomic Timekeeping, GPS satellite technology, and super titanium.
Citizen is the U.S. industry leader in the mid-priced watch market. Timepieces accounted for more than half of the Citizen Group's revenues of 328 billion yen ($2.74 billion) in 2014 according to Watch Time Magazine.
All watches have Eco-Drive feature. The basic ones are priced around $300. Atomic Timekeeping (A-T) watches are priced from $600 to $900 and Satellite Wave watches from $1,000 to $2,500.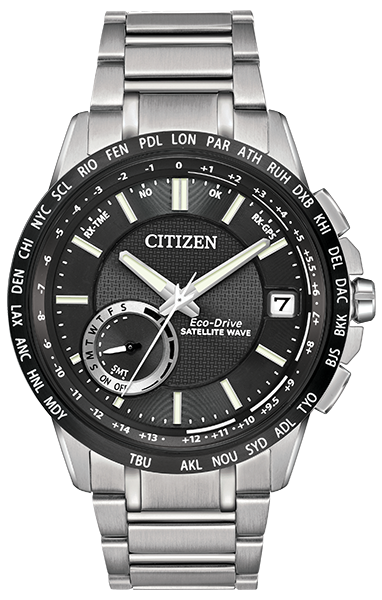 What Differentiates Citizen?
For the past 40 years, Eco-Drive technology is Citizen's biggest differentiation point. An Eco-Drive watch does not need a battery, instead it uses natural or artificial light as power source. "We are a company of innovation. We are the first, biggest and best in the Eco-Drive technology" said Cohen.
The company has pioneered A-T technology, which relies on standard radio waves received from five atomic clocks around the world. The latest GPS satellite technology, however, provides better coverage compared to the A-T and it is a major part of the business with continued growth.
Over the years, the company has perfected the dials and movements of the watch. In the past, it had to compromise on the design because dials had to be transparent to get light. It was very difficult to design beautiful looking dials. However, the design has improved significantly with sophisticated technology.
The most striking feature of the watches is the titanium case, made of Super Titanium, a material developed and patented by Citizen. It is five times harder than stainless steel and more scratch resistant. "We believe it is the best titanium product in the world," said Cohen.
The company provides a five-year warranty. With online registration, the warranty goes up to six years, which is the longest in the industry. According to Cohen, Citizen watches have a long lifespan. They are more accurate, reliable, and maintenance free because of the Eco-Drive technology.
"Our watches do not need battery replacement. But most Swiss watches have battery replacement. Opening up the watch leads to problems" said Cohen.
Challenges
Due to the economic slowdown and anti-corruption legislation, demand for watches in China is falling according to a report by Deloitte Consulting. Even luxury Swiss watch companies have started to reduce their prices.
Cohen thinks the watch industry will face challenges and there will be lot of watch companies going out of business in the coming years.
"Everybody was going to China and charging premiums. The prices were not sustainable," said Cohen "Powerful brands like Citizen will be more sustainable for the future."
Being a leader in the mid-priced watch category, Cohen believes Citizen is in a "protected zone" and immune to economic downturns.
'Emotional Connection' With Millennials
Cohen underlined the importance of making an emotional connection with young consumers, which is a big challenge for watch industry. "We need to keep bringing new people into the brand and let them grow up in the brand" said Cohen.
In order to make that emotional connection the company puts a lot of content on social media. "The consumer is now expecting to see more pictures and videos of watches" said Ellen Seckler, vice president of marketing for Citizen Watch.
With changes in the media landscape, the company has also shifted its advertising strategy. "I think brands have to understand that social media is a long-term investment. I consider it as a brand builder" said Seckler.
In an effort to promote the brand, the company has prepared a short film titled "Chasing Horizons." The award winning documentary reached over 360 million online viewers.
In the creative film, ex-NATO pilot Jonathan Nicol and photographer Simon Roberts took to the skies, chased the sun around the world, and promoted Citizen F100's ability to self-adjust time.
Flagship Strategy in Times Square
In another effort to promote the brand, Citizen opened its first flagship store in 2014 in Times Square, New York. With over 1,300 square feet, the store features the full range of Citizen watches including limited editions.
Cohen considers the flagship store a great marketing strategy. "Four hundred million people walk through Times Square in a year" said Cohen.
Outside of Manhattan, the company recently celebrated its 23rd year as the official timekeeper of the US Open Tennis Championships.
Citizen operates over 130 stores throughout the world. However the company relies on wholesale distributors and does not have a simple retail strategy in the U.S. market. "We have a flagship strategy. It is probably the best location you can find in the world" said Cohen.