People like free stuff, like consuming online articles and videos without looking at the annoying pop-up ads. And now there are plenty of ad blocking tools that avoid online ads, banners, and videos. But they pose a great threat to publishers that depend on ad revenue for survival.
"The incredible growth of ad blocking has reached the tipping point where sites will no longer be able to operate," Justin Bunnell, CEO of AdSupply Inc., states on the company's website.
"If ad blocking continues unchecked, it will eliminate the advertising revenue websites need to survive. It is like expecting a movie theater to stay in business when 30 percent of their audience does not pay for a ticket."
The incredible growth of ad blocking has reached the tipping point where sites will no longer be able to operate.
Founded in 2012, AdSupply is an online advertising network that allows brands and agencies to buy advertising from over 1,000 websites. To counter the removal of ads in consumers' browsers, its product line now features the patented BlockIQ technology.
Launched in December 2015, BlockIQ is software that bypasses ad blockers and enables publishers to recover lost revenue.
There are different apps and browser extensions that prevent advertising from displaying on websites, resulting in lost revenue for the website operator. They remove elements from the website HTML and block connections to ad servers.
The cost of blocking ads is over $21 billion in 2015.
Ad blockers globally are growing at a rate of 41 percent annually, according to the PageFair and Adobe 2015 Ad Blocking Report. Roughly 200 million people use ad blocking applications. And the cost of blocking ads was over $21 billion in 2015, which is 14 percent of the global advertising spending. This cost will double in 2016, according to the estimates.

"Ad block is a threat to the very existence of the World Wide Web," AdSupply says on its website.
On an average site, 20 percent of ads are blocked. On gaming and technology sites, the ad blocking can go up to 40 percent. Ad block applications have been the No. 1 sellers in the iPhone App Store, according to AdSupply.
Ad block is a threat to the very existence of the World Wide Web.
To fight ad blockers, a number of solutions have emerged in recent years. However, AdSupply thinks its BlockIQ solution is superior to others:
"We are bypassing the ad block. We are circumventing it to allow the sites to control their experiences. That is the primary difference. We have not really seen any competitor doing the same thing in terms of bypassing," Bunnell told the Epoch Times.
According to him, most competitors are using Acceptable Advertising, which has been introduced by leading ad blocker Adblock Plus. The solution has a set of rules about online advertising. However, compliance is judged by the ad blocker. If the ads are compliant, the ads will be added to the "whitelist" and will not be blocked.
Companies including Google, Amazon, and Microsoft pay huge fees to Adblock Plus to get their ads whitelisted, according to media reports.
"You have the process where they dictate how a website can run. They are dictating to the publisher who put their time and effort to create this website and they are telling what they can and cannot do. And that is the way our competitors are approaching it," said Bunnell. 
"We reject acceptable ad policy because we feel the publisher has the right to have advertising and they have the right to make money from their work. So that is the big difference between us and most of our competitors."
In addition to bypassing, there is another system called the "pass wall system." There are companies using texts, like Forbes. "If you use an ad block, they say you cannot go to our website. There are a couple of companies using that kind of system that asks users to turn off their ad blocking. So there are two approaches to overcome ad blocking," said Bunnell.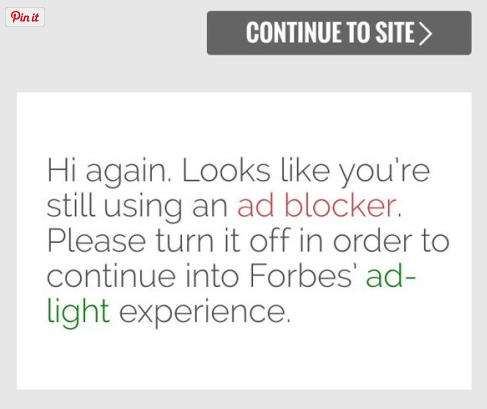 BlockIQ works by detecting if users are running ad blockers and offers publishers and advertisers three options. One of the options is to display a welcome message that explains the value of the website and the damage to the community inflicted by ad blocking.
The second option is to protect the publisher's content behind the BlockIQ Passwall system that refuses to serve content until its site is whitelisted. (Visitors configure Adblock to allow ads from that website.) 
The last option: The BlockIQ BlockBypass system can just push ads past the ad blocking to the visitor.
AdSupply's programmatic online marketplace is ranked by comScore as the 21st-largest online advertising network. The company had revenues of $18.5 million in 2015. In order to gain competitive advantage through size and scale, AdSupply recently agreed to merge with Adaptive Medias Inc. (OTCQB: ADTM), a video technology provider for publishers, content producers, and brand advertisers.
The combined company will benefit from BlockIQ's leadership and Adaptive Medias' Media Graph technology. Media Graph provides the ability to monetize digital video content across all screens and devices through one centralized solution.
"With the Internet rapidly migrating to HTML5 video, especially on mobile devices, we must be well positioned in this space and Media Graph is the next generation, a state-of-the-art platform that would otherwise take us two or more years to build on our own," said Bunnell regarding the merger deal.
Mobile video will represent 72 percent of global mobile data traffic by 2019, up from 55 percent in 2014, according to Cisco Systems.
"Everything is moving toward video and it is moving fast on all devices. When you go to websites like ESPN, everything is video," said John Strong, chairman and CEO of Adaptive Medias Inc.
"Video is effective, interesting, and gets attention. So advertisers definitely like it more than a simple display. This does not mean display advertising is going away, but video is moving so quickly that it is getting a larger online content pie."
With respect to consolidation in the digital advertising industry, both companies expect to see more mergers in the near future.
"I think you are going to see a lot more consolidation right away. You just have to have a big footprint, more comprehensive operating products so you can be a one-stop provider," said Strong. 
"You will see many companies start to either sell smaller pieces into a larger business or merge into other companies that are complementary."