How Much Offered to "Welcome" CCP Leaders?
September 12, 2005 12:00 am Last Updated: September 12, 2005 12:00 am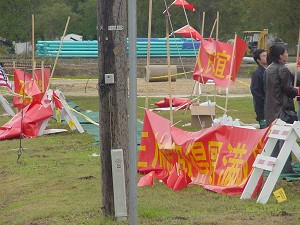 Hu Jintao's visit to the US represents a last-ditch attempt to save the Chinese Communist Party. Although there have been many undesirable obstacles and unexpected impediments, the CCP has pulled out all the stops and resorted to all means, determined to wantonly exaggerate and propagandize the visit.
According to Xinhua Net, three thousand Chinese in New York alone have already been mobilized to form welcoming groups for Hu. According to Eastern US World Chinese Union, Hu's welcome will be "unprecedented".
According to another source, nearly a thousand people from Hu's team of supporters have already arrived in Washington DC and New York. Their purpose in arriving in advance is to mobilize the welcoming scene and be part of the welcoming "crowd".
No other country needs to arrange and pay for people to welcome their own leader. This false "welcome" stands an embarrassment to the Chinese people.
Welcoming Jiang Zemin Presents Serious Political Mission
On October 22 and 23, 2002, Jiang Zemin visited Chicago. The Chicago DePaul University student activity organizer stated that "welcoming Jiang Zemin" is a serious political mission, and if the requests of the Chinese Consulate were carried out, then participants would receive a free shirt provided by the Consulate. One of the requests included participating in a 6:05am activity on October 23. If a person only participated in welcoming activities on October 22nd, then he or she could only purchase the $35 shirt at half price, $17.50.
From October 23 to 25, Jiang stayed in Houston. According to Voice of America, a Chinese scholars' association at Houston University claimed that participants of Jiang's welcoming group would not only receive free lunch, dinner, and snacks provided by organizers of the welcoming group, but could also receive free hats, shirts, and basketball tickets.
According to a student who helped in welcoming Jiang Zemin, participants not only received paraphernalia, free lunch, and dinner, but also each person received $50 in payment. Wei Jingsheng, a democracy activist, who drove a vehicle displaying "Jiang Zemin Betrays China" in activism during Jiang's visit, confirms this $50 payment, since his vehicle attracted many student participants in Jiang's welcoming group.
Jiang Zemin's Welcoming Group Members Need to Sign a Document
In 2002 when Jiang Zemin visited America, the Friendship Association of Chinese Student And Scholars Association (FACSS) sent out a waiver form to all overseas students, asking anyone who would participate in Jiang's Welcoming Group to sign an agreement not to be involved in any demonstration against Jiang Zemin, or else they would be fined for a minimum amount of $5,000.
The original text of the email and waiver are as follows:
Dear all,
In order to protect the purity of our Welcoming Team and to protect us from future harassment phone calls, please sign this legal statement and turn in to your group leader. Anybody who is against this agreement will be sued by our organization immediately.
Many thanks for your cooperation. FACSS
PARTICIPATION AGREEMENT
Group X invites _______________ to be a member of the Welcoming Group. In consideration for this invitation, I agree to abide by the rules and regulations of the Welcoming Group. I also agree if any disturbances are caused by me (e.g. protest against the United States and/or President of China) to pay $5,000.00 as minimal damages for any harm that may result from such disturbances to the group&#039s reputation. Also, in regards to disturbances, I agree that if any another group, such as, Falun Gong contact us or we become aware of any threats of disturbance by any other groups, I agree to contact the group leaders of the Welcoming Group as well as the proper authorities. We understand it is our right to protest with any other groups our views and opinions, but in becoming an active member in the Welcoming Group, we voluntarily waive any such rights."
A link to the original contract can be found at: http://chinese.faluninfo.net/images/2002-10.18-ql-FACSS-legal-statment-issue.jpg
"Here Comes CCTV, Let's Yell Slogans!"
In the afternoon of September 6, 2005 when Chinese Vice Premier Wu Bangguo arrived at the New York Waldorf Astoria Hotel in Manhattan, the Chinese Consulate and some pro-communism organizations led a "Welcoming Group" of several hundreds of people waiting nearby. Hua Junxiong, who is closely affiliated with the Chinese Communist Party (CCP), shouted: "The CCTV (China Central Television) is here, let's yell slogans!" The group let out weak and discordant voices. Hua Junxiong was not satisfied and shouted: "Please pay attention. If I yell hysterically with all my strength, it means the leader has arrived! Then let's yell together!"
Wu Bangguo's parade of cars drove directly to the hotel and entered via the side door, without stopping or waving to the group. People that had been yelling for over two hours were very disappointed. They abandoned flags and banners, and some even sat unhappily on the ground.
According to resources, in order to create a scene of a "successful" visit in which the overseas Chinese "welcome" the CCP leaders, the Chinese Consulate worked with travel agencies to attract people around New York State with free trips and free accommodations in New York City. On September 6, about six to seven buses arrived in New York City's Chinatown.
The CCP Uses Overseas Chinese; Hiring a Welcoming Crew to Save Face is Shameful
The CCP used unprecedented efforts to welcome Hu Jintao, which shows that the CCP is at its end under the trend of withdrawal from the CCP.
Sheng Xue, a well-known writer, stated, "Hu Jintao represents the largest dictatorship in the world. People in the welcoming group do not feel the responsibility to fight for those who are enslaved under such dictatorship, but to flatter and please Hu for personal benefits. It is terrifying, disgraceful, and pitiful for those who live in a democratic world to please the CCP dictators."
Does the CCP value overseas Chinese? Chen Yonglin, a former Chinese diplomat at the Chinese Consulate in Sydney, said that the CCP wants to use overseas Chinese, but does not trust them. When Hu visited Australia in 2003, he received some Chinese students and Chinese nationals. For this event, the Chinese Consulate rented a safety door. Each Chinese who came to see Hu had to pass a strict search through the safety door. Clearly, the CCP does not even trust the overseas Chinese who came to pay their respects.