When our nation's service members return home from combat it can be difficult for them to adjust to civilian life. War Horses for Veterans in Stillwell, Kansas, is helping combat veterans transition back to civilian life by connecting them with members from their old units, and teaching them how to groom, train, and ride horses.
Patrick Benson is the co-founder of the organization, and Gary Llewellyn is a mentor who has participated in the foundation's program. Both are United States Army combat veterans.
Llewellyn volunteered to go fight in the Vietnam War and wanted to fly helicopters. At age 21, he was deployed. Benson admits that he was a bit wild as a teenager, and his brother was in the Army. So when he turned 19, he enlisted in the infantry.
In Combat
In 1969, Llewellyn flew missions to support troops in contact with the enemy, rescue the wounded and those who had been shot down. He would also go on scouting missions looking for the enemy and even draw fire to locate them.
"It was just our job to be there, and to make sure that we left no one behind," Llewellyn said.
Benson was deployed to Iraq in 2003 and fought in Fallujah and Ramadi. The beginning of the war was "the Wild West," according to Benson, who provided security for supplies and cleared houses. One of the biggest challenges for him was not knowing who the enemy was and adjusting to guerrilla warfare. Another obstacle was having to contend with improvised explosive devices.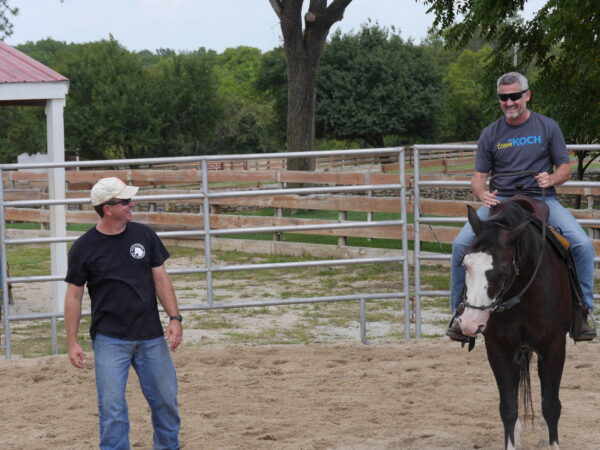 Llewellyn was medically retired from the Army in December 1970, and Benson was honorably discharged from the Army in 2004. Both men had to contend with similar and different challenges after coming home from combat.
Llewellyn had been shot in combat, and the bullet had gone through his leg, elbow, and exited his back. He was in the hospital for 15 months. For eight months, he worked on his recovery before going back to college. He had to learn how to use his left hand and how to write again.
Llewellyn felt like he had lost himself; he wanted to let as few people as possible know about his resulting disability.
Later in life, he would begin to notice symptoms of PTSD. He had started experiencing amnesia and had begun drinking heavily. He had also become a recluse.
"The adjustment happened before I got out of the service because I was never going to be able to fly again, so my identity had completely changed," Llewellyn said.
Coming Home
For Benson, returning home was isolating. Two months later he met the woman who would become his wife and he started his own horse training company. Benson had always had a passion for horses since he was young, and had spent time at his family's ranch north of Colorado Springs. While he was deployed in Iraq, he decided he would pursue horse training professionally after his service. He also knew he wanted to pursue a profession that didn't involve being confined in a cubicle.
"A lot happened very quickly, and there was no transition program," Benson said. "Nothing prepared me for my next chapter in life."

Benson struggled to adjust to civilian life after his combat tour. He felt a lot of anger, loneliness, and struggled to relate to and talk to others. As a result, he tried to bury himself in his work.
About seven years after his service, he started to feel the impact of the emotions and feelings that he hadn't dealt with properly. He spoke with a friend, and the two talked about how many combat veterans they knew who were struggling to adapt to civilian life, and how the suicide rate for veterans was increasing.
"It dawned on me what I was doing for a living was really saving me," Benson said.
War Horses
Through his business, Benson met Andy and Patricia Brown, and he helped them work with some of their stallions. Benson and Andy Brown became close quickly, and the latter told Benson he wanted to do something to help veterans returning home from combat.
Benson realized years after starting his business that horses could be an excellent vehicle for helping veterans adjust to civilian life and told Brown that he had spent the last two years mulling over his ideas.
Just minutes later he and the Browns decided to start War Horses for Veterans in 2014.
Horses
According to Benson, horses have a unique ability to help combat veterans heal when dealt with properly. Horses don't judge people; they can teach humility, compassion, and can mirror one's emotions. Horses also have different personality types, and participants learn how to adapt and communicate with the horse. Not only that but working with such a large animal requires participants to be present in the moment.
"First of all, focus. You have to relax and focus, and if you don't relax the animal is not going to respond favorably. It can sense your anxiety and it will pick up on it, but as you're focusing and grooming the horse, you calm down," Llewellyn said.
Llewellyn had worked with a horse named Rifle at War Horses for Veterans, and the horse helped him immensely with his own personal development. He noticed that when he groomed Rifle, he learned how to focus and how to relax. He was able to develop the confidence, concentration, and skill that gave him a sense of control.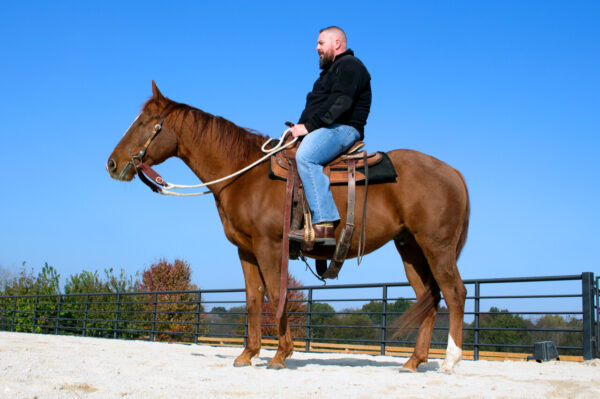 As Benson says on the organization's website, "Horses are the bridge, veterans are their own best therapy."
War Horses for Veterans features a free three-day program, and the organization flies combat veterans into Kansas from all over the country. Groups consist of four to six veterans, and they can return whenever they like as long as they bring another combat veteran and become mentors.
After Llewellyn had sought treatment for PTSD, he decided to participate in the program. He had always enjoyed working with horses, and Benson assured him the program would help him become a better rider. Furthermore, he was able to reconnect with his door gunner from Vietnam, whom he had not seen in over 40 years. Learning how to work with horses and reconnecting with his friend from Vietnam had a tremendous impact on him.
"It's fantastic because you can laugh about the funny stuff that happened. You've got somebody who's been there and done this. There isn't any communication lag," Llewellyn explained. "It's restorative when you meet with the guys that you've served with because they are your brothers and they always will be."
Adjusting to Civilian Life
For Llewellyn, riding horses is the closest activity to flying a helicopter that he has ever experienced. Both riding and flying require subtle control movements, posture, and communication. He could see that the program was helping, and was able to experience immense personal growth. He is now a mentor.
"I found my passion. It gave me focus because I can see that it was helping … people that have gone through the program find some stability and some positive attributes in their life who want to continue on and become better in whichever way they can be," Llewellyn said.
During the spring of 2018, Benson arranged for Llewellyn and his door gunner to fly a helicopter again. It was the first time he had piloted a helicopter since the Vietnam War.
"It was like riding a bike. I can close my eyes and go through that entire flight again," Llewellyn said.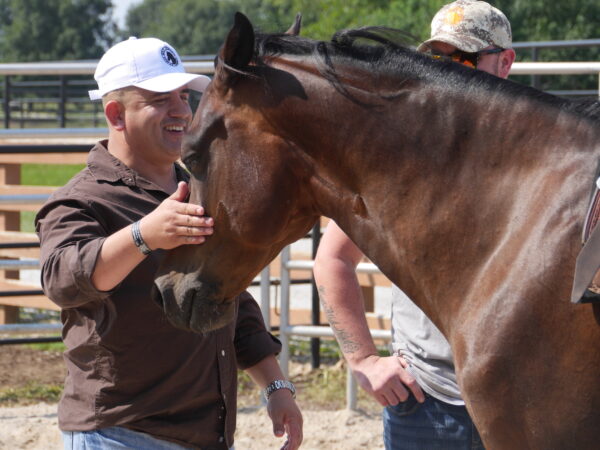 Benson explained how reconnecting with friends from combat and working with horses helps combat veterans with their own personal growth. While everyone is different, the participants are able to be vulnerable, have the support of their friends, rediscover their confidence again, and learn how to let go and reflect, Benson said. Participants also learn the critical skills of communication and trust, which helps them adjust to civilian life.
"The biggest change that happens is you're not afraid of the future. You start to control your future," Llewellyn said.
At the end of the program, participants are able to network with each other, and discover work opportunities. War Horses for Veterans also has relationships with large companies, and helps participants get in touch with employers and sets up interviews. Furthermore, the skills they learn at War Horses for Veterans puts them in a favorable position to succeed.
"When they go into the civilian field they are ready to take on the challenges and have the self-confidence and the skills to do it," Llewellyn said.