Mass protests in Belarus have continued for a ninth straight week against the country's authoritarian leader, who won his sixth term in office in an election widely seen as rigged.
The demonstrators, including more than 100,000 in Minsk on Oct. 4 in the most recent rally, have demanded the resignation of Alexander Lukashenko and called for the release of political prisoners. Police have used water cannons in an attempt to disperse the crowds, but the protesters remain undeterred.
The protests have rocked Belarus for almost two months, with the largest rallies taking place on Sundays and drawing up to 200,000 people. The government responded at first with blunt suppression. Police used tear gas, flash grenades, and physical violence on the crowds in the capital Minsk and elsewhere.
How Protests in Belarus Started
According to the Belarusian election commission, Lukashenko won 80.1 percent of the vote while his main opposition rival, Svetlana Tsikhanouskaya, won 10.12 percent of the vote in the presidential election held on Aug. 9. The remaining three presidential candidates received only minuscule support of voters, as turnout exceeded 84 percent of eligible voters, the Belarusian election commission said.
The results were questioned by Tsikhanouskaya, who claimed she won the election with 60 to 70 percent of the vote. The 37-year-old former English teacher has since fled to Lithuania and formed a council to coordinate a peaceful transition of power.
On the evening of the election, 33-year-old Anastasiya from Minsk and her husband joined the crowd awaiting an announcement of the election results in front of their district election commission office, Anastasiya told The Epoch Times in a Facebook message.
When no announcement was made at the expected time, the crowd started to shout. The riot police that arrived later told the crowd that the commission workers had left, Anastasiya said. She then went to another part of the city where more people gathered to learn about the results. People there didn't believe that Lukashenko had won about 80 percent of the vote and said that the election must have been manipulated, Anastasiya said.
The people shouted "shame" and "Lukashenko, go away," she said. Riot police arrived and fired stun grenades into the crowd, forcing people to flee.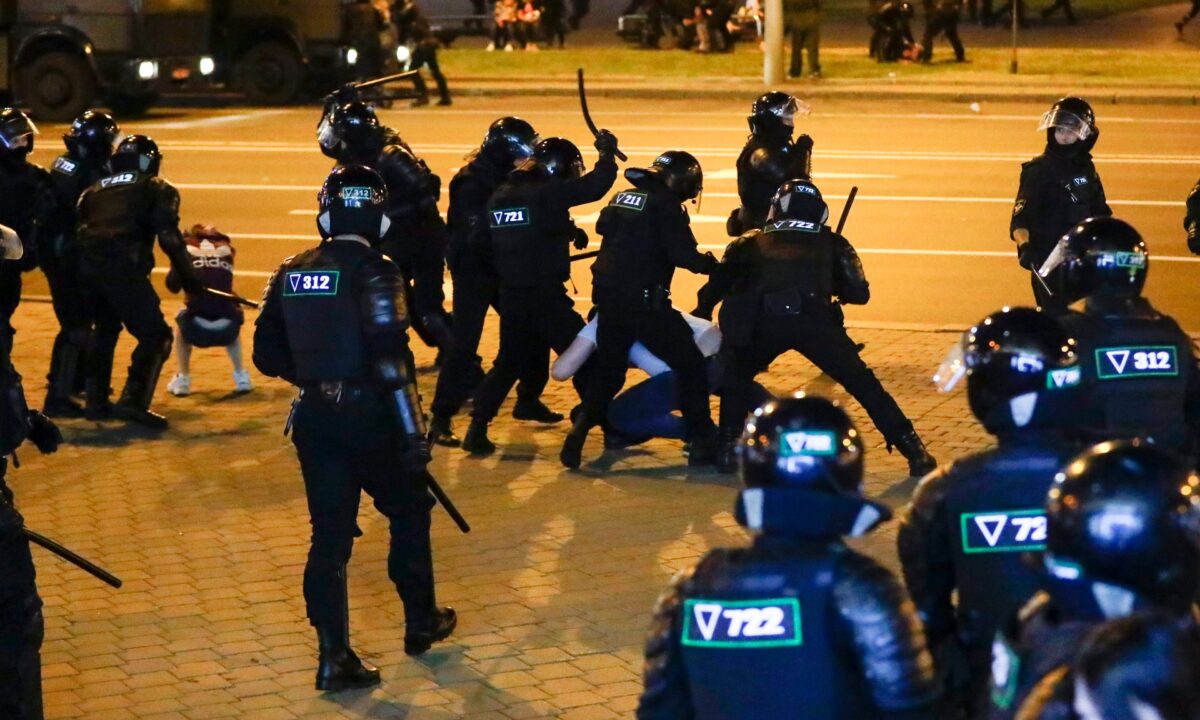 On the third day after the election, Anastasiya and her husband again went to join the protest but before they were able to join other protestors, they were arrested. They were given a ride by volunteers with a car and the driver slowed down when they saw "many people lying face-down on the ground" asking if any help is needed, Anastasiya said in her post on the Stockholm Free World Forum website, which collects stories from victims persecuted for participating in the recent Belarusian protests.
"A stun grenade was thrown at our car," and they were all arrested, Anastasiya said in her post. "The men were beaten," and the police and the prison staff treated them very badly, "humiliating the detainees in every possible way."
She realized that "half of the detainees were those who were on their way home from a store, had gone outside for a smoke, someone stepped out from a taxi."
She "heard the police screaming: You, doctors, scumbags, are helping the wrong people."
"Our disciplinary cell was next to a male one, and we could hear how badly they were beaten and tortured," Anastasiya said. They were also deprived of using the bathroom.
While being detained, Anastasiya was called for a court hearing but was denied legal counsel. She was released the next day, after being forced to sign papers warning her of legal charges for any attempt to participate in unauthorized meetings.
Stockholm Free World Forum also collected accounts of other men and women including journalists detained by Belarusian police after the election. The people were severely "beaten, tortured, raped, humiliated, as well denied food and water, medical attention, and the opportunity to speak to a lawyer," some for attending a demonstration, some for wearing something white, some for simply being in the wrong place at the wrong time," the website said.

More than 10,000 people have been detained since the election and at least 244 people have been implicated in various criminal  charges related to the protests, Viasna human rights center leader Ales Bialiatski told The Associated Press. More than 70 have been declared political prisoners.
Tsikhanouskaya said in a video statement issued on Oct. 4, "Let the whole world see: Belarusians want to live in freedom, not in prison."
Election Issues
The Organization for Security and Co-operation in Europe (OSCE), an intergovernmental body focused on security in many aspects including election monitoring in 57 participating states, wasn't invited to observe the August presidential election in Belarus—an OSCE member.
The lack of invitation has prevented OSCE from observing the electoral process, especially in areas that required improvement as documented in previous OSCE reports, Ingibjörg Sólrún Gísladóttir, director of OSCE's office tasked with observing elections, said in a statement issued a few weeks before the election.
Gísladóttir said that "the formation of election commissions and registration of candidates" in Belarus required improvement. Gísladóttir also reiterated her deep concern that prospective candidates had been intimidated and opposition activists arrested, the statement said.
The OSCE has monitored presidential and parliamentary elections in Belarus since 2001; the most recent was the 2019 parliamentary election.
Despite some improvements, OSCE's reports pointed out some irregularities and gaps occurring from election to election, such as restricting and discouraging opposition candidates from participating in the election, constraining media from giving adequate coverage to opposition candidates while excessively promoting the incumbent candidate, and gaps in ballot counting procedures.
The OSCE in a report (pdf) said that the 2019 early parliamentary election "proceeded calmly but did not meet important international standards for democratic elections. There was an overall disregard for fundamental freedoms of assembly, association, and expression."

Belarusians have previously protested election results, including the 2004 referendum to abolish the presidential term limit.
"Hundreds of thousands of people were protesting across the country," Veranika Laputska, co-founder of the Warsaw, Poland-based EAST Center and Rethink.CEE Fellow at The German Marshall Fund of the United States, told The Epoch Times in an interview.
Among irregularities that occurred during the referendum, the OSCE reported (pdf) a biased referendum campaign, cases of censoring media coverage of the campaign, presence of materials promoting only a "yes" vote in many voting rooms, breaches of voting secrecy, and procedural omissions such as multiple paper ballots in possession of one person.
The results of both the referendum and parliamentary election sparked opposition protests in Minsk which "were forcibly suppressed," the report said.
This year, a campaign staffer of Viktor Babariko, an opposition candidate detained by the Belarusian authorities ahead of the election, created an online portal called The Voice for people to send photos of their ballots, Laputska said. The Voice partnered with another platform Zubr.in, which counted the photos of ballots and presented alternative election results.
Media Freedoms
The government maintains control over mainstream media in Belarus, according to a 2019 human rights report by the U.S. State Department. State-owned media dominates the market and "maintained the highest circulation through generous subsidies and preferences," the report said.
"Broadcast media are dominated by state-owned and Russian stations" and there is no nationwide private television, according to the report.
The only independent television station is Belsat, a Poland-based TV station funded by the Polish government and international donors, but Belarusian authorities refused to register it, and harassed its journalists by imposing fines or denying accreditation, Laputska said. In addition, independent newspapers don't have the same access to retailers as the state-owned do, she added.
Obtaining foreign financing is almost impossible for independent media due to legal restrictions. Their websites can be blocked by the Belarusian Ministry of Information under the allegation of hate speech or "insulting the president," Laputska said.
Opposition Candidates

Tsikhanouskaya never intended to be the leader of popular resistance to Lukashenko. But when her husband, Siarhei Tsikhanouski, a blogger, activist, and presidential candidate who criticized Lukashenko for years, was jailed in May and other candidates were barred from running in the election, Tsikhanouskaya took her husband's place as an opposition candidate.
Unlike Tsikhanouskaya, two other opposition candidates weren't officially registered as presidential candidates.
Viktar Babaryka, the former head of the local unit of a Russian bank, who collected four times more signatures than the required minimum for the presidential race, was arrested along with his son Eduard, the head of his election campaign, on charges of tax evasion and money laundering, Radio Free Europe reported.
Another opposition candidate, Valer Tsapkala, a former Belarusian ambassador to the United States, was refused registration by election officials, who rejected half the signatures he gathered to support his candidacy, leaving him below the minimum, Human Rights Watch reported. Tsapkala then left Belarus with his children worrying about their safety.
Both candidates decided "to unify with the strongest candidate," Maria Kalesnikava, a member of Babaryka's campaign, told The Atlantic Council in an interview. Thus, Kalesnikava and Tsapkala's wife, Veranika, joined Tsikhanouskaya's campaign against Lukashenko.
The three candidates decided to campaign together," Laputska said, adding that "they were running for themselves with their own programs."
All three candidates had planned to organize a free election if they had won, Laputska said. Babaryka and Tsapkala were going to return the Constitution to what it was before a 1996 referendum, she said.
Lukashenko Consolidated Power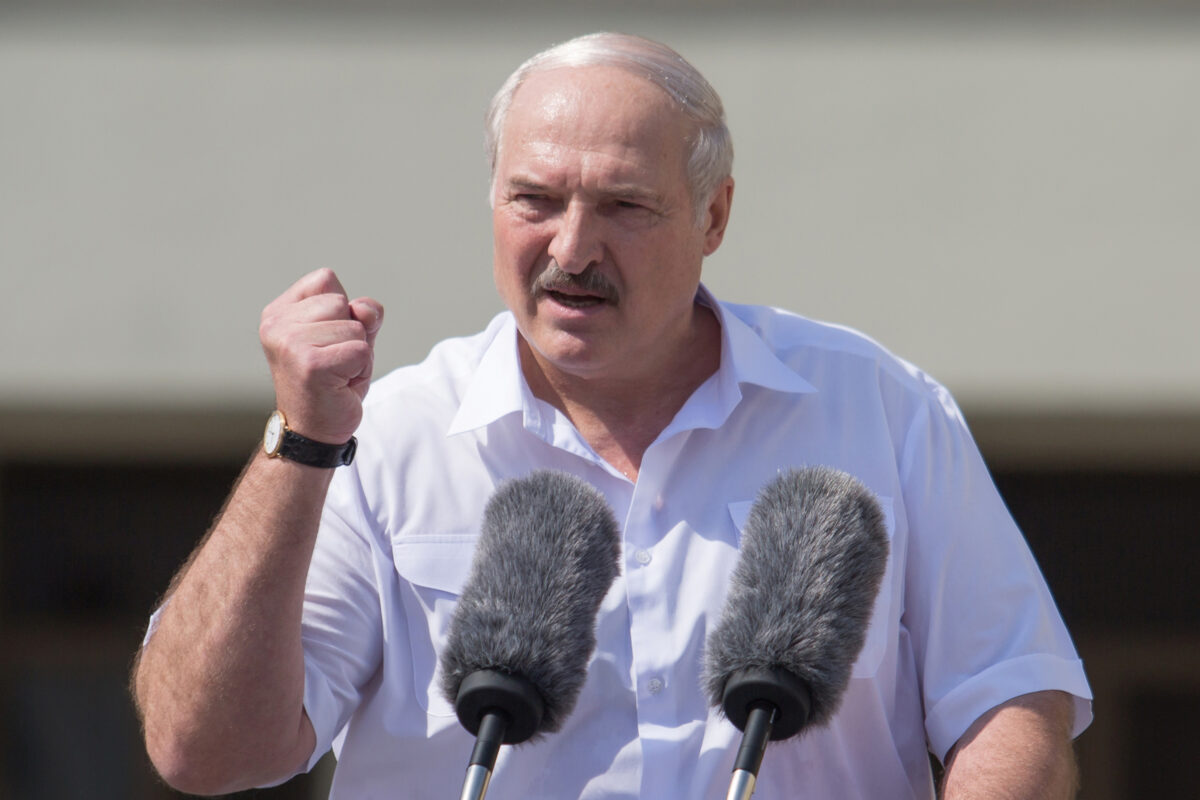 Lukashenko "has managed to build one of the most consolidated, adaptive authoritarian regimes in the post-Soviet space, and perhaps in the world" while showing that he also highly values his country's independence and sovereignty, Artyom Shraibman, a journalist and political commentator, wrote in a paper for the Carnegie Endowment Moscow Center.
Lukashenko devised a governing system that allowed him to deal with the Belarusian people and maintain a policy of balancing between Russia and the West, Shraibman said.
After the country regained its independence in 1991 with the dissolution of the Soviet Union, Lukashenko, a former Soviet collective farm boss, became president of Belarus in 1994.
The referendum conducted in Belarus in 1996 allowed him to consolidate power and obtain control of judicial and executive branches, the election commission, and media, Shraibman said, adding that the parliament lost its power as presidential "decrees were set above the law."
In 2004, another referendum abolished presidential term limits.
"The economic model that Lukashenko has preserved from the Soviet era involves a great deal of government regulation, state monopolies, and income redistribution. Loss-making state-owned enterprises are supported through subsidies and favorable loans," Shraibman wrote.
State-owned enterprises produce 70 to 75 percent of the country's gross domestic product, and state banks make up 75 percent of the banking sector, according to the U.S. Central Intelligence Agency.
To maintain his authoritarian regime, Lukashenko has built in governance mechanisms that made it resilient to potential threats such as mass protests, plots or coups among the elites, and external pressure mostly from Russia, Shraibman wrote.
Lukashenko has employed various measures to prevent mass protests, Shraibman said, ranging from "bureaucratic obstacles" to obtain protest permits, through disseminating propaganda to discredit protests, to "preventative arrests" of activists and opposition leaders.
State-owned companies that dominate the Belarusian economy mostly hire workers on a fixed-term contract ranging from one to five years with no obligation to extend it, according to Belarus in Focus, a non-governmental organization. Thus, those who fall out of favor with the government may have difficulty finding a job. Similarly, students can be expelled from mostly state-run higher education institutions, "if they express political dissatisfaction," Shraibman said.
Lukashenko permits some opposition parties and non-governmental organizations to exist in the country, though they are marginalized, Shraibman said. They are unable to find a common agenda and unite to counter Lukashenko's rule. Even if they form a coalition, they do not have a chance to win an election because "the votes are counted by people selected by the authorities and observers are prevented from monitoring the process," Shraibman said.
The Associated Press contributed to this report.