The protracted legal battle in the South China Sea dispute, initiated by the Philippines and to be decided July 12 by an international court in The Hague, has been gaining plenty of attention—not least from the Chinese authorities, who have variously described the proceedings as "law-abusing," "widely-contested," or nothing more than "a piece of trash paper."
But even as Beijing rejects the authority of the Permanent Court of Arbitration out of hand, while seeking to build a facade of legitimacy for its own positions, there are indications that the communist regime has tried to influence the outcome of the ruling clandestinely.
In November 2013, months after Filipino authorities initiated the case, the Chinese ambassador to the United Kingdom requested a meeting with the president of the tribunal despite his country's public disavowal of the court.
The response was subtle but clear: as noted by Filipino journalist Alfredo C. Robles, Jr. in a blog post on July 10, the tribunal sent reminders to the participating parties to refrain from closed communication with members.
"If a Party wishes to express its position on matters in dispute, it should be aware that such statements will be made available to all members of the Tribunal, the Registry and the other Party," the tribunal stated.
The tribunal also stated that previously, a representative from the Chinese embassy had discussed informal questions with the court's registry.
The South China Sea lies between the Philippines, Malaysia, Vietnam, and China's southern coast, and forms a strategic trade chokepoint with access to major ports like Hong Kong, Singapore, Manila, and Ho Chi Minh City (Saigon). While six states lay mutually conflicting claims to various reefs and islets and the surrounding waters, China's infamous "nine dash line" encompasses nearly the entirety of the region.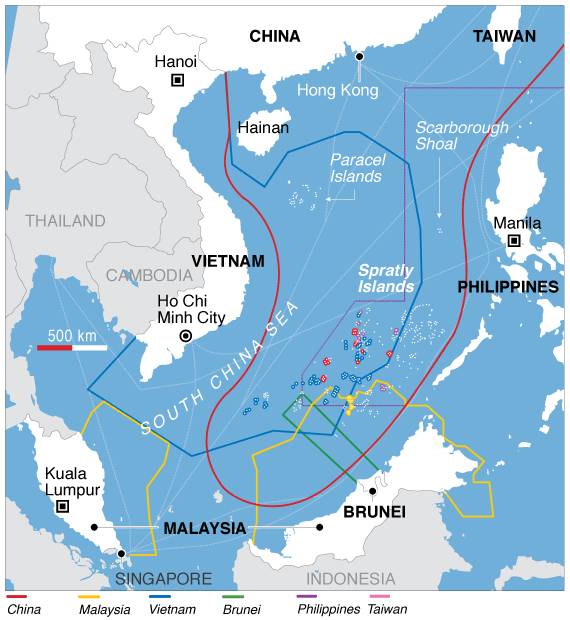 The Chinese military has been pushing steady development of the region by reclaiming land from reefs and other previously impassable geography. Fiery Cross Reef, for instance, has been turned into a 680-acre harbor and airbase with a runway capable of handling jet fighters.
Despite dismissing the arbitration in The Hague as a non-issue with no legal grounding, Beijing seems frantic to avoid a reputation for disregard of international law that would hurt its standing worldview. In recent weeks, dozens of articles about the South China Sea and the arbitration have appeared in Chinese military publications, all portraying the regime's position as legally superior and more broadly recognized than those of The Hague ruling.
In the tribunal's reminder to all parties represented in the arbitration, Robles wrote, "China was being courteously 'encouraged'" to avoid private contact with the tribunal members. The tribunal appears to have acted deliberately so as to not step on any toes.
The journalist also jabbed a few questions in China's direction: "What did China hope to achieve through such contacts? Surely not the termination of the proceedings? Did China believe it could sway the President of the Tribunal, after failing to dissuade the Philippines from proceeding with the arbitration?"