TORONTO—Chinese students at McMaster University were issued instructions by the Chinese consulate in Toronto on how to respond to a human rights event held on campus earlier this month, screenshots of social media discussions among a group of Chinese students show.
The incident, which was China-related and involved two student groups, is part of a growing trend of reports of Chinese consulates and embassies exerting influence and interference in their host countries.
In a group discussion on WeChat—a popular Chinese social media platform—a group of Chinese students said they consulted the Toronto consulate about a Feb. 11 event held at McMaster titled "The Genocide of Uyghur Muslims—talk by a Uyghur Survivor" and were told to report their observations to the consulate, according to screenshots seen by The Epoch Times and a report by the Chinese edition of Deutche Welle.

One of the participants in the group chat shared recordings of the event with others and asked for their help to identify those in attendance, while noting that the recordings and images had been sent to the consulate.
The consulate was also said to have asked that the students contact the McMaster Chinese Student and Scholars Association (Mac CSSA) to take action by contacting university authorities. Mac CSSA president Yulang Li responded in the group chat that the organization was working on a statement and had reported its objection to the event to university authorities.
The Epoch Times has seen and previously reported on a statement in Chinese issued by Mac CSSA along with four other groups condemning the Feb. 11 event and saying they had reported it to the Toronto Chinese consulate.
In response to the statement, Rukiye Turdush, a Canadian Uyghur human rights activist who spoke at the event, said she is concerned that the Chinese Communist Party (CCP) is interfering on Canadian soil.
"They're using these Chinese students, positioning them in Canadian campuses, and they're trying to export their dominant, atrocious ideology to our country. This is a dangerous thing," she said.

Sheng Xue, a Chinese-born Canadian author based in Toronto, said the statement by Mac CSSA and the other four groups is reminiscent of the tone of official statements issued by the CCP.
"I think the statement was probably checked by the Chinese consulate before it was released," Sheng said. "From the tone of the statement, we can see that the student organizations want to show that they obey the Chinese consulate, and they want the Chinese consulate to be on their side and to support them. It's as though they've forgotten they're in Canada."
Another recent incident that raises concerns about foreign influence in Canada involves Chemi Lhamo, a University of Toronto Scarborough student of Tibetan ethnicity. After Lhamo shared news of being elected president of the university's student union on social media, her account was flooded with negative comments and vulgar insults for being vocal on China's suppression in Tibet. A petition was later started by an individual or group claiming to be studying at the university calling for her election as president to be overturned.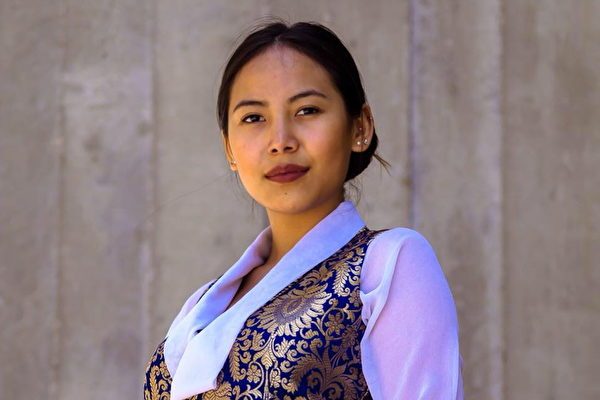 Means of Control
A 2018 paper by the Washington-based Hudson Institute notes that a large part of Beijing's propaganda efforts target overseas Chinese students and communities, taking advantage of their strong sense of patriotism toward their home country.
"[Beijing] encourages hyper-nationalism among Chinese students in the U.S., who try to stifle criticism of Communist Party-led China," the paper said.
This strategy is on full display whenever a high-level Chinese official visits a Western country, with Chinese embassy officials rallying Chinese students and other members of the community to greet the official and block protests by groups persecuted in China.
In 2010, an Epoch Times exclusive report exposed secret recordings that showed Chinese embassy officials in Ottawa giving instructions to students on how to prepare for "a battle" to welcome then-Chinese leader Hu Jintao to Canada, including blocking human rights protesters. In one of the recordings, an embassy-sanctioned organizer can be heard telling students to prepare to "wage war" with critics of human rights abuses in China.

The recordings also capture Liu Shaohua, at the time the first secretary of the Education Department at the Chinese Embassy in Ottawa, saying the embassy would cover the cost of hotels, food, and travel for the three-day event. He estimated there would be 3,000 people coming to welcome the Chinese leader.
The cost, estimated to be in the hundreds of thousands of dollars, was "little money" compared to the "political struggle" that Beijing is waging, as "this is a battle that relates to defending the reputation of our motherland," Liu said.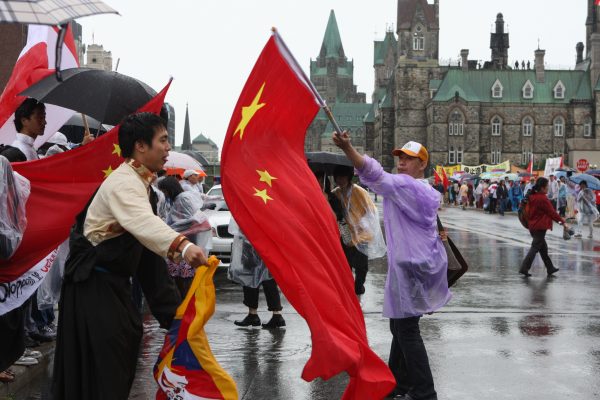 Similar efforts to mobilize Chinese students to join welcome rallies were made by consulates and the embassy during Chinese Premier Li Keqiang's visit in 2016 and Hu's previous visit in 2005, among others.
Sheng says incidents such as the one at McMaster and others show that many Chinese students act in line with the direction of the CCP due to long years of being brainwashed.
"They have been brainwashed, they have been educated like this—so it's not that surprising for them to be acting like this," she says.
In his landmark speech about America's new direction on China in October 2018, U.S. Vice President Mike Pence made a special mention of CSSAs when talking about CCP's efforts to exert influence in academia. He said there are more than 150 branches of CSSAs across American campuses organizing social events for more than 430,000 Chinese students. These organizations "alert Chinese consulates and embassies when Chinese students, and American schools, stray from the Communist Party line."
In some instances, CSSAs have been linked with espionage, as was the case with the CSSA at a Belgian university that reportedly acted as a front for industrial espionage in the mid-2000s.
In another case in the 1990s, Canadian immigration officials accused Yong Jie Qu, a CSSA leader at Concordia University in Montreal, of engaging "in acts of espionage and subversion." Authorities said he identified pro-democracy students and reported information about them to the Chinese Embassy.
Michel Juneau-Katsuya, a former senior manager with the Canadian Security Intelligence Service (CSIS), says CSIS is concerned about several Chinese student organizations because many of them are "under the influence—if not under the full control—of the Chinese government and Chinese intelligence services."

"It is a great concern of the Canadian government and CSIS that some of those Chinese student associations are actually taking detrimental actions against the interest of the Canadian public and the Canadian government," he said.
The Epoch Times contacted the Toronto Chinese consulate and Mac CSSA for comment but received no response.
A statement on the Chinese Embassy's website  says what happened at McMaster and the University of Toronto "has nothing to do with the Chinese Embassy and Chinese Consulate General in Canada." It adds that "we strongly support the just and patriotic actions of Chinese students."
A spokesperson for McMaster said the university doesn't have any information on consular involvement, but it would be a concern "if anyone felt they would be under surveillance while attending an event on campus."
CSSAs and Chinese Embassies and Consulates
The Chinese regime first started putting a concerted effort into supporting CSSAs in the 1980s. The efforts were further bolstered after the 1989 Tiananmen Square massacre, when more Chinese student societies abroad were becoming sympathetic to Chinese democracy activists, leading to the regime feeling threatened.
The "about us" section of many CSSA websites, including the one at the University of Toronto, Australia National University, and University of Canberra, indicate that the organizations are founded or supported by Chinese consulates or embassies.
According to Chen Yonglin, a former Chinese diplomat who defected to Australia in 2005, Chinese consulates control overseas student organizations by providing funding and scholarships to Chinese students working for the consulate.

Chen says the main task of the consulate's Education Department is to control and manage overseas students in order to help the consulate suppress organizations and individuals targeted by the regime. He adds that CSSAs in particular are extensions of CCP agencies overseas.
"Almost all of the Chinese student associations in Australia, the United States, and Canada are established by the Ministry of Education of China," he said in a previous interview with The Epoch Times.
According to the website of the Ottawa Chinese Embassy, the education departments of the embassy and three of its consulates in Montreal, Toronto, and Vancouver are in charge of Chinese student affairs in four districts across Canada.
The Toronto consulate typically arranges its annual meetings for the universities in its territory—which includes Ontario and Manitoba—around the time of the Chinese New Year. But there are other gatherings involving CSSAs and the consulate throughout the year that get reported online as well.
According to a 2018 report by Foreign Policy, Chinese consular officials regularly communicate with CSSA leaders through group chats in WeChat, dividing the groups by region and assigning each region to an embassy or consulate contact. Based in part on interviews with CSSA heads and internal documents, the report says CSSAs regularly receive funding from Chinese consulates and that many CSSAs officially describe themselves as being under the "guidance" or "leadership" of the Chinese Embassy. Some CSSAs even vet their membership to ensure only those whose views are aligned with the CCP are included, the report says.
Not all CSSA members are comfortable with the growing ideological pressure from the Chinese Embassy and consulates, according to the Foreign Policy report. That pressure has become more prominent since 2016, after the Chinese Ministry of Education gave a directive for schools to ramp up efforts to instil "love for the Party" in students, including those studying abroad.
The report also says an umbrella group overseeing the CSSAs in the southwest of the United States requires all CSSA presidential candidates to have approval from the Chinese consulate before elections take place.
In Canada, an umbrella group overseeing all CSSAs was formed in 2015. The inauguration ceremony of the Canadian Federation of Chinese Students (CFCS) was held in Ottawa with embassy officials and 66 CSSA representatives in attendance.
Counsellor Yang Xinyu and Li Xiaosu from the embassy's Education Department handed out certificates appointing a president and six vice-presidents to the federation.
The group was also received by then-Chinese Ambassador Luo Zhaohui in the embassy. During the meeting, the ambassador handed the federation's flag to federation representatives, according to a report by China's state-owned media People's Daily.
In 2016, among the crowd gathered to welcome premier Li Keqiang at the Ottawa Westin Hotel where he stayed, students stood under the banner of CFCS, China's official media reported.

According to a 2018 report by the Canadian Bureau for International Education, there are about 100,000 Chinese international students studying in Canadian universities and colleges.
Protesting Events Opposed by Beijing
Attempts by Chinese embassies and consulates to control and use Chinese students in the interest of the Chinese regime have been well documented.
In 2017, when Tibet's spiritual leader Dalai Lama was scheduled to talk at the University of California-San Diego, the CSSA said in a social media posting that it had asked the Chinese consulate in Los Angeles for instructions on how to stop the event.
David Matas, a Winnipeg-based international human rights lawyer who, along with former secretary of state David Kilgour, investigated forced organ harvesting of adherents of Falun Dafa—a meditation discipline severely persecuted by the Chinese regime—has had many first-hand experiences of being targeted by Chinese students and CSSAs.

He recalls one instance in 2007 where he was scheduled to give a talk at Columbia University in New York about his research into forced organ harvesting in China. In advance of the event, he obtained a copy of an email sent to Chinese students urging them to take action to interfere with his talk. On the day of the talk, Matas said students came into the room with banners denouncing Falun Dafa. In 2015, the CSSA at Columbia was shut down for "ongoing violations," according to university officials. The specifics of the violations, described as financial and organizational in nature, weren't provided.
Matas experienced a similar incident a few days later at Princeton University. He says he has also had a number of his talks cancelled at universities with CSSA or Beijing-controlled Confucius Institutes.
"Nobody [at the universities] who cancelled said they did it because Chinese student associations asked them to do it, but I've been to other places where [the event] wasn't cancelled but I was told by administrators that they were asked by the Chinese consulate, or the Confucius Institute, or the CSSA, to cancel the event," he says. "It seems to be systematic."
Supporting the Party
CSSA's activities on behalf of the Beijing regime aren't limited to disrupting events at universities. The associations also often mobilize the Chinese diaspora to disrupt and speak out against initiatives that the regime is against.
In 2005, when the Chinese edition of NTD Television, an independent media that regularly reports on human rights violations in China, applied for a broadcast licence in Canada, the Chinese Student Association at the University of Ottawa wrote a letter to the Canadian Radio-television and Telecommunications Commission asking that the license be denied.
A leaked Chinese Embassy document later revealed the embassy's intention was to derail NTD's application. The document, signed off by the ambassador, discussed rallying Chinese student groups and others against the application.
Two years earlier, when Canada was reeling from the shock of the SARS outbreak in 2003, the University of Toronto CSSA was among other pro-Beijing groups who protested a Toronto Sun cartoon implying that SARS was "made in China." Succeeding in getting the Sun to apologize for the cartoon became an accomplishment for the groups, which they boasted about to Chinese authorities.
In 2006, Canada rejected a Chinese diplomat's request for renewing his diplomatic visa because of his intelligence-gathering and activities against Falun Dafa adherents. The diplomat, Wang Pengfei, worked in the education office of the Chinese Embassy in Ottawa, which is in direct contact with Chinese student associations in Canada, particularly in Ottawa. A source connected to the embassy later told The Epoch Times that Wang been declared persona non grata and expelled from Canada.
Lingdi Zhang, a former student at the University of Ottawa, said in an interview in 2005 that while attending the university she received an email from Chris Xu, vice-chair of the Chinese Student Association, warning they are aware she practices Falun Dafa. The email added that the "Chinese Student Association is directly led by the Education Office of the Chinese Embassy in Canada, and we are watching every move you make."
Moving on up
Clive Hamilton, a university professor and author of "Silent Invasion: China's Influence in Australia," says CSSAs are an integral part of Beijing's apparatus to monitor the "thoughts and behaviours" of Chinese students abroad.

Hamilton says many of Beijing's United Front organizations encourage their members to enter politics and run for elections for mainstream parties. The United Front is a state organization tasked with influencing foreign governments and societies.
"The Australian Security Intelligence Organisation was reported last year to have identified about 10 political candidates at state and local government elections whom it believes have close ties to Chinese intelligence services," he writes.
Hamilton adds that the main threat to Western societies is that Beijing has been working to sway elite opinion, attempting to get decision-makers in other countries to conform with the Chinese regime's agenda.
In 2017, New Zealand MP Jian Yang generated headlines after admitting that while in China, he worked at academies that train spies. Before immigrating to New Zealand, Yang had studied at an elite military academy in China and pursued graduate studies in Australia, where he was chair of CSSA at the Australian National University. He also admitted that he had been a member of the Chinese Communist Party.
In Canada, a former University of Toronto CSSA president moved on to the offices of at least two provincial cabinet ministers, working as an aid to then-Ontario cabinet ministers Michael Colle and Michael Chan. He now works in a Canadian federal minister's office. He has often taken an active role organizing pro-Beijing events, such as rallying crowds to welcome Chinese leaders to Canada.
'Whole-of-Society Response'
Last year, in a U.S. Senate intelligence hearing, FBI director Chris Wray expressed his agency's concern with Chinese influence in academic institutions.
"The use of nontraditional collectors, especially in the academic setting—whether it's professors, scientists, students—we see in almost every field office that the FBI has around the country," Wray said. "So one of the things we're trying to do is view the China threat as not just a whole-of-government threat but a whole-of-society threat on their end, and I think it's going to take a whole-of-society response by us."
Juneau-Katsuya, the former CSIS senior manager, says the Canadian government should warn the general public and elected officials about the danger of foreign interference and agents of foreign governments that operate in Canada, "undermining the democratic processes that exist within our society."
"People working with these [Chinese student] associations are consciously manipulated," he says.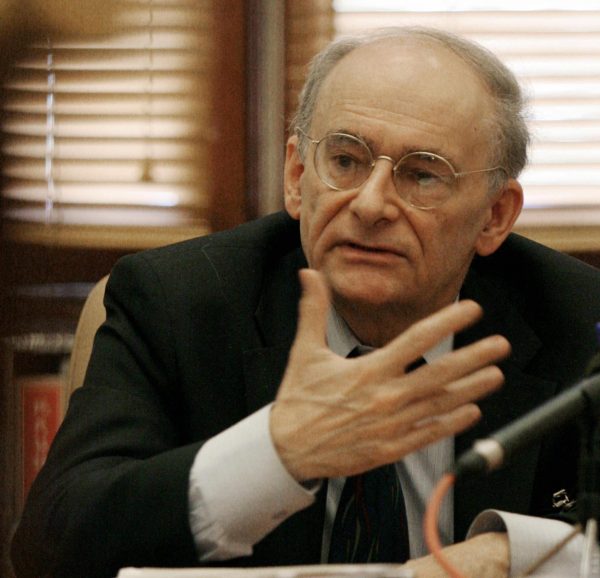 Human rights lawyer Matas says the issue ultimately goes back to the Chinese regime and its embassies and consulates abroad.
"Typically, what happens when the CSSA or somebody who has graduated from the CSSA does something, they're doing it at the request of the Chinese government, and often there is money involved," he says. "The Canadian government should be expelling the diplomats that are spurring this activity."
He adds that the United States and Australia are taking an active role to more systematically investigate the way China is using its front organizations to conduct infiltration and subversion and "promote the Communist Party agenda."
Chinese-Canadian author Sheng Xue says the Canadian government should be doing more to address the issue. She suggests passing legislation to limit the actions of people and organizations who "support the communist tyranny in Canada, and expel the Chinese diplomats and those individuals acting on behalf of the Chinese government."

Citing the foreign interference laws passed in Australia in 2018 and Canberra's increased vigilance against China's attempts to interfere in its domestic affairs as a good example for Canada to follow, she points to two recent efforts to curb foreign interference in Australia as a case in point.
Earlier this month, Huang Xiangmo, a Chinese billionaire accused of attempting to influence Australian politicians on behalf of Beijing, had his citizenship application request denied and his permanent residency cancelled. In another example, also this month, the head of a Chinese organization in Sydney received a surprise visit by federal security personnel who were investigating whether his organization had close ties to Beijing and if he was in contact with Chinese officials. Sheng says these cases raised major red flags in the Chinese community.
"The Canadian government and the Canadian society need to understand the evil of the Chinese Communist Party. They are not far away; they are here to cause damage here," she says. "I wish the Canadian government could learn from the Australian government and take more action."