How a Serbian War Journalist Became a Successful Entrepreneur in New York
Aleksandra Scepanovic reveals how the Bosnian conflict shaped her life and philosophy
June 20, 2016 3:06 pm Last Updated: July 5, 2016 8:29 pm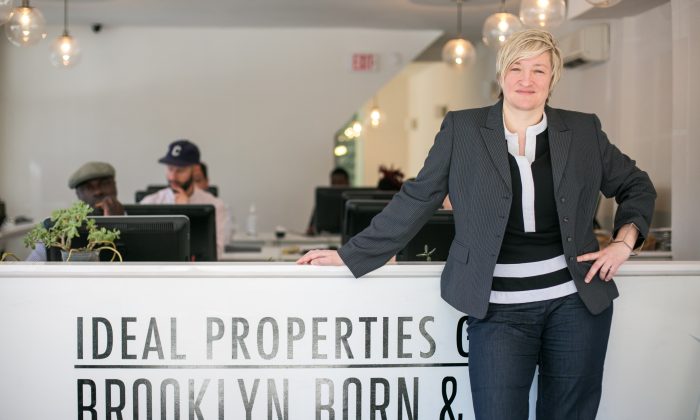 NEW YORK—What are the most inspiring success stories? Maybe entrepreneurs who had humble beginnings or quirky jobs inspire us the most. Serbian entrepreneur Aleksandra Scepanovic is one of them—her thrilling journey from the Bosnian war zone to a thriving real estate business is one of a kind.
Scepanovic began her career as a journalist in Sarajevo, where she covered the Bosnian war. Today, she runs Ideal Properties Group, a real estate firm with 250 brokers in Brooklyn, New York.
Her happy life in former Yugoslavia turned into a horror movie when civil war broke out in 1992.
"I studied archaeology at university and I was really interested in becoming an expert in the Neolithic age," she said. But she gave up on her dream career and pursued journalism instead. She joined a local radio station, which was highly critical of Slobodan Milosevic, then president of Serbia.
"Milosevic gave a very stern warning they would not tolerate anything other than their own political views. They sent tanks into the streets of Belgrade," said Scepanovic.
I had no fear. And I don't know if I would have the strength in me if I knew fear from the get-go.
, Ideal Properties Group
Like many young Serbs in Belgrade, she thought the war against the Bosnian Muslims was unjust. She realized she could not sit on the sidelines and pretend nothing was going on.
"There were a lot of skirmishes between the radio station and the regime. They were shutting down our transmitters, beating up journalists, and there were all kinds of aggressions," she said.
She moved to Sarajevo (the capital of Bosnia-Herzegovina) to cover the war from the side that she saw as being wronged. Being a Serbian but reporting from the Muslim side of the conflict was a very difficult task, but she loved the job.
"I had no fear. And I don't know if I would have the strength in me if I knew fear from the get-go. Everything else gets eroded in the face of fear," said Scepanovic.
While she was there, she witnessed nearly three-quarters of Sarajevo being destroyed or damaged by shells and bombs. The war lasted three years and resulted in nearly 100,000 deaths, according to a study by the Research and Documentation Center in Sarajevo.
After the Dayton peace agreement in 1995, Scepanovic worked for a few non-governmental initiatives and became part of the rebuilding effort in Bosnia. However, she felt unhappy.
"I did subversive things like reporting the truth. No matter what I did and how much I persisted, Milosevic was still there," she said.
For Scepanovic, there was no real peace, with no chance to bring back Yugoslavia. She realized it was starting to take a toll on her.
In one of those early days in New York, I found myself walking in Chinatown. It was a mind blowing experience.
, Ideal Properties
"I needed geographical detachment, so I came to New York to visit a friend in 1999. I never thought I would stay. I was convinced that I wanted to live in Amsterdam," she recalled.
"In one of those early days in New York, I found myself walking in Chinatown. It was a mind-blowing experience, so different from anything I had ever seen."
Scepanovic fell in love with New York. So she decided to stay and apply for political asylum.

A New Chapter in Life
Scepanovic enrolled in the interior design program at the Fashion Institute of Technology, but soon found that the city's real estate business was very intriguing.
"There is a big fascination and obsession with real estate in New York, unmatched by anywhere else in the world. And I was attracted to it," she said.
She first worked at a small Manhattan real estate brokerage firm. After gaining some experience, she co-founded Ideal Properties Group with her partner in 2007.
They started at a time when the housing market was already beginning to collapse. People were panicking and many brokers were leaving the profession. But Scepanovic was not discouraged at all.  
"If you are paralyzed with fear, you will never find the inner strength. Just close your eyes and jump in with both feet. That is my entire philosophy," she said.
Instead of focusing on Manhattan, they decided to work in Brooklyn, which they thought would be a relatively safer and more resilient market. They launched the business in a tiny room in a Brooklyn brownstone with no initial capital.
"We used to have a bulletin board on the wall. And many yellow post-it notes with apartment listings on it. That was our database," said Scepanovic.
"We had this archaic way of doing business. But it still felt right. We were doing really well. We just persisted at it. Then things started to change."
The research pointed us to
Gowanus
. It kind of reminded me of home.
, Ideal Properties Group
To better address customer needs, Scepanovic and her team devoted a lot of time on research. They hired students from Brooklyn College to collect data. After months of painstaking research, they developed a good understanding of the demographics and housing needs of people in Brooklyn.
They chose the old industrial neighborhood of Gowanus as the basis of their operations. "The research pointed us to Gowanus. It kind of reminded me of home. And I thought it was going to be the next neighborhood that would capture attention. And it did and it still does," she said.
Today, Ideal Properties is one of the largest privately owned real estate firms specializing in premier Brooklyn neighborhoods. It has four offices in Brooklyn located in Park Slope, Cobble Hill, Gowanus, and Williamsburg. In addition to 250 real estate brokers and salespeople, the company has a team of in-house design, staging, marketing, and web design professionals.

In Love With Brooklyn
Scepanovic has always been very optimistic about the Brooklyn property market.
"I believe in Brooklyn 100 percent. I think once you move to Brooklyn it is very hard to imagine yourself going back to Manhattan. It is a completely different market. When the housing market collapsed in 2008, Brooklyn barely got affected," she explained.
"People just started talking about another bubble. I really don't see the market ever correcting downward. And if it does, I don't think it will be super dramatic."
Once you move to Brooklyn it is very hard to imagine yourself going back to Manhattan.
, Ideal Properties Group
According to Scepanovic, Park Slope and Williamsburg are still the strongest markets in terms of both inventory and pricing. Brooklyn Heights, Cobble Hill, and Carroll Gardens are also interesting but they offer limited supply.
"We see a lot of Chinese investors purchasing homes in Brooklyn. They are offshoring their money. The New York market is still considered a worthy and valuable investment," she said.
Being a woman, a mother, and a foreigner has not held her back from becoming a successful entrepreneur. She gained a lot of strength and courage from her war zone experience.
And she defines herself as terribly optimistic: "No matter how hard things are, you have to overcome certain obstacles to get to where you are. And those obstacles are just signs that you are on the right path."