Hoverboards are becoming increasingly popular, but there's a problem with some of the products–they blow up.
Officials in both the United States and United Kingdom are warning consumers after a number of incidents in the countries. 
The National Association of State Fire Marshals issued an advisory noting that the explosions are "not a unique occurrence."
"The sheer number of incidents occurring around the country, and abroad, is what prompted our organization to address this serious issue on a national level," H. Butch Browning Jr., the president of the group, said in a statement.
And the U.K.'s National Trading Standards seized more than 15,000 hoverboards after finding them a major safety risk.
The organization said an alarming 88 percent of the hoverboards inspected had an increased rick of "overheating, exploding, or catching fire" because of faulty plugs. 

"Consumers should not let a new fashion or craze cloud their judgment and remain vigilant at all times, to avoid taking home an unsafe product," Leon Livermore, the chief executive of Charted Trading Standards Institute said in a statement.
The well-known brands such as Phunkee Duck appear to be safe but the number of knockoffs flooding the market has led to more explosions. 
In late November, a 12-year-old's Fit Turbo hoverboard exploded while charging and burned the home down.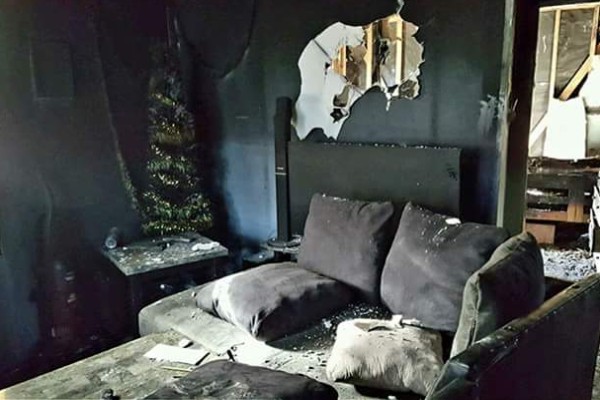 "It was like fireworks, the middle part of the board–just 'poof,'" Louisiana mom Jessica Horne told WGNO.
She said the fire was so intense that her house was in flames within minutes.
Just a day earlier, Timothy Cade said his hoverboard (he didn't name the brand) caught on fire while he was riding it down the sidewalk.
"Batteries started shooting out of it; you would not expect a fire like that to come out of a little thing like that. I was not expecting something like that," Cade of Alabama told WKRG. 
A similar incident happened in Florida, where Pamela Levine says her 11-year-old daughter had to leap off of the hoverboard she was riding when it caught on fire. 
"She felt it get hot, she jumped off, and it was in flames," Levine told KSHB. The brand was also not named.
The horrible situation has happened multiple times in the U.K. as well.
David Ensell told the Mirror that the hoverboard he bought his 10-year-old son exploded after it was taken off the charging station. 
"My advice is to take extra precautions because things can and do go wrong," he said.