WASHINGTON—Democrats in Congress are no longer calling the conditions at the southern border a manufactured crisis. But it has still taken Congress almost two months to even consider legislation to do anything about it.
The House is now taking its first step toward providing much-needed aid to the U.S.-Mexico border. The House Rules Committee is set to take up a bill on June 24 that would approve $4.5 billion for humanitarian relief at the border.
Last week, the Senate Appropriations Committee also approved, with almost unanimous consent, a $4.6 billion humanitarian aid package.
However, even if they're both passed, the two bills will need to be reconciled and one version passed by both chambers.
Customs and Border Protection (CBP) has been sounding the alarm since March that it needs more money, and the White House submitted a request for emergency funding on May 1.
"We are doing everything we can to simply avoid a tragedy," then Customs and Border Protection Commissioner Kevin McAleenan said in a March 27 press conference.
Since then, things have only gotten worse.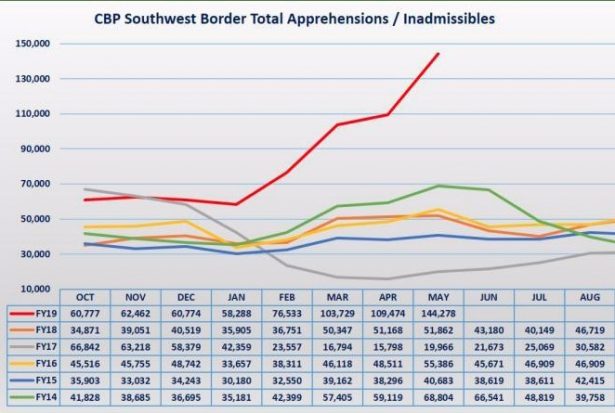 In May, 144,278 migrants showed up at the southern border—up from 109,474 in April and 103,729 in March. A growing number of those are family units and unaccompanied children.
Health and Human Services (HHS), which is responsible for unaccompanied children, says the number of children already "greatly exceeds" its capacity, according to a letter signed by McAleenan and HHS Secretary Alex Azar.
As of June 10, 1,900 unaccompanied minors were in CBP custody awaiting placement. However, HHS had fewer than 700 open beds and so had to keep them in CBP care.
"My facilities were never built to house this demographic," Carla Provost, the head of U.S. Border Patrol, told a House Homeland Security Committee on June 20.
She said the agency was going to have to dip into its operating budget to provide basic necessities for the influx of people.
She also begged for funding for the other agencies—Immigration and Customs Enforcement (ICE), HHS, and the Department of Justice (DOJ).
HHS has said it could run out of funding as soon as the end of the month if Congress doesn't act.
Senate Majority Leader Mitch McConnell said on June 20 that he hoped the whole Senate would vote on the final legislation and funding by the end of the month. He urged the House to do the same.
From NTD News