House Republicans on Monday hammered House Intelligence Chairman Adam Schiff (D-Calif.) for not appearing at the latest impeachment hearing on Capitol Hill in Washington.
Schiff, who oversaw a number of impeachment inquiry hearings, sent his committee's legal counsel to testify to the House Judiciary Committee.
House Republicans repeatedly noted that Schiff was absent on Monday, at one point unveiling a large posterboard showing a mock-up of a milk carton with a "missing" alert for Schiff on the side.
"If found, contact Chairman Nadler," it said. "Request that Schiff testify at today's impeachment hearing."
The GOP says Schiff should testify to Congress about his staff's contact with the anonymous intelligence staffer who filed a complaint against President Donald Trump. Schiff initially said "we have not spoken with" the person but later said his staff had spoken with the person before the complaint was filed. He has also said he doesn't know the whistleblower's identity.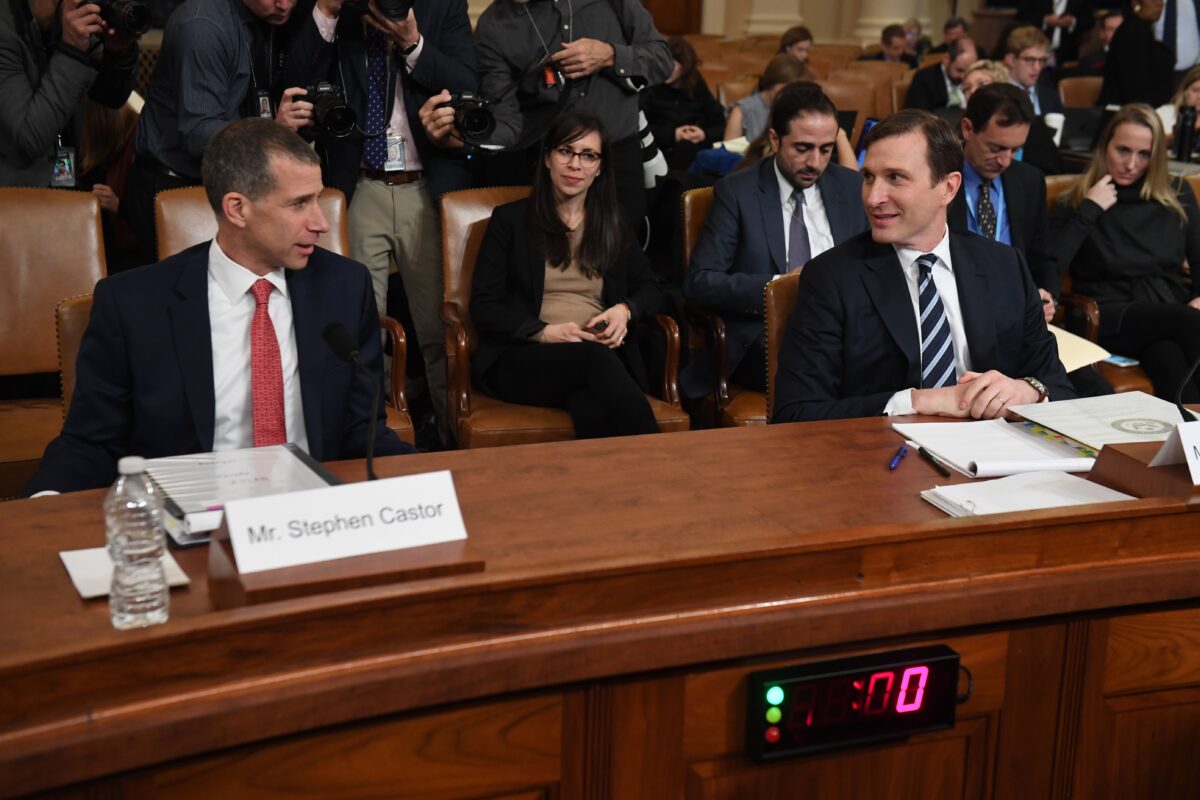 House Judiciary Chairman Jerrold Nadler (D-N.Y.) on Monday rejected Republicans' request for Schiff to testify to the committee. Democratic members on the committee last week shelved a motion to call Schiff to testify.
The hearing featured several Democratic counsels, including Daniel Goldman of Schiff's committee. For Republicans, Steve Castor was handling the defense, including for Rep. Devin Nunes (R-Calif.), the ranking member of the Intelligence Committee. Nunes was also not present in the room.
Inside the hearing, House Judiciary Ranking Member Doug Collins (R-Ga.) laughed as the posterboard was revealed, which Nadler took in.
"You know how I know this is also a problematic experience? Just look over the past three weeks, when the chairman of the Intelligence Committee—who, by the way, is absent today, guess he can't back up his own report—but he started his own hearing by making up the factual call," Collins said, referring to Schiff fabricating a portion of Trump's phone call, despite the fact that the transcript was publicly available.
"Adam Schiff, when he told us he wasn't gonna come, instead hiding behind his staff, he also told us that we're gonna keep investigating because they know this is going nowhere in the Senate and they're desperate to have an impeachment vote on this president."
Republicans attacked Schiff for not being present.
"Where's Adam Schiff? He should be the one testifying under oath. Why did he send his staff to do it instead? What is he hiding?" House Minority Leader Kevin McCarthy (R-Calif.) said in a statement.
Where's Adam Schiff? He should be the one testifying under oath. Why did he send his staff to do it instead? What is he hiding?

— Kevin McCarthy (@GOPLeader) December 9, 2019
"We don't get to hear from @RepAdamSchiff today. Under Nadler's rules, 4 hours of today's impeachment hearing will be staff asking staff questions. Dems want to use unelected staff to remove a duly-elected President, none of whom are directly accountable to the people," Rep. Jim Jordan (R-Ohio) added.
Rep. Andy Biggs (R-Ariz.), a member of the Judiciary Committee, said that Schiff compared himself to independent counsel Ken Starr but there was a "big difference."
"Starr testified under oath to the committee. Chairman Nadler is protecting Mr. Schiff, who will not appear to testify under oath. Why is Mr. Schiff hiding from our committee?" he said.