Republicans on the House Intelligence Committee are accusing Chairman Adam Schiff (D-Calif.) of hiding documents crucial to the impeachment efforts from his GOP colleagues. Meanwhile, the top Republican in the House said he's scheduled a vote to censure Schiff for allegedly lying to the American public.
"What I have found with Adam Schiff is that three times to the American public he has lied," House Minority Kevin McCarthy (R-Calif.) told reporters at a press conference in Washington on Oct. 18.
"When you serve on the intelligence committee, it's different than any other committee in the House because you will read and gather information that members of the House can't have knowledge. So, when a member of the intelligence committee speaks about something, we hold them to a higher standard."
He said the vote is slated for Monday.
Lawmakers erupted on Oct. 2 after revelations that Schiff's committee met with the person who filed the complaint against President Donald Trump before the complaint was lodged. The complaint is at the core of the impeachment effort against Trump.
Schiff said on national television on Sept. 17: "We have not spoken directly with the whistleblower."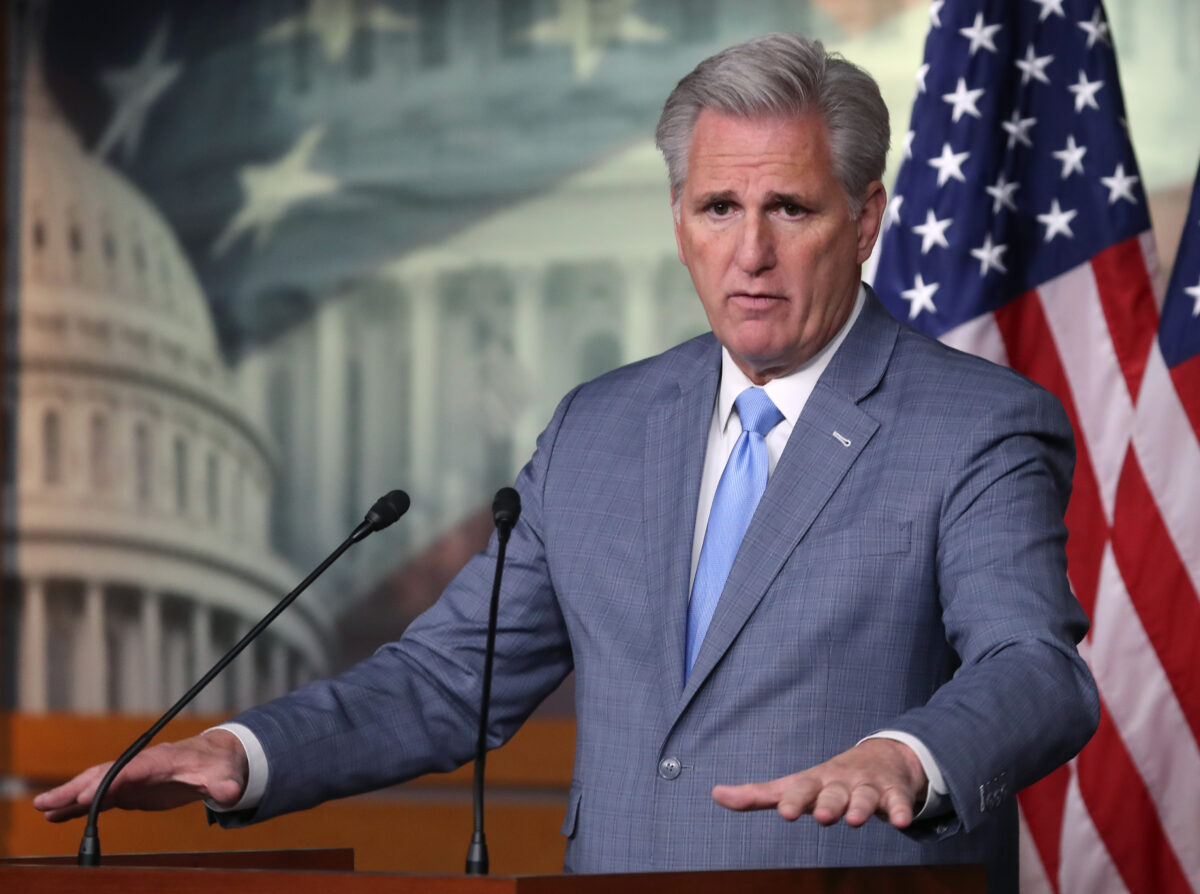 On Oct. 3, he said: "We try not to confirm when people have come in. I was really thinking along the lines of wanting to get him to come in to testify. I regret that I wasn't much more clear."
Schiff was a leading proponent of the Russia-Trump collusion theory and claimed at one point early in Trump's presidency that he had evidence showing Trump colluded with Russia. That alleged evidence was never shared publicly and special counsel Robert Mueller's team said it could not establish conspiracy or cooperation between Trump or his campaign and Russia.
Schiff has also come under fire for fabricating portions of a transcript of the phone call at the center of the complaint during his opening statement in a committee hearing on Sept. 26.
"This is the essence of what the president communicates," Schiff said. The chairman then quoted part of the transcript before mixing in words that were not uttered by Trump during the call. When confronted by Republican colleagues—including one who said someone texted him expressing confusion about what Schiff had said—Schiff said what he did was "wrong," but said, "my summary of the president's call was meant to be, at least part, in parody."
As of this week, 135 House Republicans have signed a resolution to formally condemn Schiff for the fabrication.
Meanwhile, House Intelligence members said in a letter that Schiff is withholding documents obtained through the impeachment inquiry from his colleagues.
Here:https://t.co/z8at6Rz2wH pic.twitter.com/bcvWE9G7Z1

— Byron York (@ByronYork) October 18, 2019
"We are concerned that the Majority is knowingly withholding Committee documents related to your so-called 'impeachment inquiry' from the Minority. Rule VII of the Rules of the House of Representatives outlines the Chair's responsibility to retain documents related to the 'legislative, oversight, or other activity' of the committee, including its subcommittees," they wrote.
"[House Permanent Select Committee on Intelligence]'s precedent of using a document repository has allowed for appropriately cleared staff to access Committee documents (all legislative, oversight, and investigative records—regardless of classification—generated, received or used by the Committee in order to conduct its business) related to their oversight responsibilities."
"However, it has come to our attention that the Majority is not uploading (or providing physical copies of) certain Committee documents related to your 'impeachment inquiry' to its document repository, thus withholding the existence of such documents from the Minority," they continued.
The lawmakers later wrote: "We see no reason for your withholding of these documents except as a deliberate attempt to hinder the Minority's participation."
The letter is signed by Reps. Devin Nunes (D-Calif.), Michael Conaway (R-Texas), Michael Turner (R-Ohio), Brad Wenstrup (R-Ohio), Chris Stewart (R-Utah), Rick Crawford (R-Ariz.), Elise Stefanik (R-N.Y.), Will Hurd (R-Texas), and John Ratcliffe (R-Texas).