A group of House Republicans is questioning whether political interference contributed to what they describe as questionable results from the recently completed 2020 Census.
The lawmakers on April 30 pointed to the discrepancy between projections of census numbers last year and the final figures, and also that the Census Bureau referred them to the White House when questioned about the apportionment count.
"While Democrats falsely accused the Trump Administration of using the Census process for political gain, President [Joe] Biden has done just that," the group wrote to Secretary of Commerce Gina Raimondo.
"Even as President [Donald] Trump sought to ensure the accuracy of the 2020 Census apportionment results by excluding illegal aliens from the apportionment count, President Biden reversed course, deciding to dilute American citizens' representational interests by rescinding this commonsense measure. Several liberal states with sanctuary policies may have lost more congressional seats if illegal immigrants had not been included in the apportionment base."
Population numbers for each state garnered through the census, a once-per-decade query of Americans, is used to tally how many seats in the House of Representatives each state receives.
The newly released figures show Texas gained two seats and five others gained one seat, while New York, California, Illinois, Michigan, Ohio, Pennsylvania, and West Virginia each will lose one seat.
But final population numbers for multiple states diverged widely from estimates the bureau released late last year.
New York, for instance, was estimated to have 19.3 million residents. The state's final tally was 20.2 million. Texas, on the other hand, was estimated to have over 29.3 million residents, but its final tally was under 29.2 million.
"Remarkably, the differences benefit traditionally blue states—which gained population compared to the estimates—over red states which tended to lose population compared to the estimates," House Republicans said in their letter.
"This trend calls into question whether there was any political interference with the apportionment results released by the Census Bureau," they said.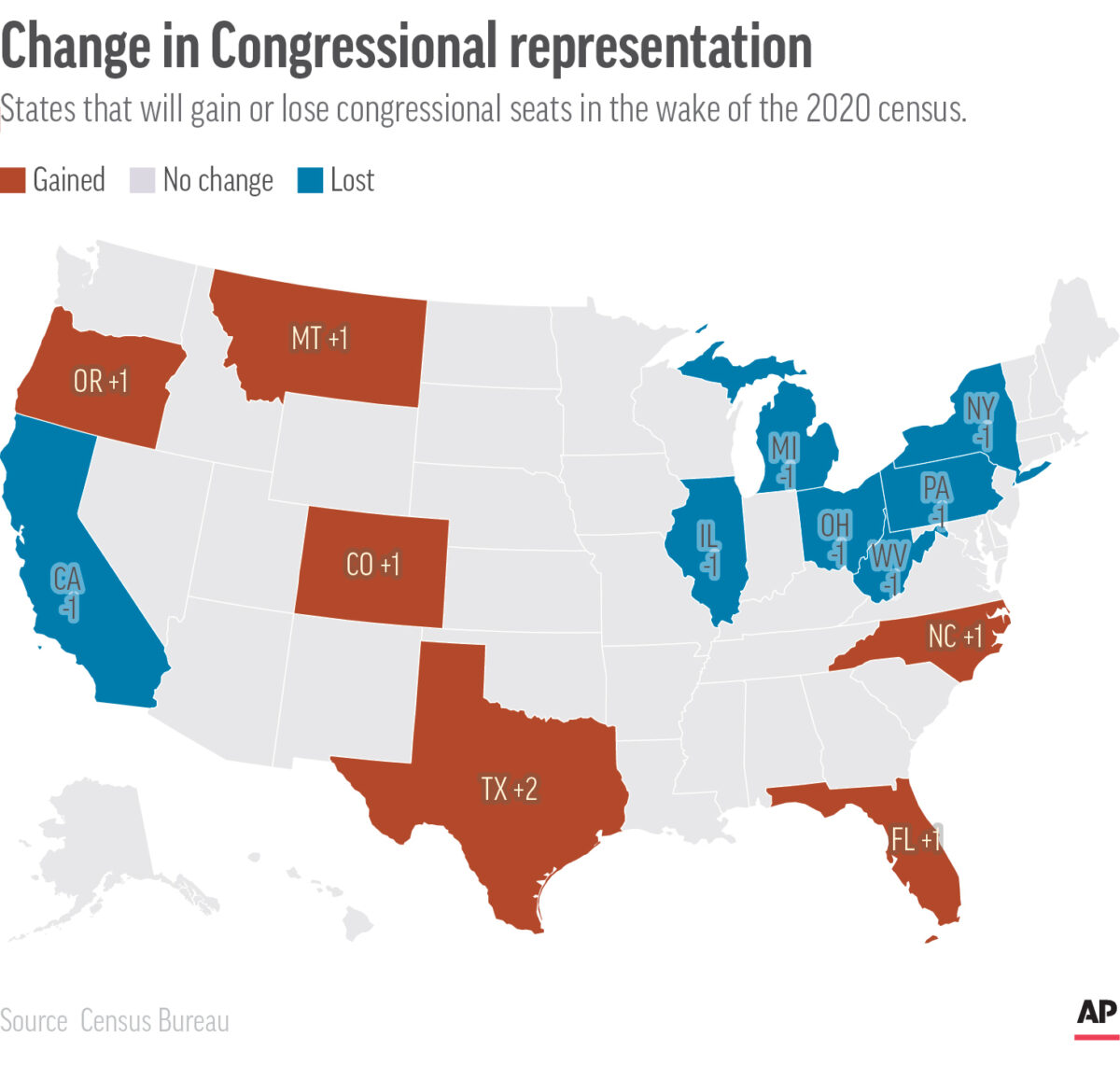 The group, led by House Oversight Ranking Member James Comer (R-Ky.), asked Raimondo for documents and communications on a range of issues by May 14.
The Census Bureau didn't immediately respond to a request by The Epoch Times for comment.
Some Democrats have also questioned the final numbers, including officials in Washington.
New York Gov. Andrew Cuomo said the Trump administration may have had "a chilling effect" on illegal immigrants answering the census. He says he doesn't think the count was accurate and asked New York State Attorney General Letitia James, another Democrat, to explore legal options to challenge the count.
The bureau, in response to Cuomo's comments, directed The Epoch Times to a recent statement.
The release included a statement from Ron Jarmin, acting director of the bureau, saying that "the completeness and accuracy of these first 2020 Census results are comparable with recent censuses."
"We had numerous quality checks built into collecting the data, and we have conducted one of the most comprehensive reviews in recent census history during data processing. We are confident that today's 2020 Census results meet our high data quality standards."