Eighteen Republicans on the House Oversight Committee are demanding that the Department of Homeland Security (DHS) conduct an "immediate investigation" into possible federal law violations of using taxpayer money to purchase Chinese-made solar panels.
"We are concerned with federal taxpayer dollars Congress has allocated to FEMA for supplemental disaster relief since 2017 and how they may be used," the GOP lawmakers wrote in a letter dated Sept. 7 to DHS Inspector General Joseph Cuffari. Particularly, their concern is that the DHS funds could be used to "enrich China, an adversary with a record of human rights abuses and slave labor," the letter reads.
FEMA is short for Federal Emergency Management Agency, a DHS agency.
At the heart of the concerns is how the U.S. Virgin Islands may have used disaster relief funding from the department. According to the letter, the federal government provided the territory with $8 billion following two hurricanes in 2017, with $5 billion of the money coming from FEMA.
The lawmakers are concerned that the U.S. Virgin Islands may have spent the DHS money on Chinese solar panels, as the territory has been transitioning to solar power. According to the letter, the territory was awarded $4.4 million from FEMA for a new 28-megawatt solar microgrid project on the island of St. Croix in 2021.
In March, Albert Bryan, governor of the U.S. Virgin Islands, announced plans to make St. Croix 100 percent solar-powered.
In the letter, the lawmakers warn that Chinese solar panels are likely built with forced labor, given that much of the world's supply of polysilicon is processed in China's Xinjiang autonomous region—where the U.S. government has designated China's persecution of Uyghurs and other Muslim minorities as genocide and crimes against humanity.
"Almost 40 percent of the global production of polysilicon, a key component in solar panels, comes from the Xinjiang region, and nearly 85 percent of the world's solar components are produced in China," the letter says, before adding that the U.S. Virgin Islands' transition to solar power "will potentially serve to massively enrich China."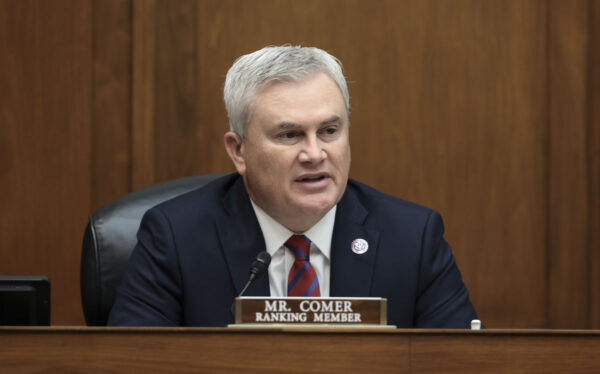 The letter's authors were led by Reps. Bob Gibbs (R-Ohio) and James Comer (R-Ky.), ranking member of the committee.
"Using parts made by slave labor isn't only illegal, it helps finance a major geopolitical rival," Gibbs wrote on Twitter. "We need to make sure these solar projects do not enrich Chinese companies profiting off slave labor."
Rep. Jake LaTurner (R-Kan.) said he joined in the letter to Cuffari to "ensure American taxpayer dollars are not being used to fund genocide and abuse in China's Xinjiang region."
"It's illegal for DHS to import solar panels from Communist China that have been made using Uyghur slave labor," LaTurner wrote on Twitter.
The Uyghur Forced Labor Prevention Act (UFLPA), which President Joe Biden signed into law in December 2021 and which went into effect in June, bans imports from Xinjiang unless companies can prove that the products weren't produced using forced labor.
The legislation enjoyed bipartisan support—it was passed in the House by a 428–1 vote and by the Senate unanimously.
In December, just before the act was signed into law, several rights groups issued statements applauding congressional lawmakers for the passage of the bill.
"The passage of this legislation is a gigantic step forward in the fight to end forced labor in the Uyghur Region," Joanna Ewart-James, executive director of Freedom United, said in a statement. "And it is the most consequential piece of legislation Congress has passed in years to hold U.S. corporations accountable for profiting from labor rights abuses abroad that I hope to see built upon."
The GOP lawmakers want the DHS investigation to answer some questions.
"Have there been or are there plans to use FEMA funds to purchase solar panels or components that have been manufactured by Chinese companies in violation of the UFLPA?" the letter says. "Has the U.S government identified any imported solar panels that violate the now-actionable UFLPA?"