Expressing grave concern over the Biden administration's handling of foreign policy matters in Iran and Israel, more than 30 House Republicans signed two stern letters this week, demanding action from President Joe Biden and U.S. Ambassador to the United Nations Linda Thomas-Greenfield.
"The American people expect this administration to live up to its word; number one, keep us safe, and keep American interests safe. It seems in both these cases that's not occurring at any level," Rep. Scott Perry (R-Penn.), author of the letters, told The Epoch Times.
"That's not occurring at the U.N. with the with ambassador Greenfield, regarding the Human Rights Council and this never-ending investigation and condemnation of Israel, our greatest ally in the Middle East, and it's certainly not happening with Iran's nuclear intentions."
The letter to Biden (pdf) requests a definition of Biden's contingency plans if nuclear negotiations with Iran fail to produce an acceptable outcome for U.S. security interests.
Biden said last week "it's not time to give up" on talks to revive the 2015 nuclear deal from which the United States withdrew in 2018 under former President Donald Trump. U.S. Secretary of State Antony Blinken indicated last week that the deal is on shaky ground and the United States is ready to look at "other options." Last month, Blinken said the Biden administration is preparing "alternatives" if the talks fail.
"Given your stated proclivity for contingency planning, we implore your complete dissolution of talks with Iran," the letter to Biden says. "Your administration's puzzling insistence on forging a nuclear agreement with a state sponsor of terrorism, which has used the past year to develop its own nuclear program as a result, is perhaps an indication that there is no Plan B for when discussions inevitably fall apart.
"Iran is governed by a radical Islamic terrorist organization, the foremost goal of which is the establishment of regional hegemony, and it will use whatever resources at its disposal and employ whatever policies are needed to meet that objective. Notwithstanding Secretary Blinken's pronouncements that America is seeking 'a longer, stronger deal with Iran,' it is clear to anyone living in reality that the Iranians have absolutely no intention of negotiating a new nuclear agreement."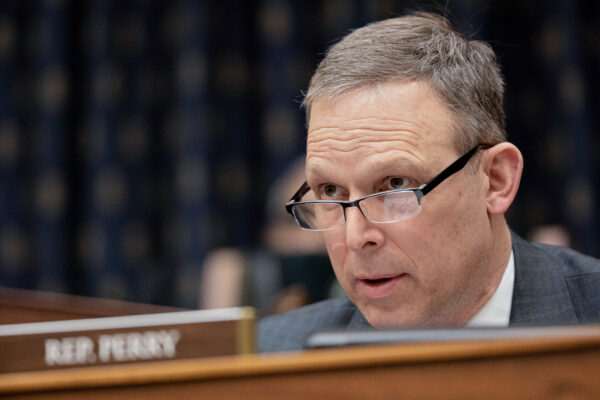 Separately, a letter to Thomas-Greenfield (pdf) urged the ambassador to use the "vote, voice, and influence" of the United States to dissolve the United Nations Human Rights Council's (UNHRC) "Commission of Inquiry."
The commission was formed in May during a Human Rights Council special session. UNHRC directed the commission to "investigate in the Occupied Palestinian Territory, including East Jerusalem, and in Israel, all alleged violations of international humanitarian law and all alleged violations and abuses of international human rights … and all underlying root causes of recurrent tensions, instability, and protraction of conflict, including systematic discrimination and repression based on national, ethnic, racial, or religious identity," a statement from the U.N. said at the time. The investigation was in response to the sudden, violent conflict that started in April 2021 between Islamist terrorist group Hamas in Gaza and Israel.
"Given (UNHRC's) extensive record of thinly disguised anti-Semitism and anti-Israel animus, it is clear that this commission is intended permanently to assault and delegitimize the Jewish state," the letter says. "On May 27, the Human Rights Council adopted a resolution calling for an investigation
of Israel's conduct as they defended against more than 4,300 missiles and rockets from Hamas terrorists. Despite its passage, not a single Western democracy voted in favor of this farcical resolution."
An ambiguously defined investigation into "underlying root causes," could lead to rewriting history and produce anti-Israel policy, the letter warns.
"The council's latest action will further empower terrorist groups and encourage the commissioning of terrorist activity," it says. "Following last May's war, Hamas' Ministry of Information estimated that the Palestinians needed $323 million in aid to recover. They received four to five times that amount in international assistance, with Egypt and Qatar offering approximately $500 million, respectively. If groups like Hamas and the Palestinian Islamic Jihad can instigate conflict, isolate Israel at prominent international forums, and receive far more in assistance than the damage they cause, they have every incentive to do so again."
"We urge the Human Rights Council to abandon its singular anti-Israel focus and investigate the very real human rights practices of some of its own members, particularly the People's Republic of China, which has not yet been formally condemned by the council for their ongoing genocidal
campaign against the Uyghurs."
While 33 House Republicans signed Perry's letters, no Democrats signed.
Perry said he believes many Americans are losing faith in Biden's leadership, citing the administration's botched handling of the Afghanistan withdrawal while questioning the effectiveness of its directives to the U.S. military. He also cited "the lack of a valid and effective response from the administration" toward efforts by the Chinese regime to displace the liberal democratic model of international governance historically lead by America with the communist party's socialist model.
That is why Republicans want to know the plan for Iran, he said.
"We don't want to tip off our enemies for sure, but the American people have no confidence based on recent events in this administration."
He also noted that under Biden's policies, the United States is again more dependent on the Middle East for energy, so conflict there would be felt at home.
"The current administration's policies disallow us from access to our own resources here in America," he said. "That's going to imperil our economy and impact every single thing we do, every day in our life.
"Whether you care about what happens in the Middle East or not, if you don't want to pay more for the products you buy, if you don't want to pay more to grocery stores to feed your family, if you don't want to pay more every single day to go to work, then you need to be concerned about these things."