A Republican-sponsored resolution that condemned House Speaker Nancy Pelosi (D-Calif.) for ripping up President Donald Trump's State of the Union speech was voted down in the House.
It was rejected in a 224 to 193 party-line vote, with all Democrats voting against it and all Republicans voting in favor of it.
At the end of Trump's address on Tuesday evening, Pelosi was seen ripping up a copy of his State of the Union, later confirming that she did so as a symbolic gesture to protest against what she called a "manifesto of mistruths." Following months of impeachment in both chambers of Congress amid heightened partisan divide in Washington, Pelosi's move could be viewed as a sign of things to come during the 2020 election season.
Republicans in Congress have seized on Pelosi's moment—which could be used as fodder during Republican campaign advertisements—and have called on her to apologize, while some GOP members said it was a "breach of decorum" and accused her of being disrespectful of Trump's guests. Online, social media users and Republican lawmakers have begun spreading memes and doctored video footage.
Rep. Kay Granger (R-Texas), who led the efforts on the resolution, said that regardless of the speaker's "personal feelings," Pelosi had a "responsibility to conduct herself with civility as the presiding officer representing the House of Representatives." What's more, she argued, Pelosi is the speaker of the House—not Democrats.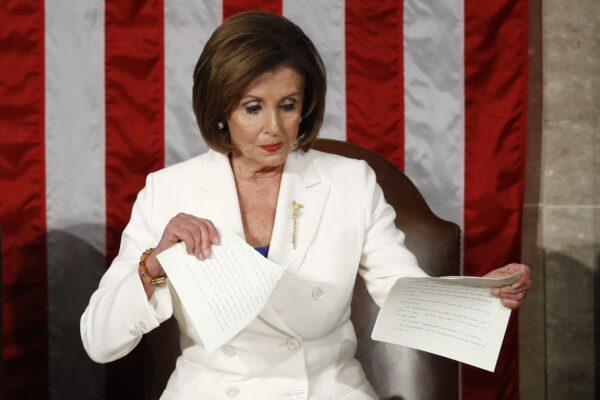 But Pelosi said that she wanted to call awareness to alleged falsehoods contained in the president's address, saying Trump exaggerated or distorted his record on prescription drug prices, health care, and the U.S. economy at large.
"I tore up a manifesto of mistruths," she told reporters Thursday. "It was necessary to get the attention of the American people to say, 'This is not true. And this is how it affects you.'"
"He didn't want to shake hands," Pelosi added, saying that she read through the speech quickly. "I went right through that thing," she said. "I knew what was coming."
She also criticized Republicans for chanting "four more years" during Trump's address and described it as "totally inappropriate."
The manner in which Trump delivered the address was also questionable, the speaker said, saying that it was tantamount to a "backdrop for a reality show." His speech included the surprise reunion of a soldier with his wife, a fourth-grader finding out she got a scholarship, and cancer-stricken talk show host Rush Limbaugh receiving the Medal of Freedom from First Lady Melania Trump.