The House of Representatives has dropped plans to return to the Capitol due to the CCP virus pandemic, a top Democrat leader said.
Rep. Steny Hoyer (D-Md.), the House majority leader, said lawmakers in the lower congressional body won't return next week to Washington. He cited a growing number of CCP (Chinese Communist Party) virus cases in the District of Columbia as the reason why, while also noting that he spoke with the House physician about legislators coming back.
"The House's physician's view was that there was a risk to members," Hoyer told reporters on April 28. "We hope to come back very soon to consider the CARES2 legislation," he added, referring to another stimulus package that is being considered in a bid to offset some economic losses suffered as states have maintained stay-at-home orders.
Last week, the House and Senate voted to pass a measure that replenished several funds within the $2.2 trillion CARES Act that was passed in late March, punctuated by several lawmakers wearing face masks, including House Speaker Nancy Pelosi (D-Calif.), on the House floor.
A meeting would be held by a bipartisan group of lawmakers about whether the House can work remotely.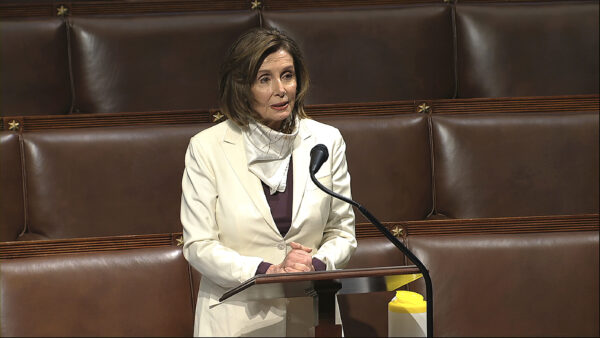 "My objective would be that we agree upon a process so that committees can do all the work they would do if they were sitting in the same room … through technological connections," he said of the remote work initiative.
Senate Majority Leader Mitch McConnell (R-Ky.) had said the upper chamber of Congress would return "one week from [Monday]," or on May 4.
"We will modify routines in ways that are smart and safe, but we will honor our constitutional duty to the American people and conduct critical business in person," he said.
Several weeks ago, McConnell said the Senate wasn't slated to hold another session in Washington until at least May 4 due to the pandemic. The top Republican senator suggested that senators perform their essential functions, since doctors, nurses, truck drivers, store clerks, and other essential employees have continued to work.
"It is essential for senators to carefully man ours and support them," he said in a statement.
Last week's CCP virus relief package, signed into law on April 24, included adding $300 billion to the Small Business Administration's Payment Protection Program that helps certain small companies deal with payroll and overhead costs after they lost business due to the pandemic. A week before that, the Treasury Department warned that the program had exhausted its funds.
The package also included about $100 billion for hospitals and testing, as well as other measures.