The House Judiciary Committee announced Tuesday that a hearing on the impeachment inquiry into President Donald Trump is slated for Dec. 4.
Judiciary Chairman Jerrold Nadler (D-N.Y.) said in a statement that "our first task is to explore the framework put in place to respond to serious allegations of impeachable misconduct like those against President Trump," The Hill reported.
The hearing was dubbed "the Impeachment Inquiry into President Donald J. Trump: Constitutional Grounds for Presidential Impeachment" and will include legal experts to apply constitutional law to "facts that have been found," the report said.
Nadler also sent a letter (pdf) to Trump and said his committee will allow the hearing to provide an "opportunity to discuss the historical and constitutional basis of impeachment, as well as the Framers' intent and understanding of terms like 'high crimes and misdemeanors.'"
"We will also discuss whether your alleged actions warrant the House's exercising its authority to adopt articles of impeachment," the letter read.
Nadler also said he hopes that Trump and his counsel will participate in the Judiciary Committee hearing. The ranking Republican on the Judiciary Committee is Rep. Doug Collins (R-Ga.).
"I have also written to President Trump to remind him that the Committee's impeachment inquiry rules allow for the President to attend the hearing and for his counsel to question the witness panel," Nadler wrote. "The Committee looks forward to your participation in the impeachment inquiry as the Committee fulfills its constitutional duties," the letter also read.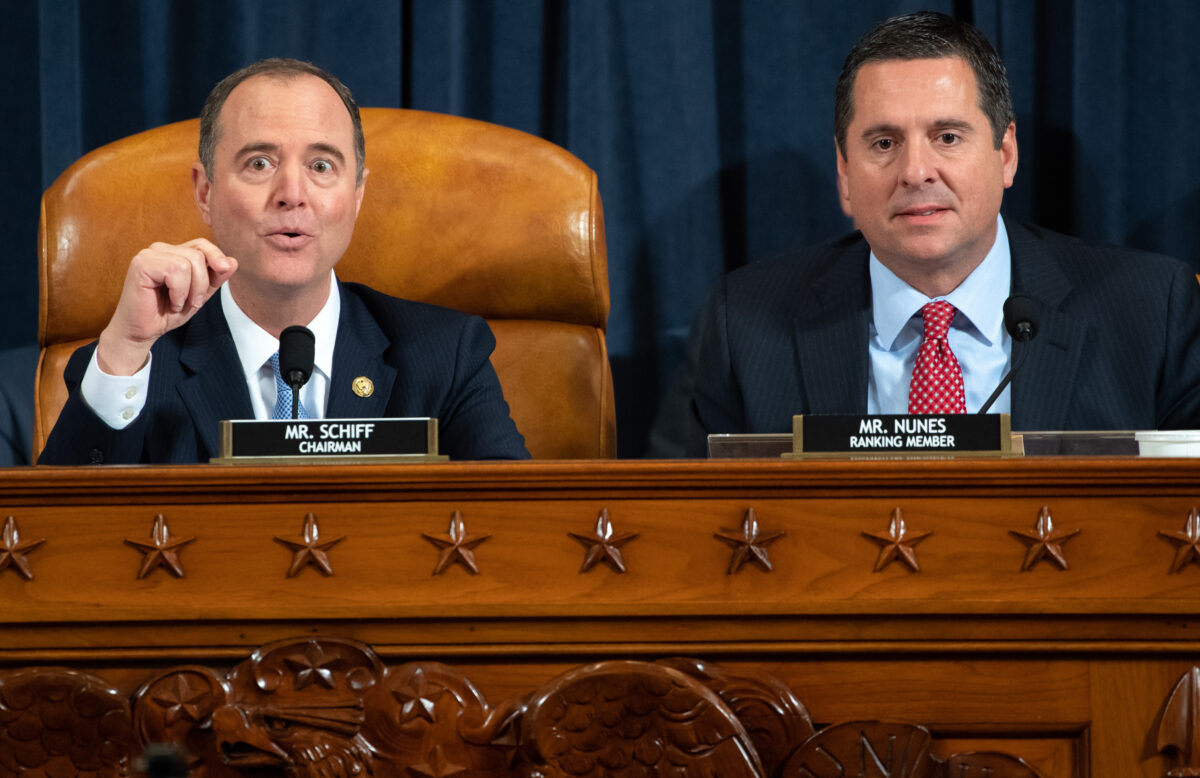 The Dec. 4 hearing follows closed-door depositions including the Intelligence, Oversight, and Foreign Affairs committees. After that, two weeks of public hearings in front of the Intelligence Committee took place on how Trump handled the foreign policy in Ukraine.
House Intelligence Chairman Adam Schiff (D-Calif.) said Monday that his panel is creating a report that will be delivered to Nadler and his committee.
"What is left to us now is to decide whether [Trump's] behavior is compatible with the office of the presidency," he wrote in the letter, "and whether the Constitutional process of impeachment is warranted."
Schiff then said he hopes that Republican lawmakers will go along with the Democrat-led impeachment inquiry. In a procedural vote on the inquiry last month, all Republicans and two Democrats voted against it.
"I urge all members to find guidance from our oath of office to protect and defend the Constitution," he wrote. "For the people, we must defend our Democracy."
Trump and other White House officials have denied the allegations as well, with the president calling it another witch hunt by Democrats.