The House Judiciary Committee released a report on Dec. 16 that provides further details about two articles of impeachment against President Donald Trump, including alleged abuse of power and obstruction of Congress.
The panel, headed by Rep. Jerry Nadler (D-N.Y.), approved the two articles on a party-line vote on Dec. 13—with all 23 Democrats in favor and all 17 Republicans against. They're expected to see a full House vote this week.
"Taken together, the articles charge that President Trump has placed his personal, political interests above our national security, our free and fair elections, and our system of checks and balances," the 658-page report (pdf) alleged against the president. "He has engaged in a pattern of misconduct that will continue if left unchecked."
The report explains the decision to charge Trump in the two articles, including reports from the House Intelligence Committee that lays out the case against Trump. It also includes arguments on the constitutional grounds for impeachment.
Democrats allege that Trump abused his power by withholding foreign aid to Ukraine to secure investigations against a potential 2020 rival, former Vice President Joe Biden, and son Hunter Biden, who sat on the board of Ukrainian gas firm Burisma Holdings—which has long been accused of corruption—while his father was in office. Republicans have said the investigations were warranted to root out alleged corruption.
Trump's opponents focused claims on a July 25 phone call between the president and Ukrainian President Volodymyr Zelensky, suggesting Trump was waging a quid pro quo campaign. However, Zelensky, Ukrainian Foreign Minister Vadym Prystaiko, and top Zelensky aide Andriy Yermak have denied there was any pressure or quid pro quo involved in their dealings with the White House. Trump also released a transcript of the call, which doesn't show evidence of a quid pro quo. As the impeachment inquiry has progressed in public hearings, Trump has frequently highlighted the assertions from Ukrainian officials.
Rep. Doug Collins (R-Ga.), the ranking Republican member of the panel, criticized the Democrats' findings, calling their efforts "unprecedented" and "unjustifiable."
"The ramifications for future presidents are not difficult to surmise," he said in the Dec. 16 Judiciary Committee report.
Republicans and some moderate Democrats have argued that it should be the electorate who determines who is president in 2020—not the House of Representatives—as it is so close to the election. In the report, Democrats stated that they "cannot rely on the next election as a remedy for presidential misconduct when the President is seeking to threaten the very integrity of that election."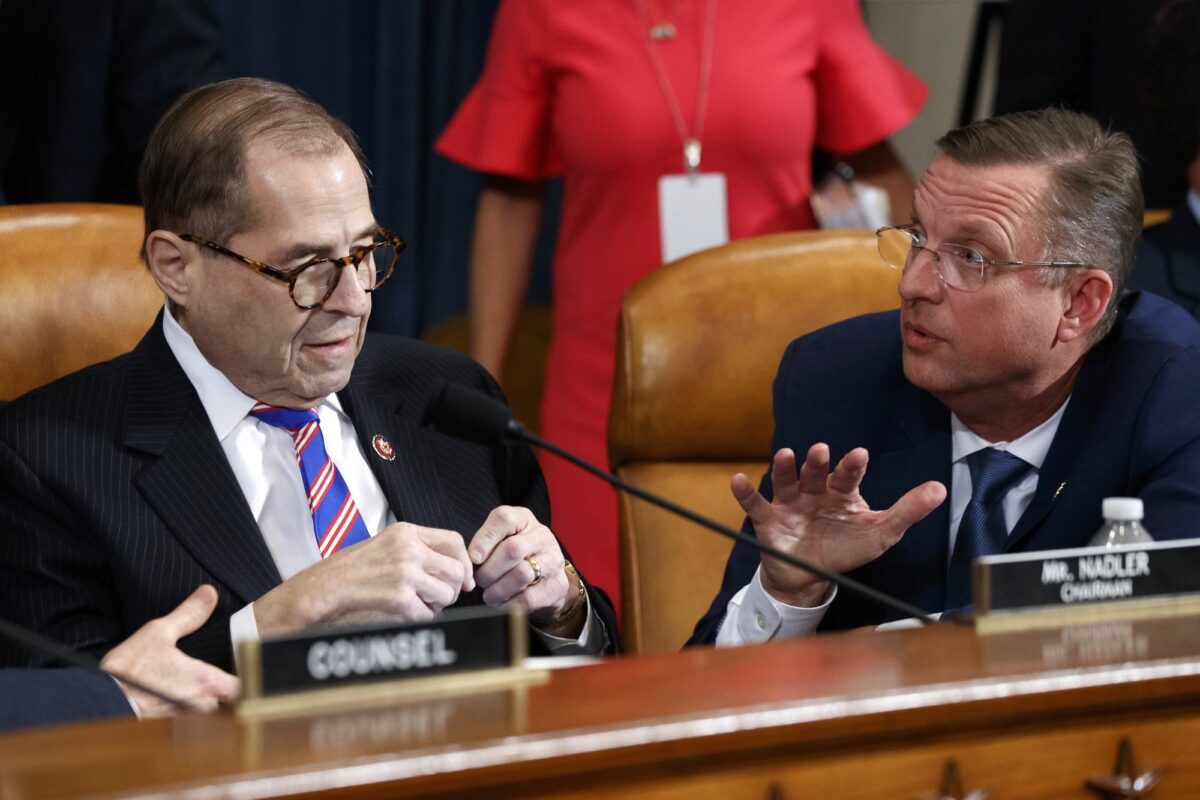 The push to impeach the president, meanwhile, could backfire against vulnerable Democrats in congressional districts that supported Trump in 2016, and has already prompted Rep. Jeff Van Drew (D-N.J.), notable for his anti-impeachment stance, to reportedly consider switching to the GOP during his 2020 reelection campaign.
Trump and his Republican allies have issued warnings to members of Congress representing these districts in recent days.
The 31 members of Congress "will have to answer to their constituents come 2020," Trump wrote on Twitter over the weekend, quoting a campaign aide. "If you look at the facts, there's no crime, there's no witness, there's no evidence, there's no victim, President Zelensky said there was absolutely no pressure. I don't know of any crime that was committed where the actual victim wasn't aware of it….and, they got the call, they got the meeting, and they got the money."