The House Intelligence Committee on Wednesday voted against issuing the whistleblower at the center of the impeachment inquiry a subpoena.
The vote was split along party lines 13-9, with Democrats led by Chairman Adam Schiff (D-Calif.) voting against issuing a subpoena to the anonymous person and Republicans in support of the move.
Republicans have contended that the whistleblower is a central figure in the impeachment inquiry and should take the stand to testify, while Democrats have said that the person's testimony is now redundant and irrelevant. They also said that the whistleblower's identity should be protected against a possible reprisal.
Some Senate Republicans have either named the whistleblower or have said that if the articles of impeachment reach the Senate, the whistleblower will be called to testify.
Earlier on Wednesday, Schiff claimed that he didn't know the identity of the whistleblower, whose complaint sparked the impeachment inquiry against President Donald Trump.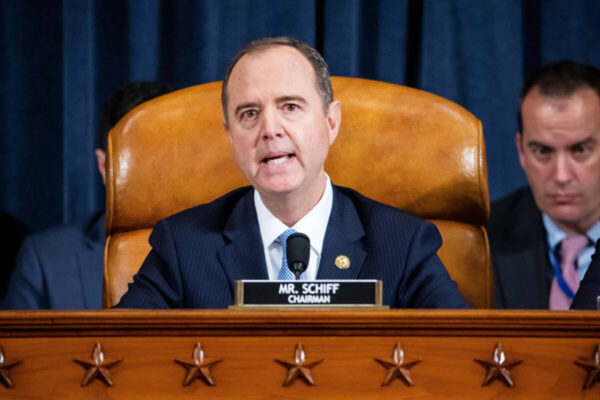 "Do you anticipate when we might vote on the ability to have the whistleblower in front of us?" asked Rep. Jim Jordan (R-Ohio) before diplomats George Kent and William Taylor were slated to testify.
"Of the 435 members of Congress, you are the only member who knows who that individual is, and your staff is the only staff of any member of Congress who's had a chance to talk with that individual," added Jordan. "We would like that opportunity. When might that happen in this proceeding today?"
Schiff then said he didn't know the identity of the whistleblower.
"First, as the gentleman knows, that's a false statement," said Schiff. "I do not know the identity of the whistleblower, and I'm determined to make sure that identity is protected.
He added: "You'll have an opportunity after the witnesses testify to make a motion to subpoena any witness and compel a vote."
The anonymous person highlighted concerns about a July 25 phone call between Trump and Ukrainian President Volodymyr Zelensky, but did not directly hear the phone call, according to reports.
Both Trump and Jordan have said that the whistleblower should testify, while Sen. Rand Paul (R-Ky.) said that the media should unmask him.
Democrats have alleged that Trump abused his power by asking Ukraine to investigate former Vice President Joe Biden and his son, Hunter, and their dealings in Ukraine.
Schiff, during the hearing, alleged that the White House released aid after the whistleblower's complaint was made known to House Democrats in September.
Trump has denied the allegations.
In a video posted on Wednesday, Trump said the inquiry attempt to undermine his attempts to "drain the swamp … and you see why we have to do it. Because our country is at stake."
"They're trying to stop me, because I'm fighting for you. And I'll never let that happen," the president wrote.