House Republican leaders issued a response in a press conference following Thursday's procedural vote on ground rules surrounding the impeachment inquiry into President Donald Trump.
"The only bipartisan vote on that floor was against," House Minority Leader Kevin McCarthy (R-Calif.) said in a press conference after the vote.
"There is nothing compelling" and "nothing overwhelming" that warrants the impeachment inquiry into the president, he remarked.
McCarthy also reposted a Twitter comment that Speaker Nancy Pelosi's (D-Calif.) "inquiry is officially the first presidential impeachment inquiry in modern history authorized by members of only one party."
The House voted 232-196, with all Republicans against the resolution and just two Democratic defectors joining them: freshman Rep. Jeff Van Drew (D-N.J.) and Rep. Collin Peterson (D-Minn.) voted against the measure.
Peterson and Van Drew are representatives in mainly conservative districts.
Other leaders, including Rep. Steve Scalise (R-La.), said that the impeachment vote isn't designed to advance a partisan agenda, as laid out by Founding Father Alexander Hamilton.
He again repeated that the House Democrats are embroiled in a "Soviet-style" process.
Rep. Liz Cheney (R-Wyo.) said the resolution allows the Democrats to "continue what they're going to do" and doesn't offer anything substantially new in terms of the impeachment process.
What Pelosi did today, Cheney said, is stop the House Intelligence Committee focusing "on any issue" that has to do with national security and only focus on impeachment.
"She has completely neutered the Intelligence Committee" and it would now "focus on a partisan impeachment process," she said.
It was the first formal test of support for the impeachment probe and showed that Democrats have enough backing in the House to later bring formal charges, known as articles of impeachment, against Trump if they feel they have enough evidence.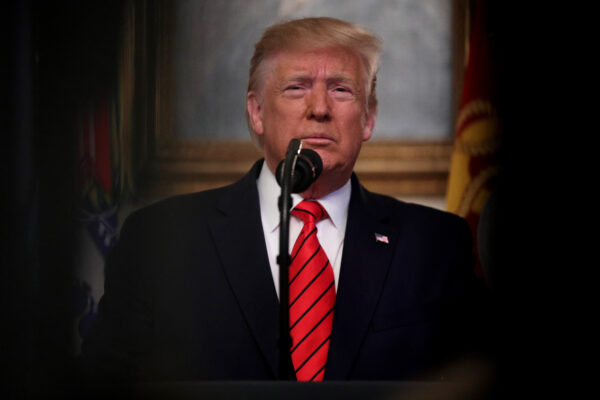 House Democrats say Trump has abused his office for personal gain and jeopardized national security by asking Ukrainian President Volodymr Zelensky to investigate Trump's Democratic political rival Joe Biden, a former U.S. vice president, and his son Hunter, who had served as a director for Ukrainian energy company Burisma.
Trump has denied wrongdoing and called the inquiry a sham. Again on Thursday Trump described the process as a "witch hunt."
If the House eventually votes to impeach Trump, that would set up a trial in the Republican-controlled Senate. Trump would not be removed from office unless votes to convict him pass by a two-thirds margin.
Reuters contributed to this report.