House Democrats on Friday released the closed-door testimony of Lt. Col. Alexander Vindman, a top specialist on Ukraine on the National Security Council.
Vindman was the first official from the White House to listen in on the July 25 phone call between Trump and Ukrainian President Volodymyr Zelensky to testify in the impeachment inquiry.
The public phase of the impeachment inquiry is scheduled to start next week. Overall, Democrats led by House Intelligence Chairman Adam Schiff (D-Calif.) have released eight transcripts this week from closed-door depositions.
Democrats also released a transcript of former White House adviser Fiona Hill on Friday.
"Lt. Col. Vindman and Dr. Hill—two courageous and patriotic Americans—testified despite pressure by the White House to silence their testimony," the three chairs of the House said in a statement on Friday. "Their superiors in the White House have declined to cooperate with the inquiry, but transcripts released today show clearly that individuals close to the President were alarmed by a presidential scheme as illicit and corrupt as a 'drug deal.'"
In his opening statement, Vindman told the Democratic chairs that he didn't think it was right for the White House to call on Ukraine's leader to investigate Joe Biden and his son, Hunter, and their dealings with Burisma, which employed Hunter Biden.
"I realized that if Ukraine pursued an investigation into the Bidens and Burisma it would be interpreted as a partisan play, which would undoubtedly result in Ukraine losing the bipartisan support it has thus far maintained," Vindman said in his statement, according to the transcript (pdf). "This would all undermine U.S. national security."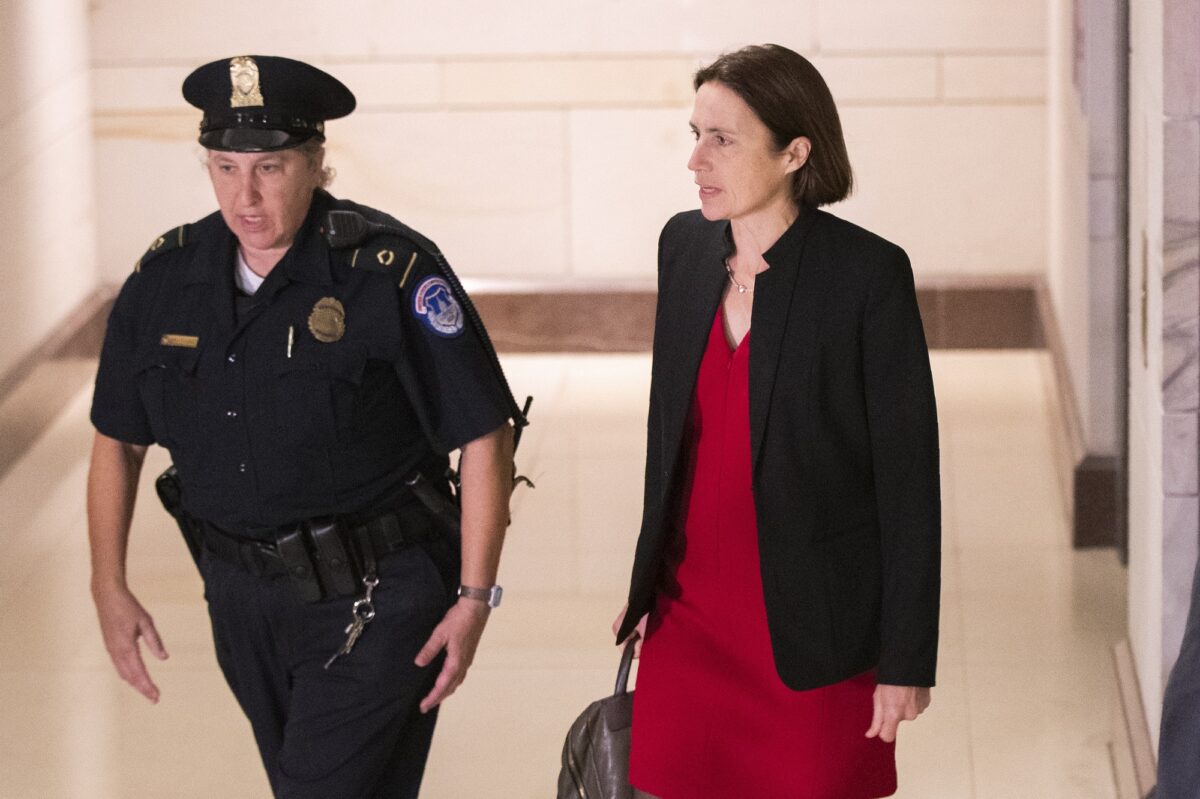 Hill testified behind closed doors last month that she was concerned about Trump's personal attorney, Rudy Giuliani, and the alleged role he played in dealing with Ukraine. She claimed that former national security adviser John Bolton described Giuliani's efforts with U.S. Ambassador to the European Union Gordon Sondland in Ukraine as a "drug deal," according to a transcript.
Trump, on Friday, blasted the Democratic-led process over the inquiry and for next week's public hearings.
"They shouldn't be having public hearings. This is a hoax," Trump told reporters at the White House.
House Democrats are investigating allegations that Trump abused his power by allegedly pressuring the Ukrainian president to investigate former Vice President Joe Biden and his son, Hunter, which both the U.S. and Ukraine presidents have denied.
Trump, who had the transcripts of the call declassified to remove fears of any quid pro quo, said he has no concerns the impeachment effort will affect his presidency or chances of getting reelected.
"I'm not concerned about anything," Trump told reporters. "The testimony has all been fine. I mean for the most part, I've never even heard of these people. There are some very fine people. You have some Never Trumpers. It seems that nobody has any first-hand knowledge."
"It's 'Let's find the 10 people that hate President Trump the most and let's put them up there,'" the president also told reporters about the hearings.
Meanwhile, the president said he is willing to release a transcript of an April 2019 phone call between him and Ukraine President Zelenksy. It came about three months before the July 25 phone call that has been the subject of the impeachment inquiry.