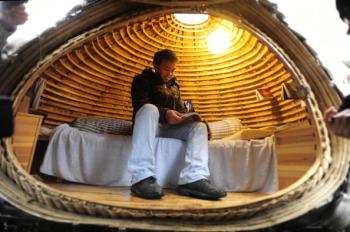 Amidst China's soaring housing prices, an innovative egg-shaped mobile home became the talk of the Internet, reflecting the living conditions of many out-of-towners who land white-collar jobs in Beijing. However, the mini house was removed on Dec. 3.
The Beijing News reported that college graduate Dai Haifei landed a job in an architectural design company in Beijing. Unable to afford rent, he built himself a small egg-shaped mobile house near the building where he works.

Ms. Xu who works in the same office compound told Beijing Times on the afternoon of Dec. 4 that, the "egg" was still there when she left her office, but had disappeared by the next morning when she returned. She said she was touched by the young man's hard-working spirit, but was worried about his future and whether the "egg" would be allowed to stay.

Nearby restaurant employees told Beijing Times that Dai Haifei and several coworkers along with office compound personnel moved the mini house around 8 p.m. on Dec. 3. Dai would not comment except to say that he would sleep at his friend's house that night.
Inspired by Company Symbol
Dai had been living in the egg for nearly two months. The "egg" only cost him 6400 yuan (about USD$960) to build. The design was inspired by the "City's eggs" symbol of the company he works for, which showcases a series of mobile egg-shaped mini houses.
Radio France Internationale quoted Dai Haifei as saying, "I wanted to build a house of my own, and the design fit my requirements perfectly." After moving the egg to the compound where his company is located in October 2010, he worked till midnight every day before going to the egg to sleep, and was able to return to his office to work at 8 a.m. This way he avoided the cost of commuting to work.
The mini-house was about 2 meters (approximately 6 feet, 7 inches) high, and the plain-looking exterior was a patchwork of sacks. The "eggshell" had an oval-shaped door as well as wheels underneath so the house can be easily moved.
The mini house was made of bamboo strips and secured with nails, wrapped in bamboo mats, heat preservation and waterproof materials, covered by a patchwork of sacks stuffed with processed wood shavings and grass seeds that could "grow grass when spring comes," Dai Haifei told The Beijing News.
The interior of the house was very simple. There was a single bed, with several books on one end and a pressure-operated water tank at the other end. The tank pumped water for sanitation and hygiene.
Dai said his original idea was to call attention to living standards in China's high-priced housing market, as well as improving people's living conditions and the city's image. But he knew the design was not yet mature enough to begin promoting.
In the office compound where Dai's mini egg house sat, many residents and employees knew about the "model" but didn't believe someone actually lived in it. However, they all liked his creative idea. One woman said, "I saw grass growing out of it; I thought it was a model for planting grass."
Officials were less impressed. A representative from Haidian District Urban Management Division said on Dec. 1 that, without a building permit, any roadside building is considered an "unauthorized construction" and should be removed.
Symbolic House Provokes Discussion
Dai's egg house has become a hot topic on the Internet. Enthusiastic bloggers even formed a discussion forum dedicated to his egg house.
In an article on Western China City Daily, Shi Yanping commented, "An egg (refers to The National Theatre in Beijing) and a nest (stands for Beijing Olympic Stadium Bird's Nest) embodies the bright lights of modern urban civilization. However, through Dai Haifei's egg house, we see exposed the desolate life behind the bustling exterior of Beijing."
Senior financial commentator Ye Tan of Southern Metropolis Daily wrote, "We should salute the designer of the mini egg house. It is full of green, environmentally-friendly ideas! The materials are bamboo, insulation film, waterproof layer and sacks that grow grass to beautify the city. It can be moved, store water and electricity, and is sufficient to sustain daily life.
"The mini egg house reflects the pain of high housing prices in Beijing, and reminds us how difficult life is for young people and most ordinary people. Additionally, because the indoor and outdoor temperatures were almost the same, such fragile living conditions reflect shamefully on the authorities."