A House oversight committee recommended on Dec. 28 that a special counsel be appointed to probe how the two federal agencies were biased against President Donald Trump during the 2016 presidential campaign and election.
The House Oversight and Government Reform Committee conducted an investigation into how the agencies handled the investigation into Hillary Clinton's private email server and extensive use of private email.
"Our 2016 presidential candidates were not treated equally," the lawmakers, which also included the House Judiciary Committee wrote in a summary of the investigation.
"Former Secretary of State Hillary Clinton received unusual treatment from the Obama Justice Department during its investigation of her use of a private email server for sending and receiving classified information."
The investigation into the Clinton email scandal was "over before it began," the lawmakers asserted, noting that then-FBI director James Comey admitted to writing a statement exonerating Clinton months before he publicly announced so, and before FBI agents interviewed a number of witnesses, including Clinton.
"Additionally, the FBI was looking for evidence of 'willful intent' in Secretary Clinton's email activities, even though the relevant federal law doesn't require it," the lawmakers wrote.
They also noted that Clinton and former president Barack Obama exchanged email communications on her private email server, a fact that came to light after Obama denied knowledge of the server.
Investigators also analyzed the evidence that indicates the FBI and Department of Justice (DOJ) were biased against Trump.
"Peter Strzok and Lisa Page exchanged more than 40,000 text messages, including messages such as, 'Trump is a loathsome human,' the lawmakers wrote. "Director Comey himself stated, had he known of their bias, he never would have allowed them to serve on the investigative team. Nevertheless, both Strzok and Page served on the Clinton email and Russia investigations, with Strzok playing a leading role."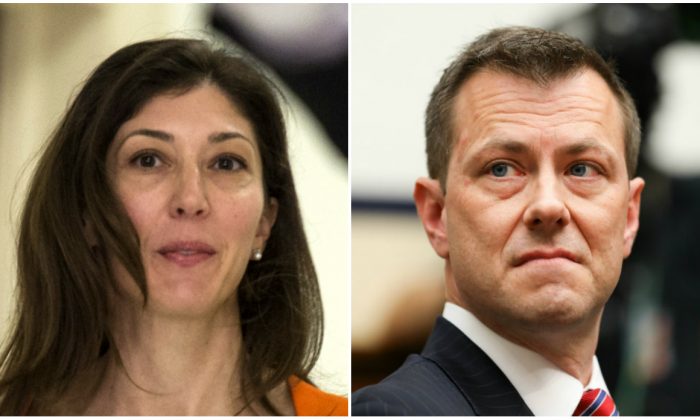 After the text messages began to be made public, FBI agent Strzok was fired from special counsel Robert Mueller's team.
His work phone as well as a phone belonging to his mistress Lisa Page, who was working for the DOJ, was wiped and reset after Strzok's stint on the Mueller team.
Rep. Trey Gowdy (R-S.C.), chairman of the oversight committee, and Rep. Bob Goodlatte (R-Va), chairman of the judiciary committee, wrote in a letter (pdf) to Senate Majority Leader Mitch McConnell (R-Ky.), Acting Attorney General Matthew Whitaker, and DOJ Inspector General Michael Horowitz that their investigation was delayed considerably by stonewalling on the part of the DOJ and FBI.
"DOJ continues to refuse to declassify documents necessary to the investigation despite the president's request the documents be declassified," the lawmakers stated.
The lawmakers recommended the appointment of a special counsel to investigate "not only the decisions made and not made during the pendency of these investigations but also the disparate way these two investigations were seemingly conducted."
They added, "Confidence in venerable institutions like the Department of Justice and the Federal Bureau of Investigation must be restored so the public can trust these institutions."
From NTD Television