What should have been a dramatic escape act turned into a tragic disappearing act, when an Indian magician failed to free himself from the chains and padlocks that bound him after being lowered upside down by a crane into a river.
Chanchal Lahiri, also known by his stage name Mandrake, is assumed to have drowned on June 16 after failing to reappear and swim to the launch in West Bengal state during his stunt, as planned, according to local reports.
The excitement among the spectators watching from a nearby bridge turned to panic after Lahiri failed to surface, according to local reports. Police were called after about 10 minutes, but divers could find no sign of the magician, who has previously successfully pulled off similar water escapes, inspired by magic legend Harry Houdini's trick of jumping shackled into a river.
A photographer with a local newspaper who witnessed Lahiri attempting the trick told the BBC that he spoke to Lahiri before the stunt.
Stuntman known as 'Wizard Madrake' missing after being lowered into Ganges with chains

Authorities have so far been unable to locate the body of Chanchal Lahiri after his escape attempt went badly wrong pic.twitter.com/UHWASRA0c2

— Lilian Chan (@bestgug) June 17, 2019
"I asked him why he risked his life for magic," the photographer Jayanta Shaw said. "He smiled and said, 'If I do it right, it's magic. If I make a mistake, it becomes tragic.'"
According to the Hindustan Times, police have not officially declared Lahiri as dead, and are still looking for him.
He has successfully performed escapes from underwater cages. This time, however, he was blindfolded and bound by a chain secured by six padlocks, and lowered into the river upside down from a crane on the bridge.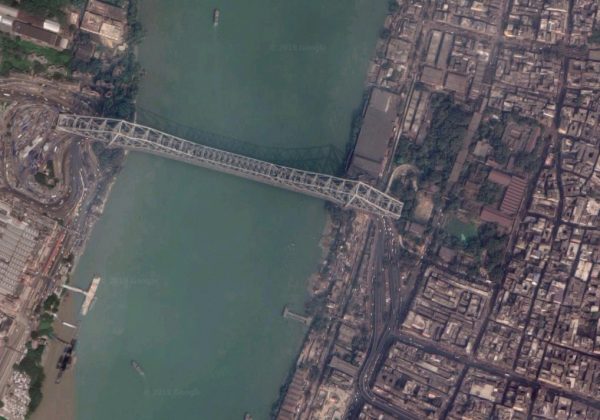 "He tied his legs and hands with chains and went into the river with the help of a crane," said a police official, according to the Deccan Herald. "He wanted to show his audience that he would emerge out of the water, but his plans went haywire. After he was dropped into the water, he could not be spotted."
According to NTDV, the Disaster Management Group began a search for him together with police.
"We tried to spot him," a senior police officer told the station. "But it seems the current has swept him away. Our divers dived deep, but could not locate him."
"Because of darkness, we had to temporarily stop our search operation on Sunday evening."
The magician claimed to have pulled off a similar escape in less than half a minute some 21 years ago in the same river, reported the Metro. That time he was inside a bulletproof glass box, tied with chains.
But when Lahiri escaped from a cage lowered into the river in 2013, after he found his way to shore, he was assaulted by spectators who accused him of exiting the locked cage through a visible door.
Magician Prince Sil, famed locally for his "bullet-catching" act, told the Hindustan Times that he had known Lahiri for many years. "He painfully put together a few acts and performed in other states as well. This is really sad," he said.
Almost a decade ago, according to The Times of India, Lahiri was forced to abandon an attempt to walk on water when things went awry.