Staff at a quarantine hotel in Melbourne, Victoria identified as one of two sources behind the Australian state's second wave of the CCP virus were told by health authorities they did not have to isolate after being COVID-19 tested.
Victoria's COVID-19 Hotel Quarantine Inquiry heard last week that about 90 percent of the state's CCP virus cases since June are tied to an outbreak at Melbourne's  Rydges at Swanston. The CCP (Chinese Communist Party) virus, commonly known as novel coronavirus, spread from a family of four returnees to hotel staff, and security, then into the wider community.
Since June 1, Victoria has recorded 494 deaths attributed to COVID-19 and 17,061 cases.
North Melbourne's Rydges on Swanston was one of the first to join the state's hotel quarantine program on March 29 and was designated as a "COVID hotel" from April 27. It was estimated 90 percent of the guests were COVID-19 positive.
Rydges on Swanston general manager Rosswyn Menezes told the seventh hearing of the inquiry that the Department of Health and Human Services (DHHS) contacted him on May 26 first informing him of a possible outbreak.
The DHHS told him in a letter that a staff member may have COVID-19, and advise that anyone who spent longer than 30 minutes in the hotel May 18-26 had to get tested for the CCP virus.
"I asked DHHS team leader on site, should we isolate straight away? I believed that we were advised at that point we did not have to because we were not a close contact," Menezes told the inquiry on Aug. 28.
Four days later the DHHS contacted him again, "I remember getting a call from public health … advising me that everyone who was in the building between a certain date range had to self-isolate for 14 days," Menezes said.
The hotel closed on June 1-18.
DHHS epidemiologist Chalrhes Aplren told the inquiry on Aug. 18 that three hotel staff at the Rydges at Swanston tested positive for COVID-19 disease that spread to private security guards.
They were unable to identify how the virus spread from the family of four to the staff members.
Victoria's contact tracers have faced challenges in their jobs: there were around 1,500 unknown cases in the state at its peak. Throughout August the number has dropped to about 460. More than 2,000 active cases are under investigation.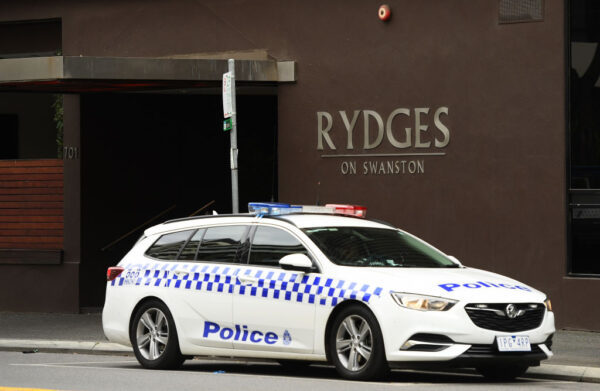 The Victorian government's failed hotel quarantine system began on March 29 following a national cabinet meeting where compulsory isolation programs were agreed as a measure to limit community transmission of the CCP virus.
During a critical meeting among Victoria's emergency response committee it was decided neither Australian Defense Forces nor state police will be used to guard returnees in the quarantine hotels. Instead, hiring private security guards. This decision has been met with heavy scrutiny.
The hotel quarantine inquiry was launched on July 2. The Department of Jobs, Precincts and Regions will be examined on Aug. 31. They were given under two days to hire the private security guards.