China's official figures show that the total number of hospital admissions in the country dropped by 35.83 million in 2020.
In late 2019, a sudden outbreak of COVID-19 quietly spread in Wuhan, China. It's possible there is a connection.
On July 12, the Chinese Communist Party's (CCP) National Health Commission released the 2021 Statistical Bulletin on China's health development that said the number of inpatients in China's national health institutions increased every year from 2016 to 2019 but dropped sharply in 2020 by 35.83 million. Even with a slight rebound in 2021, that year saw 18.7 million fewer hospitalizations than in 2019.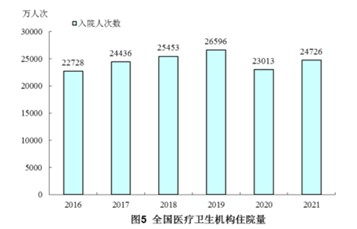 The data from the bulletin also shows that there was no shortage of medical resources in China from 2016 to 2021, and the number of beds and health technicians in China's medical and health institutions increased every year.
It is possible that patients who were supposed to be inpatients were treated as outpatients. However, the data shown in the bulletin is basically similar to the number of inpatients nationwide: from 2016 to 2019, the total number of outpatients in China increased slightly every year, but suddenly decreased by 980 million in 2020. The number rebounded in 2021 to 8.47 billion, but that was still 250 million fewer than 2019.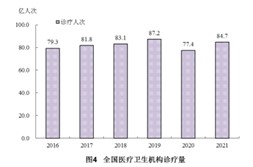 In other words, the decrease in inpatients did not correspond to an increase in outpatients nationwide in 2020, in fact the number of outpatients also decreased significantly.
Nor is it the case that patients who were to be hospitalized or see a doctor in 2020 were rescheduled to 2021, as neither number has exploded.
Regarding the low number of inpatients in the hospitals, Dr. Zhao from the Affiliated Hospital of Harbin Medical University in Heilongjiang Province said that the number of inpatients has indeed decreased in the past two years.
According to Zhao, since some areas implemented lockdowns in the city and residential communities, many patients who needed medical treatment could not leave their home communities. They had to go through many procedures to get to a hospital. After arriving at the hospital, they still needed to provide a nucleic acid test certificate issued in the last 48 hours. In the worst cases, the hospital refused to receive any patients, that is, suspended medical services.
"Especially in 2021, there was a period of time when the epidemic in Harbin was very serious," Zhao told The Epoch Times on July 27. "Doctors in many hospitals were confined to their hospitals and could not go home, and some doctors were confined to their homes and could not get to work. It was chaotic then. Everyone was jittery."
Qi Yue (pseudonym), a retired doctor from Ruijin Hospital affiliated with Shanghai Jiao Tong University School of Medicine, also said that the number of hospitalizations was definitely affected by the pandemic.
"How many hospitals in Shanghai have been operating normally in the past six months?" he said to The Epoch Times. "Many hospitals have been converted into isolation hospitals. [They] take nucleic acid testing very seriously. Some of them focus on nucleic acid testing. Without proof of nucleic acid testing within 48 hours, doctors cannot even see their patients. This kind of extreme thinking is similar to the Cultural Revolution, when learning (Mao Zedong) quotations was more important than rescuing patients. It's not good when it [medical care] gets involved with politics."
20 Million Cell Phone Accounts Disappeared Amid the Pandemic
In December 2019, an "unexplained" pneumonia emerged in Wuhan, China. On Jan. 8, 2020, the Chinese authorities officially confirmed the novel coronavirus (CCP virus) as the cause of the outbreak. Two weeks later, on Jan. 23, 2020, Wuhan, the worst-hit area of the pandemic was put in lockdown. During this period, Fang Fang, a female writer from Wuhan wrote a lockdown diary, which was later compiled into a book called "Wuhan Diary Dispatches from a Quarantined City."
Here is a passage from the book: Diary (20) "Maybe then they will understand the people: And what broke my heart even more was a picture from my doctor friend. It made the pathos of the previous days hit hard again. The picture shows a funeral home littered with mobile phones, their owners [were] all being incinerated."
Fang did not include a picture, but industry data released by the CCP and monthly business reports from telecom companies confirmed Fang's allegations and revealed alarming information.
In March 2020, China's Ministry of Industry and Information Technology (MIIT) released figures showing that the number of cell phone subscribers in China fell by 21.42 million in early 2020.
The change can also be seen in the monthly reports of Hong Kong-listed companies of China Mobile, China Unicom, and China Telecom, the country's three major telecom operators: In the first two months of 2020, China Mobile subscribers decreased by 8.116 million, China Unicom decreased by 7.787 million, and China Telecom decreased by 5.17 million.
Cell phones are much more than just a communication tool in communist-ruled China, as The Epoch Times revealed in  in March 2020. Through various mobile apps on cell phones such as Alipay and WeChat, the CCP can even bind personal identities and take over people's finances.
Against the backdrop of the pandemic, the communist regime has taken advantage of people's fear of the virus in the name of epidemic prevention, and has infiltrated every aspect of their lives, including clothing, food, housing, and transportation through Alipay and WeChat "health codes." In China, people can't make a step without a cell phone or health code.
Considering the impact of the pandemic on Chinese people's behavioral patterns, the demand for cell phone services in 2020 should not be lower than it was in 2019.
At a press conference by the Joint Prevention and Control Mechanism of the CCP's State Council on March 25, 2020, Han Xia, director of MIIT, said that the sharp decline in cell phone accounts in China was due to the economic impact of the pandemic and the cancellations of some dual-card users.
However, data from China's three major telecom operators show that the number of cell phone users in China has not increased along with the recovery of economic and social activities, as claimed by the authorities. For the whole of 2020, China Mobile saw a cumulative net loss of 8.359,000 subscribers, China Unicom 12,664,000, and China Telecom saw a net gain of 15.45 million. Adding the three together, there were still about 5.573 million fewer subscribers in 2020.
China saw nearly one billion fewer medical visits, 35.83 million fewer hospital admissions, and 20 million fewer cell phone users after the COVID-19 outbreak in 2020; as well as an extraordinary increase in deaths in 2021, Li Yanming, a China expert and commentator on current affairs, told The Epoch Times.
Data released by different CCP departments is contradictory. The information points to the real number of deaths caused by the pandemic being concealed by the CCP, and that it could be in the tens of millions, Li said.
Epoch Times reporter Kane Zhang contributed to this report.