Hospital Continues Charging Fees 12 Days after Patient Dies
March 4, 2006 12:00 am Last Updated: March 4, 2006 12:00 am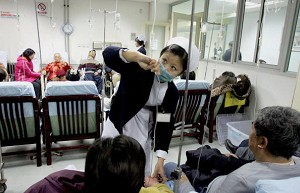 A strange thing happened last November at a hospital in Qiqiha'er City: a patient who had been dead for 12 days was still being charged for the hospitalization. A breakdown of the bill shows charges for 100 items, including bed fees, medicine changing and drip operation fee.
According to reports from Northeast.com, Jiang Zhihua and his wife were taken to Jianhua Factory Affiliated Hospital in Qiqiha'er at about 8:30 on November 5, 2005. They were treated for severe burns from a natural gas explosion. Jiang Zhihua died 24 hours later on November 6. His wife Madam Li was later taken to the First Hospital in Qiqiha'er City for further treatment.
On November 28, a lawyer representing Jianhua Factory Affiliated Hospital delivered a letter of indictment to Madam Li requesting payment for the treatment. The indictment letter claimed that Mr and Mrs Jiang Zhihua were taken to the Jianhua Factory Affiliated Hospital for emergency treatment having suffered burns as a result of a gas explosion. Jiang Zhihua had burns over 95% of his body and died during treatment. The total fees were 9,809 yuan (approximately US$1,211). Only 1,000 yuan (approximately US$123) had been paid and 8,809 yuan was still owing.
Mr. and Mrs. Jiang Zhihua's relatives went to the hospital to pay the bill and discovered that after Mr. Jiang's death, 100 items had been included in the medical fees, including beds, room heating fees and operation fees accumulated between November 8-18. Fees for 190 issues of burn medicine and emergency burn treatment fees were also included. On November 9, the hospital even charged operation fees for Jiang Zhihua, who was already dead.
The itemized bill also showed 32 bottles of intravenous drip, leading relatives to question why 32 bottles of intravenous drip had been used on a patient who was in hospital for only 24 hours.
The relatives said that the money wasn't important if it saved a family member's life. The key point was that the patient had died on November 6 and the additional fees made no sense. The intravenous drip, operation and burns treatment fees were the real cause for concern, particularly as the patient has been dead for 12 days while the fees were incurred.
According to reports, the matron working in the Burns Department in the Jianhua Factory Affiliated Hospital explained that the bed fees and room heating fees are automatically included on the bill by computer. Other fees are manually added by staff and additional fees can be refunded.
The relatives of the dead were left wondering why the hospital enforced the fee payment through legal proceedings when it was so easy for them to explain the error.