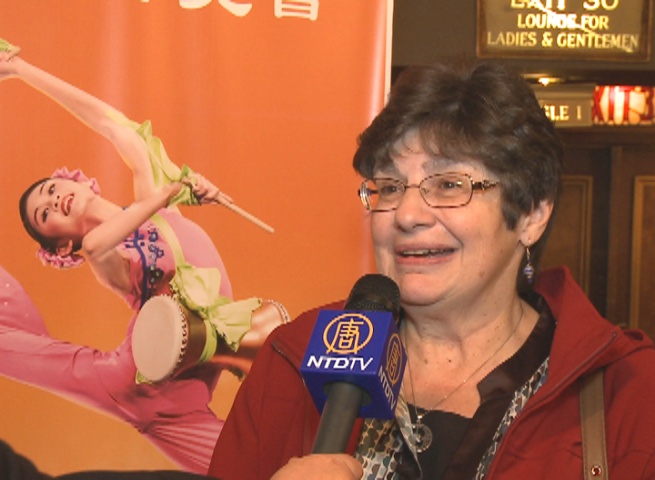 COLUMBUS, Ohio—Loretta Shaffer, a hospice chaplain at Ohio Health Home Reach, felt hope and a connection to the divine after attending Shen Yun Performing Arts at Ohio Theatre.
New York-based Shen Yun is the world's premier classical Chinese music and dance company and a presentation of traditional Chinese culture as it once was: a study in grace, wisdom, and the virtues distilled from the five millennia of Chinese civilization, according to Shen Yun's website.
Mrs. Shaffer said she really enjoyed the performance. "I thought it was joyful. I thought it was inspiring and it gave me hope … it was the truth," said Mrs. Shaffer.
"We are all one, we are all the same, we're all human, we're all longing for the divine, and we're all longing for hope," said Mrs. Shaffer.
Mrs. Shaffer said the performance was a complete work of art and especially amazed by the colors, particularly "how they were different for each scene and how they connected with the back scenery.
All of the colors highlighted the meaning and made it richer than it was."
With animated backdrops projected behind the dancers, hi-tech images lift the stage and set it amidst blossoming landscapes, deep forests, Mongolian prairies, or celestial paradises, according to Shen Yun's website.
"Every single dance had its own unique style and patterns that expressed a different idea. I thought it was beautifully done," said Mrs. Shaffer.
"It went very fast for me because it was so excellent and enjoyable," said Mrs. Shaffer.
"Again, it makes me a little sad because we do struggle for freedom and as a spiritual person, I know that it is easy to be pushed down by powers that are against a faith, and so it's very important that that message be heard around the world. I hope that this show can be shown in China soon, and very, very often!"
After more than 60 years of Communist rule in China, and especially after the Cultural Revolution, Chinese traditional culture has been all but completely demolished, according to Shen Yun's website.
However, the deeper spiritual core of the ancient culture, with its values of benevolence, honor, propriety, wisdom, and sincerity, as well as a reverence for the gods and the heavens, cannot be destroyed, according to Shen Yun's website. At the moment, Shen Yun is not allowed to perform inside China.
Mrs. Shaffer said though faiths and traditions are oppressed in China, the longing to be free to worship and honor the divine is a human right. "Its universal to all of us and we all want to be connected to what is beyond us, to the divine power that has strength, power, and healing. I think that touches every single person that would see this piece and would be moved by that and would be encouraged to stand up for their own faith, as well as to help others that are oppressed," said Mrs. Shaffer.
"That is where we can be one. I believe we are all one-one humanity, one purpose, one goal, and I love that this show said that. I hope it says it over, and over, and over!" said Mrs. Shaffer.
Reporting by NTD and Kelly Ni.
Shen Yun Performing Arts, based in New York, tours the world on a mission to revive traditional Chinese culture. The season concludes this month with a performance in Buffalo.
For more information, visit ShenYunPerformingArts.org.
The Epoch Times publishes in 35 countries and in 19 languages. Subscribe to our e-newsletter.