Horschel Wins BMW Event
Last Week's Goat, This Week's Champion
September 7, 2014 9:23 pm Last Updated: September 7, 2014 9:23 pm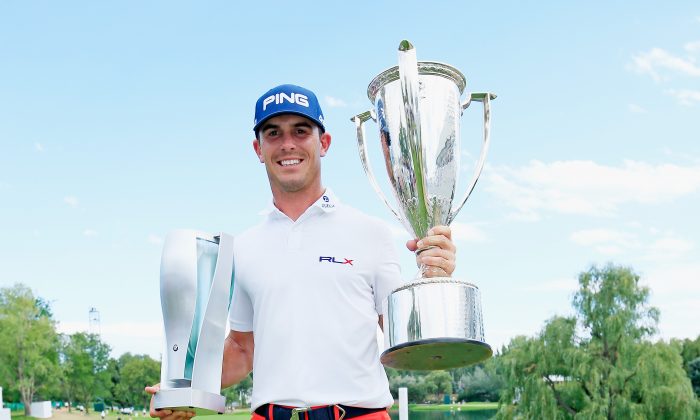 ENGLEWOOD, CO—The tagline for the PGA Tour is reminding people just how good the players are. Last week Billy Horschel came to the par-5 18th hole of The Deutsche Bank event and admittedly hit one of the worst shots of his life when he needed to do just the opposite. A possible win—and more likely playoff with an opportunity to win in extra hole—literally ended with one faulty swing.
Instead of licking his wounds, Horschel promptly returned to the front of the leaderboard with continual fine scoring at this week's BMW Championship at Cherry Hills CC just outside of Denver.
Two shots back of Sergio Garcia at the halfway point, the 27-year-old fired a 132 total over the weekend—highlighted by a superlative round of 63 in the 3rd round on Saturday to win the BMW by two shots over runner-up Bubba Watson.
How good has been his play over the last two weeks? Try -27 in eight rounds of golf on layouts that have been anything but pedestrian.
While a number of players have made issue with the overloading of the schedule for this year's FedEx Playoffs with four consecutive weeks culminating with next week's Tour Championship in Atlanta, the opportunity for others who are lesser known has been a golden moment. Last week's winner in Boston, Chris Kirk showed extraordinary form in going head-to-head over the last two rounds and vanquishing the world's number one player in Rory McIlroy. This week Morgan Hoffman showed what can happen when a player hits peak stride in firing a weekend total of 125 on rounds of 62-63 to not only finish third but also earn one of the coveted 30 positions for next week's tour finale. The 62 Saturday set a course record and had him vault from the 124th position into the playoffs—the highest start any player has ever had in successfully making the top 30 field for East Lake.
After shooting 63 in the third round, Horschel staked himself to a three-shot lead but a horde of heavy duty competitors were near enough to him that possible memories from a week prior were certainly not of mind. A slow start during the final round allowed others to enter the picture but Horschel never wavered over the inward nine holes and earned his 2nd PGA Tour title.
The major item for many of the players this week was the exhausting run of golf that has been in place since the playing of the PGA Championship in early August. With this being a Ryder Cup year, the PGA Tour did not provide a week-off during the Fed-Ex Playoffs and has simply stacked the events—four in a row with one to play next week in Atlanta.
Phil Mickelson opted to withdraw from the BMW knowing full well that securing a berth in the Tour Championship was unlikely and stating he needed the rest and preparation time for The Ryder Cup Matches at Gleneagles in Scotland at the end of this month. A likely fine from the PGA Tour—an undisclosed amount—will occur since withdrawing from events is only permitted for sickness or personal and family matters.
Cherry Hills re-established itself as a viable layout worthy of future consideration for other top tier events. The club's mission is to once again be considered as a host site for major championships—namely the US Open and if need be a PGA Championship.
Architect Tom Doak and his talented team certainly brought back to life a number of design elements that course creator William Flynn envisioned from many, years ago. The most noticeable was the challenging par-5 17th—clearing away trees and making the target more visible but no less demanding to hit in two shots.
Next week 29 players—Dustin Johnson earned the final spot but will not be present since opting for a personal leave from the PGA Tour several weeks ago—will gather to bring to conclusion a very long PGA Tour season that actually commenced in the last few months of 2013.
Billy Horschel, as Chris Kirk did the week prior, demonstrated the gap between the very best players is extremely narrow. No question Rory McIlroy has earned the top world ranking position but the margin between the upper echelon players is quite tight and should McIlroy be off form he can be passed. Nonetheless, the world's number one player has total control of his standing in claiming the Fed-Ex title and its $10 million bonus. Onward to Atlanta.
M. James Ward, a member of Golf Writer's Association of America (GWAA) and past member of Met Golf Writer's Association (MGWA), has reported on golf's grandest events since 1980 in a variety of forums.