I came across an unusual advertisement for a newly launched coffee called the BOMB, which has twice as much caffeine as the typical cup of joe. What caught my eye was that it is run by veterans who donate 22 percent of all sales during the month of November to help raise awareness and support for the 22 veterans that every day take their lives. 
That advertisement reminded me of the 11th hour of the 11th day of the 11th month in 1918—the time that marked the end of hostilities of World War I, "the war to end all wars."
Today, nearly one hundred years later, we know that was not to be. For this reason veterans' well-being and safety are of the utmost importance. To honor and remember those who put their lives in jeopardy for the rest of us, the 11th day of the 11th month has been put aside and marked as Veterans Day.
Each year the Veterans Day National Ceremony held at Arlington National Cemetery commences precisely at 11:00 a.m. with the laying of a wreath at the Tomb of the Unknowns, unofficially known as Tomb of the Unknown Soldier.
Each year, too, some take time to reflect on the sacrifices soldiers have made. A few with unique perspectives have shared their thoughts with me.

Joanne Patten, a former nurse: "I worked … in a veteran hospital in Connecticut from 1977-1980, which involved working with older veterans from World War I and World War II. Many of my patients didn't talk much about their war experiences. I knew there were deep wounds that they couldn't share with me. As I treated them, I realized that most of my patients would have to deal with the scars from war for the rest of their lives. I had utmost respect for them."
John McClafferty, a veteran that served in the Vietnam War: "When I served, there was a draft. I am concerned that now that has ended. The draft maintained a military that looks like America. The completely blind draft included all segments of society and acted as a constraint to our country's entry into a military engagement."
Liliana Skero, an immigrant and now a U.S. citizen: "I came to America when there was a war in my former communist country, Croatia.  I am so glad to be here. I thank the veterans for protecting my new freedoms and feel they should be placed on a pedestal. Veterans are not given enough credit for the sacrifices that they make and should never be forgotten."
Developing Awareness About Veterans in Children
Acknowledging and helping those who have devoted part of their lives to something bigger than themselves is not just for Veterans Day. It merits attention all year long. One way to accomplish this goal is to expose children to inspiring books about these wonderful role models.
In the spirit of the holiday, I have picked 11 great children's books to share.
'The Secret Soldier: The Story of Deborah Sampson' by Ann McGovern
This book honors women soldiers. Because women were not allowed to fight at the time, Deborah Sampson's patriotic zeal leads her to disguise herself and to enlist as a soldier in Washington's Continental Army. Later, she became the first American woman to undertake a lecture tour (talking about her experiences), and the first woman to collect a military pension in the United States. 
'Mulan (Disney Princess)' by Katherine Poindexter
The book is actually based on the cross-cultural retelling of the story of an ancient Chinese poem titled "The Ballad of Mulan." Although not American, children today can relate to this book because it's based on the well-known Disney movie. In order to save her father's life and to prevent him from being disgraced, Mulan disguises herself as a soldier and takes her ailing father's place in the army. She serves honorably.
'Tuesday Tucks Me in: The Loyal Bond Between a Soldier and His Service Dog' by Luis Carlos 

Montalván

This gentle book examines a day in the life of a returning vet who continues to struggle from the effects of his enlistment. It is told from a service dog's perspective. This book and others in the series (written for different audiences) have helped raise awareness of post-traumatic stress and the stigma of invisible wounds, while highlighting the benefits of service dog companionship.
'Veterans: Heroes in Our Neighborhood' by Valerie Pfundstein
This book for young children explains what veterans are, covering all the branches of service. It tells children that many of the heroes who have protected their freedoms may in fact be their neighbors.
'Proud as a Peacock, Brave as a Lion' by Jane Barclay
A grandpa talks to his young grandson about his experiences in war. Through a series of pictures which serve as similes, we see how the grandpa felt. The story begins with grandpa putting on his uniform and feeling proud as a peacock and continues by exploring different aspects of wartime.  The book ends with grandpa laying a wreath in memory of his lost friend and deciding with his grandson that they would be like elephants and never forget.
'Hero Dad' and 'Hero Mom' by Melinda Hardin
In these two books military dads and moms are compared to superheroes who do all kinds of things to help create a safer world. The books are a supreme compliment to veterans because in most children's minds superheroes embody the best of people and act in heroic ways.
'The Wall' by Eve Bunting
This book refers to the Vietnam Veterans Memorial known simply as The Wall. Once this memorial was controversial and a disturbing reminder of an unpopular war. Now we see in this story how The Wall has become a place for loved ones to come for healing.  
'The Poppy Lady: Moina Belle Michael and Her Tribute to Veterans' by Barbara Walsh
Moina Belle Michael almost singlehandedly launched a national campaign to establish the red poppy as the symbol of sacrifice and courage of American soldiers.  Profits from poppy sales have helped countless veterans and their families, and the flower itself serves as a perpetual reminder of those who have given their lives for their nation's freedoms. This wonderful, true biography shows how one person can make a difference. 
'The Impossible Patriotism Project' by Linda Skeers
Caleb's class is making projects that represent patriotism to display at Parents' Night. Molly dresses up like the Statue of Liberty and Kareem draws a map of the United States.  Caleb decides to make an unusual project. He draws a big picture of his soldier dad saying "Patriotism means going away from your family even if you have to miss Parents' Night.  It means keeping everyone in the United States safe."
'Tucky Jo and Little Heart' by Patricia Polacco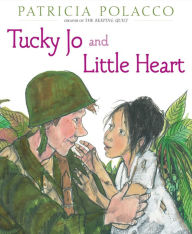 Get the tissues out when reading this story. Based on a true story, this book describes the friendship between a young soldier (Tucky Jo), inspired to join the Army after the bombing of Pearl Harbor, and a young girl (Little Heart) he meets while fighting in the South Pacific. Because Little Heart does Tucky Jo a kindness, he reciprocates, even helping evacuate her village when enemy soldiers invade.
Many years pass and Tucky Jo, now an elderly man, goes to the veteran's hospital and again meets up with Little Heart, who will bestow another kindness.
'Wind Flyers' by Angela Johnson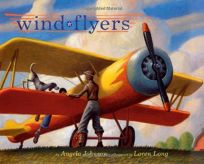 In this beautifully illustrated book, we see how an Alabama boy becomes a Tuskegee Airmen, who served during World War II. We see the greatness of these fliers despite being segregated because of their race.
Linda Wiegenfeld, a retired teacher, welcomes readers' comments. Her email is  lwiegenfeld@aol.com.