After beleaguered Hong Kong leader Carrie Lam announced on July 9 that a controversial extradition proposal was effectively "dead," locals remained unsatisfied, repeating their demand that she withdraw the bill completely.
Hongkongers have planned more protests, with a new strategy geared toward attracting more supporters—and other creative means to make their voices heard.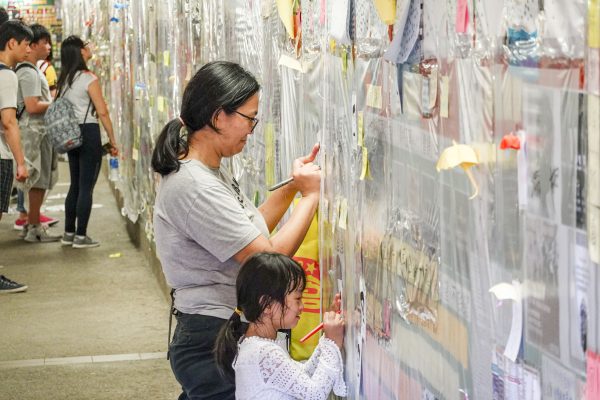 More Marches
The bill, which would allow any country, including mainland China to seek extradition of criminal suspects, has drawn historic protest turnouts in recent weeks, as many Hongkongers fear that given the disregard for rule of law in China, the proposal could allow the Chinese regime to punish its critics on trumped-up charges.
A fresh series of events and rallies will be held in different parts of Hong Kong—with a focus on local issues, to appeal to residents in different neighborhoods.
On a popular online forum, posts have begun popping up calling for "protests in 18 districts," referring to the city's 18 administrative divisions.
In Sheung Shui, a town in northern Hong Kong, a local activist group has planned a "Reclaim Sheung Shui" rally for July 13.
The neighborhood is just one train stop away from mainland China. In recent years, the area has been swarmed by mainland Chinese parallel traders who travel between the borders to purchase Hong Kong goods in bulk, then re-sell in the mainland. Locals have blamed the parallel trading for a wealth of problems, including overloading the infrastructure, price inflation, and a shortage of household goods when local businesses cater to mainland Chinese buyers instead.
Sheung Shui's residents have in previous years organized protests against parallel traders. This weekend's rally will have the extradition bill piggyback on the local issue.
Meanwhile, the suburban district of Sha Tin plans to hold a march on July 14, organized by community group Shatin Commons.
Tobias Leung, convener at Shatin Commons, told Hong Kong Free Press that the local district authorities previously disqualified as many as five pro-democracy candidates in races for local office. The march will raise awareness about that issue, along with a local motion to condemn the extradition bill.
He added that he expects a turnout of more than 10,000.
Journalists, meanwhile, are organizing a "silent march" on July 14 in the Admiralty area—where government headquarters are located—to defend press freedom, as many media practitioners have reported being assaulted or harassed by police officers while covering recent protests.
In addition, Civil Human Rights Front (CHRF), the organizer behind recent mass protests that were joined by millions, is planning another rally on July 21 in Admiralty to reiterate its five demands: for the extradition measure to be completely scrapped, the release of arrested protesters, an independent commission established to probe police actions during the protests, the government's labeling of the June 12 protests as "riots" retracted, and universal suffrage in Hong Kong observed.
Other Methods
Meanwhile, protesters are also erecting "Lennon Walls" across the city, including in rural and historically pro-Beijing districts, where people can leave messages of support on colorful memos along pedestrian underpasses, footbridges, and tunnels.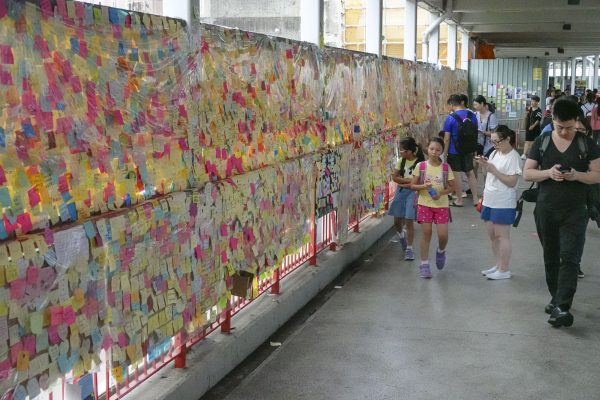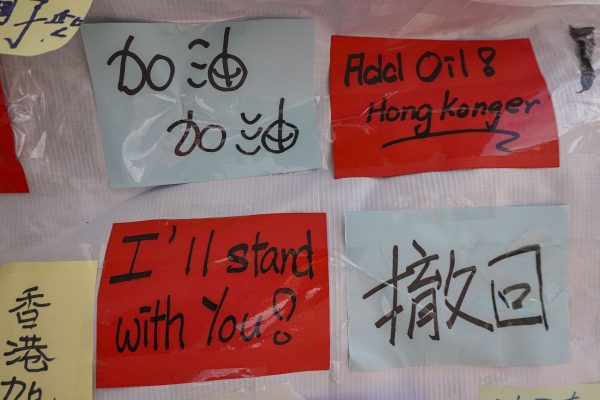 Hongkongers also began a campaign about July 9 to support local singers who publicly voiced support for the protests—as many who have supported local causes against the Chinese regime are shunned by the mainland Chinese market.
On July 10, six of the top 10 downloaded songs on iTunes Hong Kong were by celebrities who support pro-democracy efforts: Denise Ho, Pakho Chau, and Deanie Ip, a 71-year-old actress and former songstress who hasn't recently released new songs.
Other protesters oppose Hong Kong's largest broadcaster, TVB, for what they believe is pro-Beijing reporting, after many mainland Chinese companies bought shares in the company in the past few years.
In a statement leaked online on July 9, Pocari Sweat, a Japanese sports drink brand, said it decided to withdraw its ad placements on TVB stations, because of protester concerns. In response, China's state-run Global Times soon published an editorial that criticized the decision.
Hong Kong local media reported that sales of Pocari Sweat increased dramatically after news of its ad cancellations.
Hong Kong local newspaper Apple Daily also reported on July 11 that 10 other companies—including Pizza Hut, Cigna Insurance, CLARINS, and South Korean cosmetics brand Sulwhasoo—confirmed that they suspended their ads on TVB.