Hong Kong activists suspended protests on Sept. 11 to commemorate the 2001 terror attacks on U.S. soil. They also lambasted Chinese state media for spreading fake news that protesters were planning to stage "terror attacks" in the city on the same day.
"We Hong Kongers have been taken on this decision as the attacks on 9/11 can be relatable to what our city is faced with now," read a Sept. 11 open letter circulated on Telegram, an encrypted chat app that has become popular among protesters for coordinating events.
China's state-owned China Daily Hong Kong edition in a Facebook post on Sept. 9 said that some "anti-government fanatics" are planning "terror attacks" in Hong Kong on Sept. 11.  The plan included "blowing up gas pipes," "indiscriminate attacks on non-native speakers of Catonese, and starting mountain fires." The post attached a picture of the World Trade Center under attack.
The post said the "leaked information" came from online chat rooms.
China's state media are officially losing their minds over #HongKong: https://t.co/0LV9cYcGC8 (This is China Daily. TOP papers like @washingtonpost & @nytimes accept millions from them to plant genuine-looking 'news' inserts into their print editions.) pic.twitter.com/Cdi9UT5Ub4

— Tom Grundy (@tomgrundy) September 9, 2019
Echoing the China Daily post, Wen Wei Po, a pro-Beijing newspaper in Hong Kong, ran an article on Sept. 10 saying that "radicals" were planning to create a "citywide massacre."
"They are the same as terrorists plotting suicidal attacks," the newspaper wrote.
Protesters slammed the allegations, saying it was part of "the wicked agenda of these CCP [Chinese Communist Party] propaganda machines" aimed at undermining the protest movement.
"This attempt is shameless, desperate and entirely insensitive to the turmoil and anguish our American friends have gone through as a result of this actual terrorist incident," the organizers of the Hong Kong Citizens' Press Conference, where protesters voice their opinions, said in a Sept. 10 statement.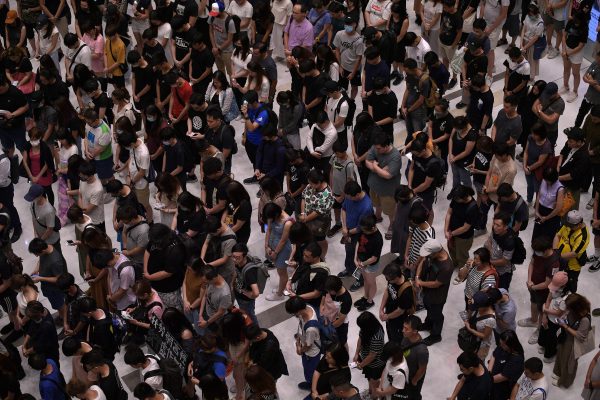 The group added that Chinese state media has consistently used similar "underhand tactic[s]" to vilify the demonstrators since the protests began more than three months ago.
Hong Kong, a former British colony that reverted to Chinese rule in 1997, has been embroiled in the city's worst crisis since mass protests broke out over a controversial extradition bill in early June. The protests have since morphed to include wider calls for democracy.
Despite the city leader Carrie Lam announcing last week that the bill would be withdrawn, many protesters have decried the move as "too little, too late," saying it failed to address their other demands.
"If China Daily and Wen Wei Po are so serious about looking for terrorist attacks to report on, what better place than the multiple metro stations being bombarded and terrorised by the police and pro-China persons on 21 July and 31 August?" the Hong Kong Citizens' Press Conference said.
The incident on July 21 saw a mob of white-shirted thugs suspected of triad-links attacking passengers, many of whom were protesters returning from a demonstration, at Yuen Long subway station, leading to dozens of injuries. The police arrived some 40 minutes later despite there being a police station nearby.
In incident on Aug. 31, police charged into several metro stations and train cars, deploying tear gas, pepper spray and batons on passengers. Footage from the night shows passengers left cowering and bleeding in train cars.
Protesters have since demanded police and the metro authority disclose more details from the incident, including the release of surveillance footage. Authorities have yet to release complete footage from the night.
Many protesters have raised concerns that victims from the incident may have died, but this has been denied by authorities.
Although protests were suspended city-wide on Sept. 11, civilians continued to honor the victims of the Aug. 31 train station incident with white flowers and prayers at the entrance of Prince Edward station.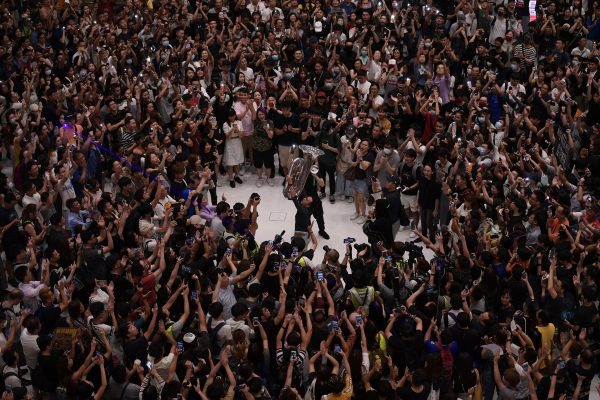 Meanwhile, thousands gathered in various shopping malls across Hong Kong on Sept. 11 and sang in unison a recently penned protest anthem titled "Glory to Hong Kong."
"With our passion and determination we just hope to let the world to be aware that Hong Kong people deserve democracy," local activist Joshua Wong said at a press conference in Berlin on Sept. 11.
"I hope one day, not only Hong Kong but also mainland China people can enjoy human rights and freedom," he said.