Hong Kong's transportation network came to a standstill on Monday morning as citizens held rallies and strikes throughout the city in an escalating campaign against the government's handling of the extradition bill crisis.
Nearly 250 flights at the Hong Kong International Airport were canceled after at least 3,000 airline staff took sick leave to support the general strike, according to local newspaper Apple Daily.
Eight key metro lines were temporarily suspended until noon after protesters blocked platforms and train cars, while others blocked main thoroughfares in bustling central districts as well as a busy cross-harbor tunnel.
At least 95 local unions under the Hong Kong Confederation of Trade Unions had called on their members to join the strike. 14,000 engineers had joined in, according to Confederation president Carol Ng.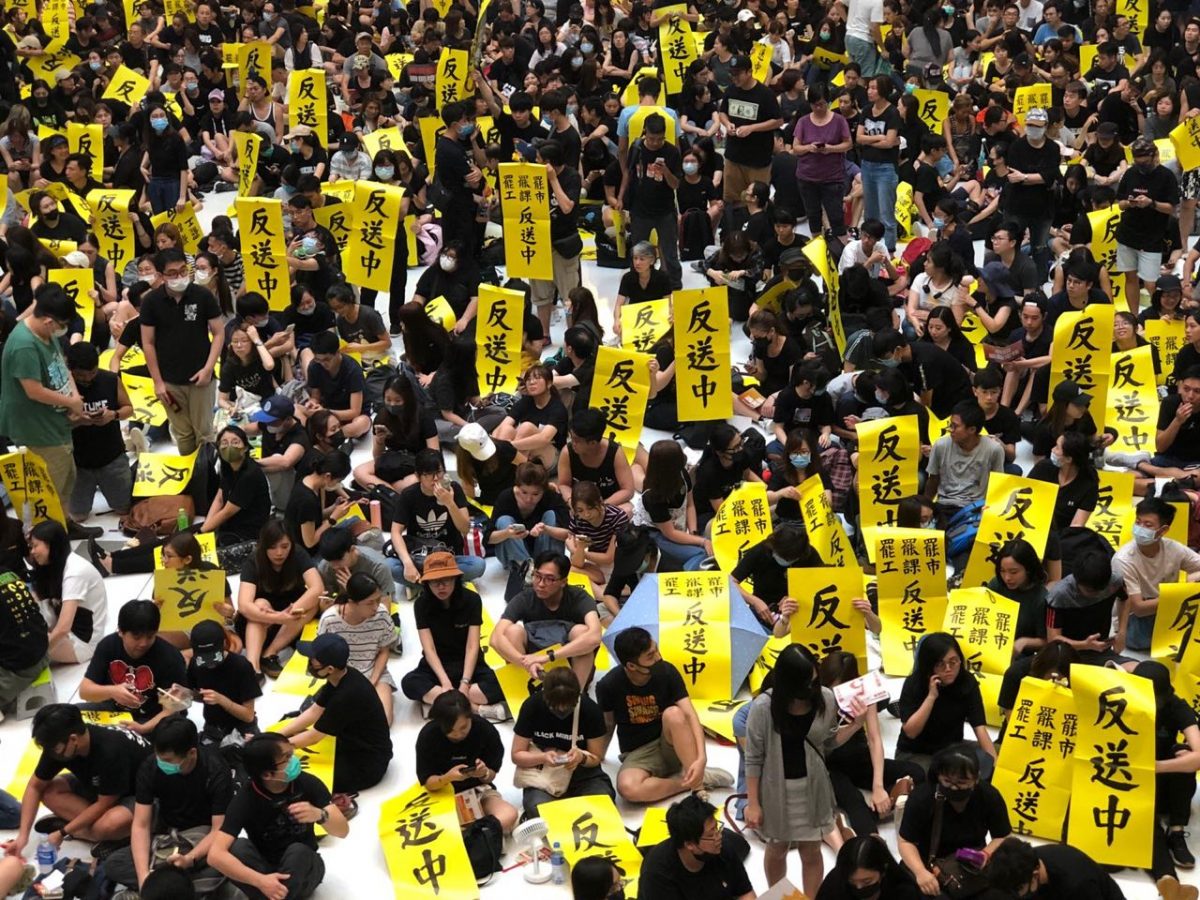 Seven rallies were held across Hong Kong in support of protesters' demands, despite a stern warning from the Hong Kong government the day prior. Rally organizers said that a total of roughly 150,000 people attended.
Throughout the day, police used tear gas to disperse protesters who occupied streets in at least seven districts, including Tin Shui Wai, Wong Tai Sin, Admiralty, Tai Po, Tsuen Wan, Sham Shui Po, and Tsim Sha Tsui. A journalist was injured in the eye by tear gas bullets, while another was briefly detained after engaging in an argument with the police over the first journalist's injury, according to local media.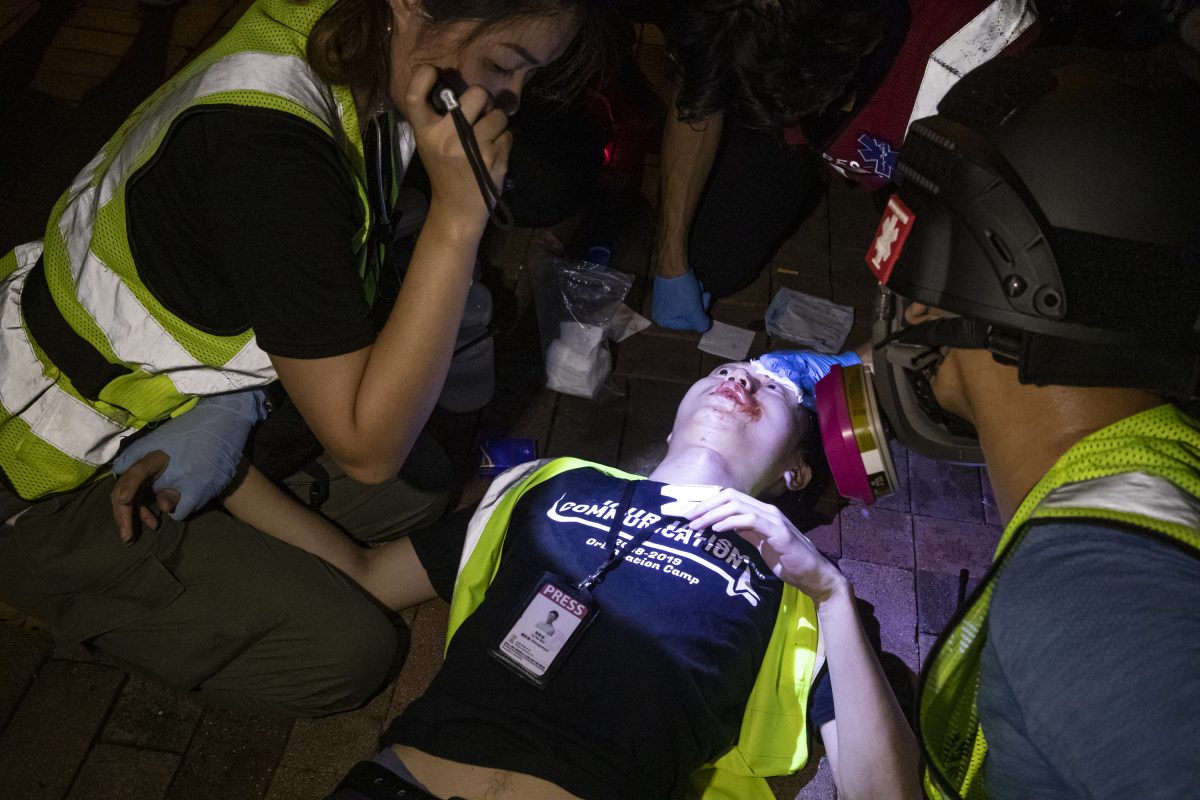 Since June, the city has seen the biggest political crisis in its history, which began over the controversial extradition bill that would allow mainland China to transfer criminal suspects to face trial in its opaque court system. Widespread fears that the now-suspended bill would further erode the city's autonomy have prompted months of mass protests as citizens continue to call for the bill's complete withdrawal. During recent weeks, demonstrators also pressed for an independent investigation into police use of force and greater universal suffrage.
At a 4 p.m. press conference, police announced that over 1,000 cans of tear gas, 150 sponge grenades, and 160 rubber bullets had been fired since June 9, when mass protests against the extradition bill first began. They also arrested 420 protesters in that time. The police defended their actions, saying that the level of force had been "extremely restrained."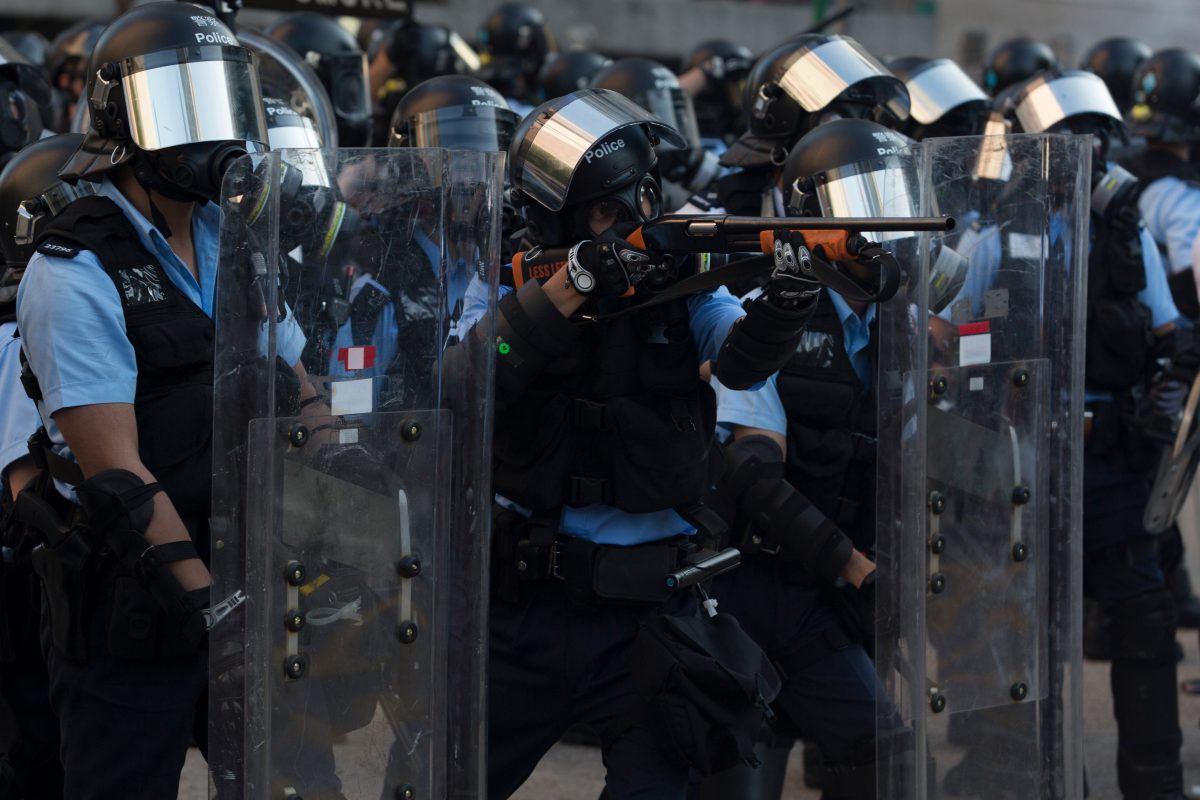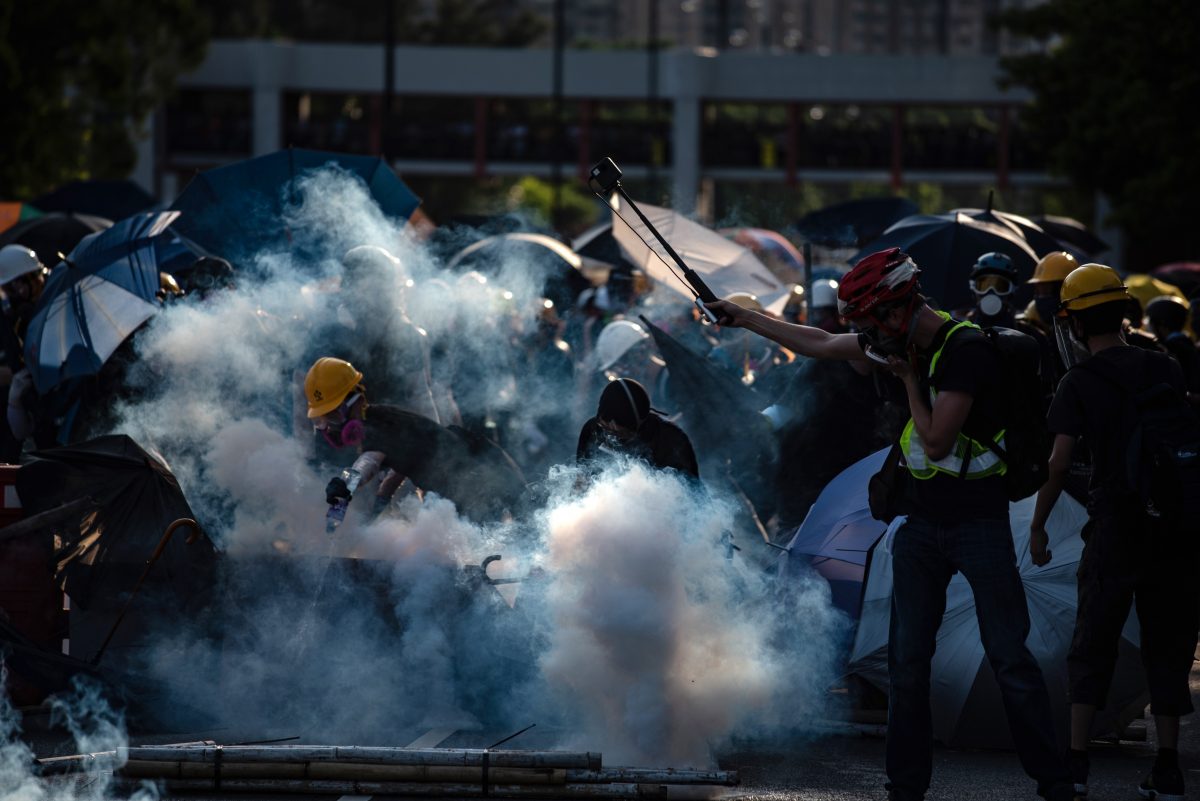 Government Stern Warnings
At 10 a.m. local time, Hong Kong's Chief Executive Carrie Lam held a press conference whereby she reprimanded protesters for posing a direct challenge to both the "one country, two systems" model under which Beijing promised to govern Hong Kong, as well as China's sovereignty.
Lam said that by inciting "revolution"—citing a chant that has become popular with protesters in recent weeks, "reclaim Hong Kong, revolution of our times"—the demonstrations were pushing the city to "the verge of a very dangerous situation."
She warned that they were bringing the city down a "path of no return."
"I dare say they are trying to destroy Hong Kong," Lam said, while defending the police's conduct. She also emphasized that she would not step down.
Lam's approval ratings have declined to a record low. According to an Aug. 5 poll from the Hong Kong Institute of Asia-Pacific Studies, Lam's average score was 32.9, a 4.6 percent decrease from last month. More than a quarter of respondents rated her zero. Only 15.1 percent of the participants said they were satisfied with the current administration's performance. Over half said they distrusted the government.
Lam's remarks ran in a similar vein as fierce criticism from Beijing issued the same day.
Calling the protesters "violent radicals," language that is consistent with the Hong Kong government's previous statements, foreign affairs ministry spokesperson Hua Chunying condemned them for violating the "one country, two systems."
Meanwhile, Beijing's agency for managing city affairs, the Hong Kong and Macau Affairs Office, announced that it would hold a press briefing about the protests on Tuesday, following last week's rare press conference.
Protesters in Defiance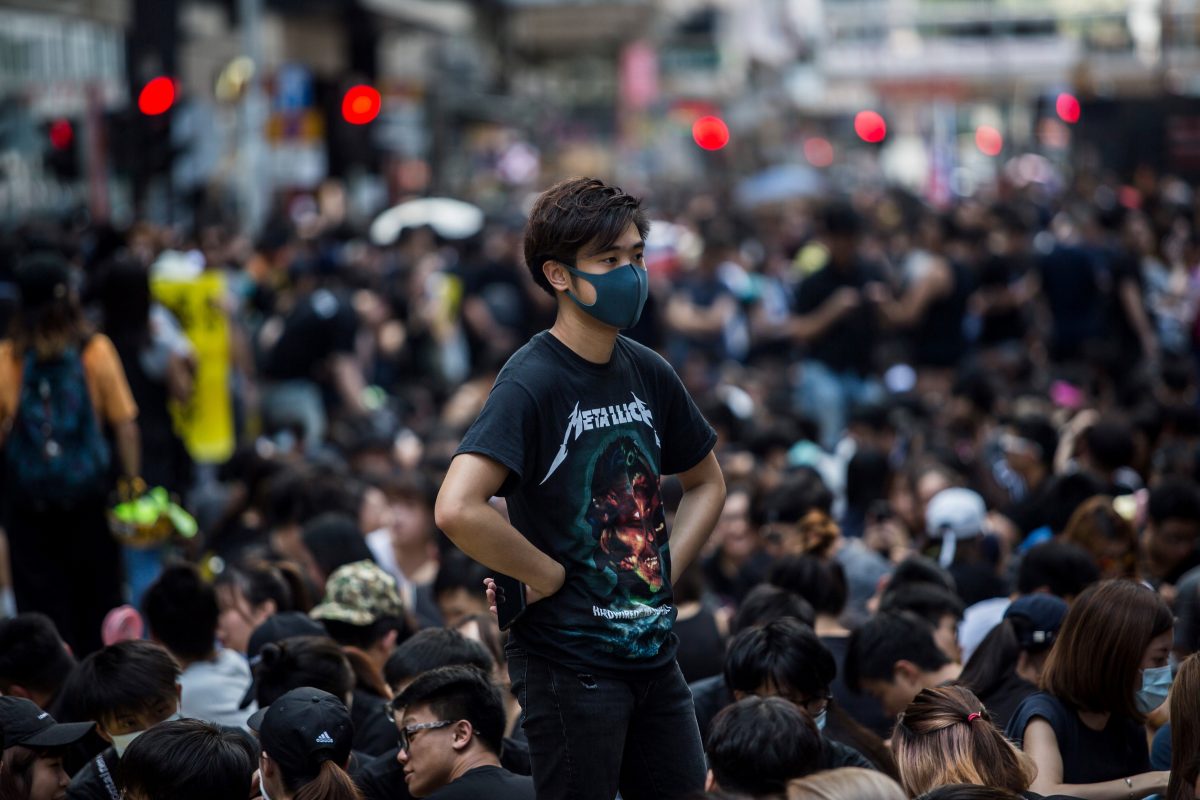 Lam's speech came as a disappointment to many demonstrators, who have been calling for her resignation. Several rally attendees indicated that they came out to the streets after listening to what she said.
"I hope that Lam can come out to solve problems rather than talking nonsense," Joel Tse, a 25-year-old professional in the advertising industry, told the Hong Kong bureau of The Epoch Times at a Monday rally.
Fernando Cheung, vice chairman of the Labour Party and member of the city's unicameral legislature, said that Lam was blaming protesters for her own faults.
"Had she not pushed for the extradition bill, we would not have fallen to where we are today," he told the Hong Kong Epoch Times.
Protesters also continued to express discontent with China's encroachment. For the second time in three days, a group of protesters in Tsim Sha Tsui took down China's national flag and threw it into the nearby harbor.
And on Aug. 4, two masters' students at the University of Hong Kong, Henry Tong and Elaine To, proceeded with marriage plans despite being arrested and charged with rioting during a protest on July 28.
Wearing the yellow hard hat and vest that have become typical protester garb, Tong at the marriage registration ceremony told friends and family that they would be forever dedicated to each other and to their city.
The couple was among 44 protesters who were arrested in Sheung Wan last week. The rioting charge has a maximum punishment of 10 years imprisonment.
Mob Attack
Around 8:00 p.m., a mob of stick-wielding, white-shirted men rushed into the North Point neighborhood, in the northeastern part of town, and attacked black-clad protesters. Videos circulating online show that protesters fought back with objects at hand, hurling their plastic shields and traffic cones, eventually cornering the attackers into a building. It remains unclear where these men came from.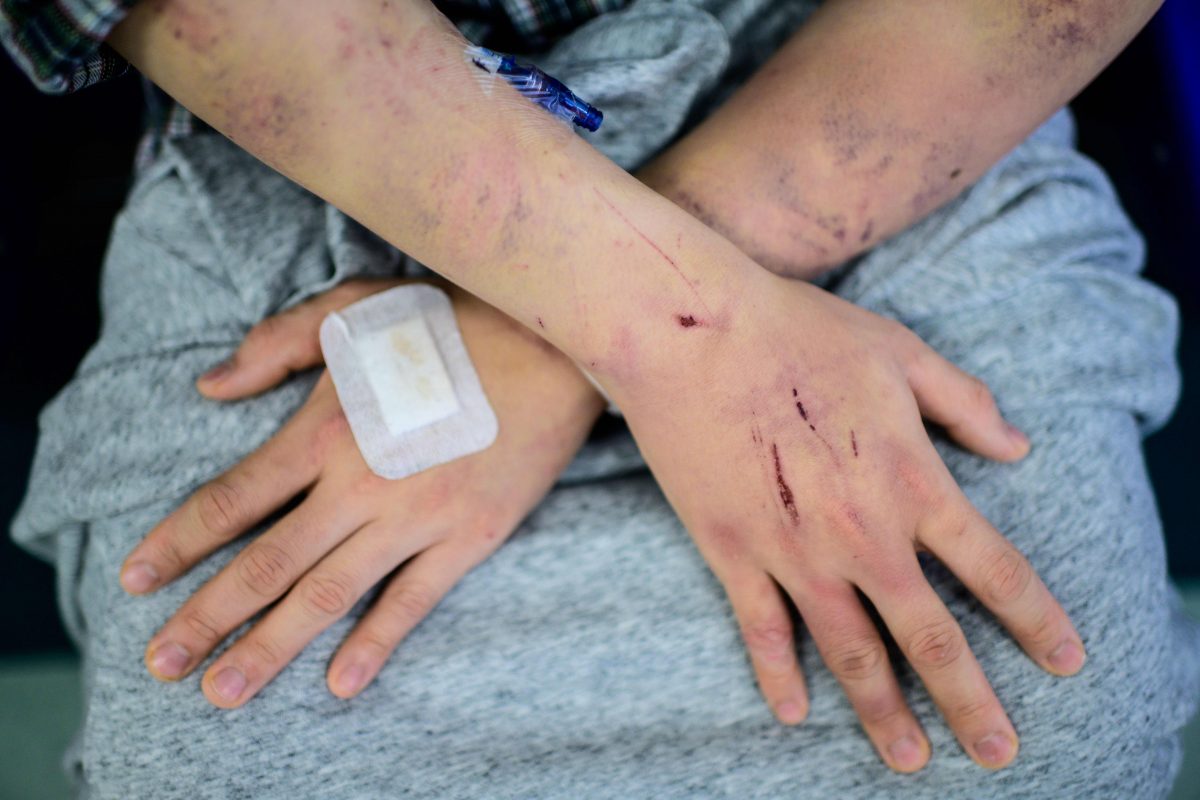 The scene was reminiscent of an earlier mob attack at the Yuen Long metro station on July 21, when masked men who also wore white shirts beat up passengers indiscriminately with wooden and metal sticks, causing at least 45 injuries. The police did not arrive at the scene until about 40 minutes after the attack, fueling public outrage as Hongkongers blamed police for the delayed response and leniency toward the assailants, whom police have confirmed were linked to local triads.
Around the same time on Monday evening in the Tsuen Wan district, dozens of men in pale blue shirts imprinted with the words: "I Love Hong Kong" were spotted engaging in scuffles with the protesters, who eventually drove them away. A witness told Stand News that his friend was attacked in the head and sustained heavy bleeding.
The Hong Kong bureau of The Epoch Times contributed to this report.