Hong Kong's Chief Executive and Protesters Trade Ultimatums
September 30, 2014 7:24 pm Last Updated: October 15, 2014 3:37 pm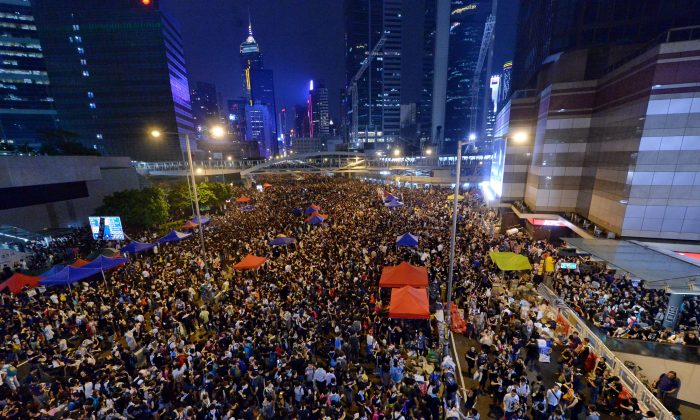 HONG KONG—Hong Kong's chief executive Leung Chun-ying has called for the protests roiling the city to end "immediately." The protesters say Leung's term in office is what needs to end.
"Occupy Central founders had said repeatedly that if the movement is getting out of control, they would call for it to stop," Leung said at a press conference on Tuesday. "I'm now asking them to fulfill the promise they made to society and stop this campaign immediately."
Chan Kin-man, one of the founders of Occupy Central With Love and Peace, responded to Leung by saying:"Occupy Central is not out of control. What's out of control is the government that suppresses the people with tear gas," reported Hong Kong's Apple Daily.
#HongKong update 3: #OccupyCentral calls for meeting with Beijing appointee CY Leung. http://t.co/NquLcftF50 pic.twitter.com/13Rq1hGxSX

— Jim Roberts (@nycjim) September 30, 2014
The protests Chan is helping to lead are calling for universal suffrage to be adopted in the next election for Hong Kong's chief executive in 2017. Beijing has decreed a nominating committee that it controls will choose who the candidates for chief executive will be.
Protests led by students hit the streets on Friday. After Occupy Central joined the students on Sunday, and the crowds in Hong Kong's central business district swelled into the tens of thousands, police responded with volleys of tear gas over several hours, eventually dispersing the crowd. The protesters returned to the streets on Monday.
Leung Chun-ying's press conference did nothing to calm the protesters. Rather than show regret at the use of tear gas on Sunday, Leung praised the police.
"Citizens should be grateful to the police. Hong Kong police are professional and they have done everything in accordance to the law," Leung said.
"Our demand is that Leung Chun-ying step down. Only where there is a new government in place could there be possibility of political reform," Occupy Central's Chan said in an interview with Voice of America. "Some people might think it is hard for the People's Congress to change its original decision. But I think that replacing the chief executive is more practical.
Chow Yongkang, leader of the Hong Kong Federation of Students, issued an ultimatum. As of midnight on Sept. 30, if Leung did not show up at the Plaza and talk to the students directly and explain the reasoning behind the use of tear gas, protests would move to the next level, possibly occupying government buildings, reported Independent Media Hong Kong.
The deadline passed, and Leung did not meet with the students. Government buildings have so far remained unoccupied.
Besides calling for Leung to step down, Occupy Central's Chan stated that the continued protests would also call for the withdrawal of the decision by China's rubber-stamp legislature, the National People's Congress, as to how the 2017 elections should be conducted. The students are also making this demand.
"If Leung is still here, the election wouldn't change. I think a real election wouldn't be just be a few people chosen by the Chinese authority, and then we choose among these chosen ones. It would be truly chosen by us," said one a group of sophomores and juniors from the University of Hong Kong in a conversation with a reporter from VOA. "We cannot let the Chinese Communist Party control our chief executive. We will be here until we get what we are fighting for."
The student leader Chow has declared the protests in the Hong Kong districts of Admiralty, Mong Kok and Causeway Bay should together be called "Democracy Plaza," reported Hong Kong Yahoo.
Protesters are now looking forward to the People Republic of China's National Day, which falls on Oct. 1.
"We must have a feast. Not one feast, but five feasts at Admiralty, Mong Kok, Wan Chai, Causeway Bay, and the Central," said Lester Shum, federation deputy. "We should let Beijing have an unforgettable national day by occupying all these places."