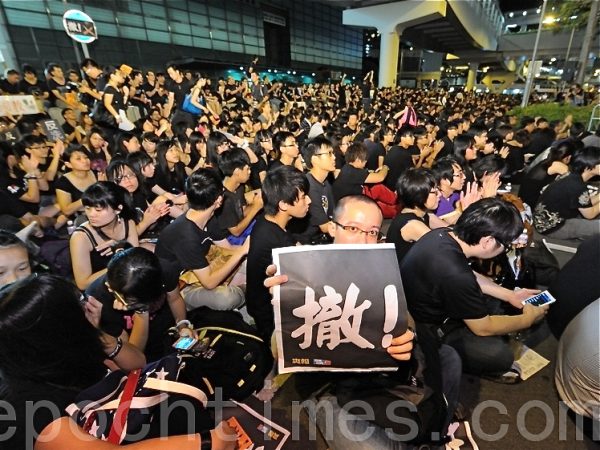 HONG KONG—The chief executive of Hong Kong, Leung Chun-ying, on Saturday announced that the controversial national education classes that many here have called brainwashing, will no longer be compulsory. The decision came after two months of protests and opposition, including a recent demonstration of over 100,000 residents.
The National and Moral Education course was intended to run in schools and instill patriotism into Hong Kong youth. Residents saw it as brainwashing classes coming from Beijing.
Leung's recent decision stopped the classes from being compulsory and left it to each school to decide whether they will implement the program. It was made a day before Hong Kong will elect a new Legislature.
Leung had canceled his first overseas trip since taking office in July, to the APEC summit in Russia, to deal with the crisis. Apple Daily, a Hong Kong newspaper, quoted sources saying that Beijing was unhappy with how he had handled the issue and ordered him to stay in Hong Kong to deal with it. John Tsang, the finance secretary, was sent to the meeting instead on Sept. 6.
A citywide movement against patriotic education classes in elementary and middle schools started two months ago, since the plan was announced. The materials would have taught Hong Kong children not to question the Chinese Communist Party's totalitarian rule, researchers, and scholars say.
In face of the demonstrations Huang Guiren, China's minister of education, said last Thursday that the classes "can be implemented according to the conditions of different places," but insisted that they would be necessary.
After a mass demonstration of 120,000 at Hong Kong's government headquarters at Tamar on Friday, Leung called for a dialogue with representatives of the protesters and Anna Wu, a nonofficial member of the State Council in Hong Kong.

It was a turnaround for Leung, who had previously refused to give in to the protesters' demands. He has been widely criticized for his pro-Beijing stance since becoming the chief executive.
Activists went on a hunger strike during the protests, in which students, parents, politicians, and celebrities participated. Movie star Chow Yun-fat was at one stage seen in the crowd.
If Leung had not backed down, he would have faced continued stiff opposition from students. Eight universities announced support for a strike that was to be organized by the Hong Kong Federation of Students on Sept. 11. Another strike, that was to involve elementary and secondary school students, was planned for Sept. 29.
"This was a request by the Chinese Communist Party to the Leung administration to make the next generation of Hong Kong followers of the Communist Party," said Liu Sze-ming, spokesperson of The Hong Kong Federation of Students. "We ask the government to drop the National Education class immediately."
Political observers in Hong Kong think that, although Leung and Eddie Ng Hak-kim, secretary for education, have backed off the policy, residents will remain angry at them for some time to come, according to Apple Daily.
Mainland Chinese also opposed to patriotic education express solidarity with the Hong Kong protesters.
The career path of students in China is determined by how well they study the patriotic materials, according to Hu Qingxin, a university student who had to take the classes for 16 years while studying in China. "Even when we knew that everything was a lie, we had to study every question carefully. Our senses are numbed when we write down praise and flattering [for the Communist Party]. Many teachers understand the absurdity but have to teach it as it is the truth and standard to measure a student's virtue," Hu said.
Many more who could not physically be in Hong Kong showed their support from Weibo, China's version of Twitter. One user commented on Weibo: "You are not alone. The ones who are truly alone are the 1.3 billion people in mainland China."
With research by Jane Lin and Hsin-yi Lin.
The Epoch Times publishes in 35 countries and in 19 languages. Subscribe to our e-newsletter.
Click www.ept.ms/ccp-crisis to read about the most recent developments in the ongoing crisis within the Chinese communist regime. In this special topic, we provide readers with the necessary context to understand the situation. Get the RSS feed. Get the new interactive Timeline of Events. Who are the Major Players?